ArborXR Announces Strategic Partnership with Bodyswaps to Scale VR Programs in Education and Enterprise
ArborXR announces a new partnership with Bodyswaps, an independent software vendor specializing in VR simulations for soft skills learning.

ArborXR, a AR/VR device management platform, announces a new partnership with Bodyswaps, a pioneering independent software vendor to help organizations scale their training in VR.
Bodyswaps joins ArborXR as a partner alongside other industry-leading independent software vendors (ISVs), Moth+Flame, EngageVR, Futurus, Miller Creative, and 3DOrganon. Currently, 600+ ISVs use ArborXR as their MDM.
"We are seeing a growing need from education and enterprise clients for managing VR headsets at scale. Working with ArborXR removes friction from our product because our clients can now easily manage their devices, remotely install our apps, track analytics and know where devices are. This is essential for the next stage of the industry."
Bodyswaps specializes in VR apps that teach soft skills such as impactful communication, conflict management, public speaking or mastering job interviews. Their VR app "Safeguarding VR" won both "Best XR Project in Training and Education" and the "Grand Prix" award in all categories at Virtuality Paris.
Bodyswaps now shares content directly with clients through ArborXR's platform through remote app distribution. ISVs can upload apps to ArborXR and grant (or revoke) access to their content. All apps and files can be immediately available within a client's dashboard. All future app updates can be installed automatically.
ArborXR eliminates friction from VR pilot programs by providing a free trial for XR devices. This makes it easy for companies to learn all the tools necessary to manage XR devices while getting started with a pilot project. With ArborXR organizations can remotely manage XR headsets, install apps and control what users see and do in VR.
"We are excited to partner with Bodyswaps to help them scale their product and make VR experiences even more accessible. Bodyswaps is a leader in the space and are creating innovative content that will immensely impact education and enterprise organizations."
Bodyswaps designs soft skills training apps for corporate and education use cases including anti-racism and leadership training. Their training places learners in VR environments where they face life-like situations. Trainees practice soft skills and learn through behavioral analysis about their body language, actions, and words from an alternative perspective in VR.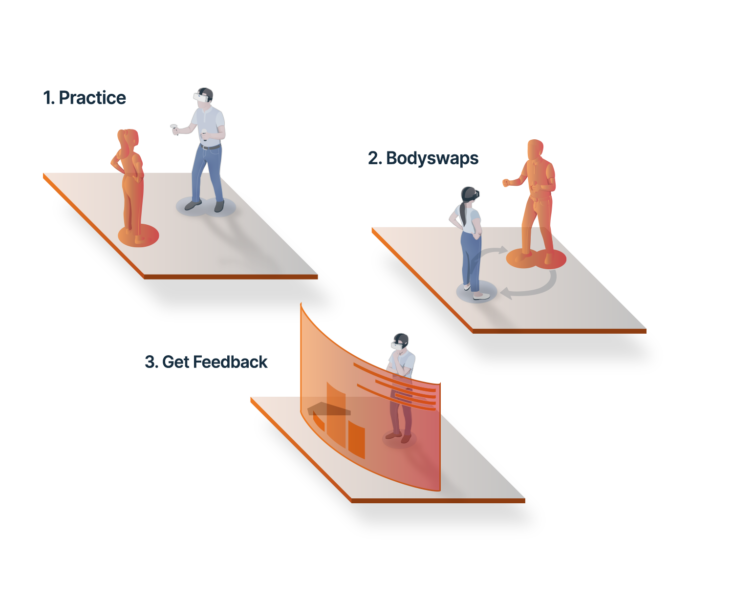 Bodyswaps Process:
Practice: Practice your skills, in your own words, using your voice and body language.
Bodyswaps: Swap bodies and watch yourself back from another perspective, learning from your mistakes and honing your soft skills.
Get Feedback: Access behavioral analysis and get personalized tips to improve on how you interact with others.
Learn more about Bodyswaps here.
About ArborXR
ArborXR is device management (MDM) software for VR and AR. Dozens of Fortune 500 companies, 2,000+ organizations, and 600+ independent software vendors in over 90+ countries use ArborXR to seamlessly manage devices, deploy apps and files remotely, and lock down the user experience. ArborXR allows enterprise companies to manage thousands of devices with enterprise-level security and control. Learn more about ArborXR at ArborXR.com.
About Bodyswaps
Bodyswaps is a Saas soft skills training solution, offering a library of VR and mobile simulations for management, diversity, and employability training. Bodyswaps leverages immersive simulations & AI to empower learners to practice and develop their soft skills.
Designed for corporates and educational organizations, with an off-the-shelf library of autonomous modules on communication, teamwork, leadership, and job interview skills.
Interested in getting started?
Subscribe to stay in the know!