How to Deploy Content to Meta Quest
Companies and schools often plan to get content for the Meta Quest through the Oculus Store. There are better ways to manage and deploy content to Meta Quests.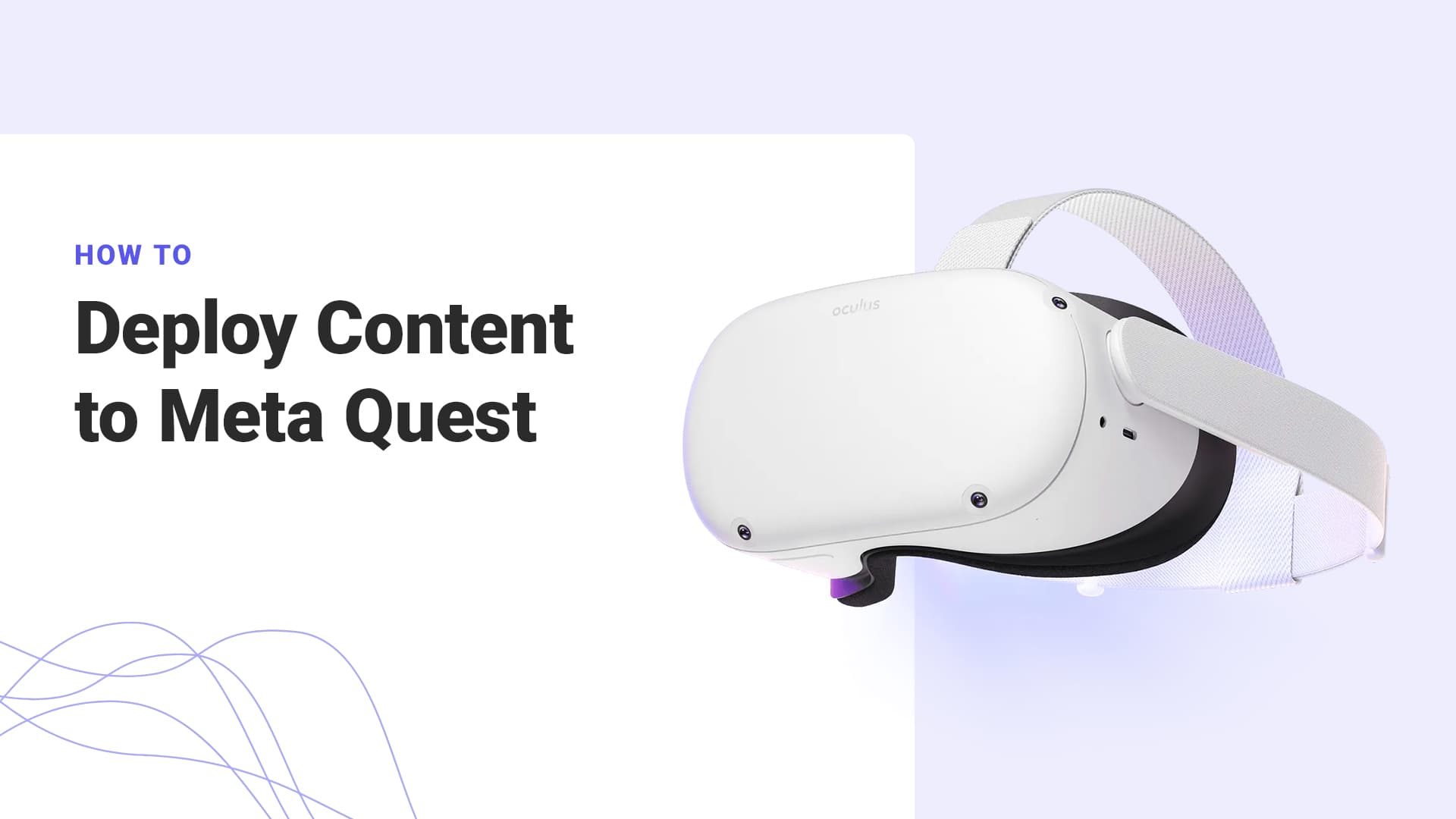 One of the benefits of using Meta Oculus Quest for your organization is the ease of access to the Oculus Store apps and Oculus Lab apps. Unfortunately, it's not so easy to lock down the headset experience and control what users see and do in VR. In light of that, we're covering the ways to deploy content to the Meta Quest with recommendations on what works best.
While Meta Quests are both affordable and powerful, Meta's restrictions create real challenges that you will face if you choose to use them as your primary VR headset.
We work with customers all over the world and many Fortune 500 companies looking to provide a secure, seamless experience for their users. Since Meta Quest is one of the most popular standalone headsets on the market right now, we have plenty of experience using them with many different customer use-cases.
Add a header to begin generating the table of contents
Options for Deploying Content on Meta Quests
At a high level, there are three main ways to get content on your devices:
It's best to start an XR deployment by planning where you will get and how you will manage content. For example, where will you be purchasing or using content? How will you get the apps you need on your devices? How can you manage those apps for users? After planning what content you will use and how you will manage it, then you're ready to decided what enterprise headset you should use.
We've detailed below the ways you can deploy content to Meta Quests.
Oculus App Store & Oculus Lap Apps
Search the Oculus App Store for content and download apps directly to your device.
You can only download apps with Facebook and Oculus accounts.
Devices cannot run apps simultaneously if they use the same Facebook and Oculus accounts, meaning you will need unique Facebook accounts for every device.
Access to Oculus App Store and Oculus Lab Apps.
The Oculus App Store is jam-packed with all kinds of apps for education and entertainment. One of the reasons you might be interested in using the Meta Quest is so that you can use these apps that are already made, verified, and secured by the Oculus App Store.
In addition to the regular apps most consumers see on the Oculus App Store, you can also access the Oculus App Labs. These are a subset of apps on the Quest store. The only distinction between these and apps that most consumers see is that Oculus App Labs' apps haven't gone through rigorous full review for developers and are not discoverable for consumers. Apps like these may include unknown and unreported bugs or issues related to comfort and performance. However, Oculus App Labs are still available on the Oculus App Store. In order to use one of these apps, you need to know the exact link/URL in order to access it.
A good example of one of these Oculus App Labs is The Wild, which is an immersive collaboration platform that uses VR/AR to help architecture, design, engineering, and enterprise teams work together in a virtual space.
Now, let's get to one of the challenges of using Meta Quest: if you plan to use Oculus Apps on your Meta Quest devices, you will need to create a unique Facebook and Oculus account for every single device. This is one of Meta's restrictions that presumably prevents users from exploiting the app store. While you can have your account signed in on multiple devices, you cannot run the same application simultaneously across multiple devices.
While having access to the Oculus App Store is useful and may be necessary for your organization, the Meta Quest has no native way to lock down these devices which means users will be free to access any apps in the app store or content on the internet.
Place Meta Quest in Developer Mode.
Connect Meta Quest to a computer.
Manually move software, apps, and files to the device.
One of the common practices for loading applications or an Android Package Kit (APK) to a VR headset is through a process called "sideloading."
Sideloading is the process of transferring applications from one device to another without using the internet. In this situation, you would connect your headset to a computer while the Meta Quest is in developer mode. From your computer, you can manually install applications to the device.
There are two common ways to sideload an application. One way is to use the command prompt on Windows or Terminal on Mac following this process. The other primary way is to use Sidequest. Sidequest is a third-party application that works on Mac, PC, Android, and Linux devices. It simplifies the command-line process of installing applications to the Meta Quest (or any VR headset) with a user-friendly interface.
It's important to note that when you sideload an app, any new versions of the app will also need to be manually sideloaded. Sideloading is a pretty straightforward process for managing apps on personal devices, especially if you use a tool like Sidequest. However, if you're managing devices in the hundreds and thousands, sideloading can become an incredibly time-consuming way to deploy content. It's much easier to use an MDM. An MDM designed for XR allows you to upload any application to the platform one time, where you can remotely deploy content to Meta Quests over Wi-Fi.
Mobile Device Management (MDM) Software with a Content Library
Before we jump in, it's important to note why legacy MDMs won't work for XR devices.
Why Legacy MDMs Won't Work for You
Legacy MDMs lack features for XR devices:
Using an XR MDM to Manage Content
A Mobile Device Management (MDM) software designed for XR devices will give you much more control over deploying and managing content.
Oculus apps and Oculus Lab Apps are available to use with an MDM designed for XR. Since you won't have access to the Oculus Store APK to upload to your content library, there is a process that allows the Oculus app to be accessed as an "unmanaged app." The key benefit to using an XR MDM for content deployment is that you can still lock your Meta Quest with kiosk mode or with a custom launcher through an MDM while using an Oculus App/Oculus Lab App. Administrators will be able to control what applications users have access to while locking them out of the Oculus App Store and web browser. You will be unable to control what versions of the app you choose to deploy to your devices since all future updates of the application are controlled by the app developer.
Content hosting allows you to upload your apps and files directly to your MDM's content library. After uploading one time, your apps and files can be deployed remotely over Wi-Fi. This is a huge time-saver compared to manually sideloading each device while connected to a computer. You can also choose to connect your own cloud storage bucket to isolate your content from the MDM platform.
Content library is where you can manage and see all your uploaded apps, files and videos on the MDM platform. This is a much more seamless experience if you have custom-made content from an ISV, or if the content is made in-house.
Content sharing allows you to share your applications with other organizations on the MDM platform. This can either be an "internal" organization that you are connected to or an "external" organization that you have no access to but uses the same MDM platform.
Version management allows you to upload different versions of the same app and choose which version is deployed to which devices. This is especially useful if you are beta testing a new update to a select group of devices, but need to retain full functionality on the rest of your devices. It's important to note that sideloading requires you to manually upload each app version with each update, while an MDM designed for XR allows you to upload and have access to every version of an app that you want.
Install status shows in real-time which apps and files are pending, actively installing on, or successfully installed on your devices. This can help you identify which devices may be experiencing problems and help you track content updates.
Apps and files uploaded to an MDM designed for XR have no file size restrictions and offer industry-standard security protocols including encrypted cloud-based storage for content stored on the platform.
Configuring the Meta Quest
Since you'll need an MDM to access these features we've just described, we detail how to configure the Meta Quest so you can deploy content using an MDM.
Set up Meta Quest with Meta and Oculus accounts.
Create a Developer account and place the device in Developer Mode.
Install an MDM.
Setting Up the Meta Quest
STEP 1: Turn on Meta Quest. The power button is located on the right-hand side of the device. The device will prompt you to remove battery tabs from the controllers in order to turn them on and pair them to the device.
STEP 2: Set your language and connect to Wi-Fi.
STEP 3: Download the companion Oculus app on a phone or tablet.
STEP 4: Create an Oculus account, linking it to a Meta account.
STEP 5: In the Oculus app settings, click devices. Then click on the Meta Quest 2. You will need to type in the number you see in the Meta Quest headset in the Oculus app. Once you do this, the device will continue the automated setup process.
STEP 6: Create a boundary guardian.
STEP 7: Watch and acknowledge safety warnings and data privacy policies.
Now, to deploy content on the Meta Quest you will need mobile device management (MDM) software powering the device.
STEP 1: Enable Developer Mode for Meta Quest.
STEP 2: Plug in the Meta Quest to your PC to install the MDM from your preferred software provider. Some MDMs may provide a setup app, and some may have you download the APK directly to your computer.
STEP 3: Once the MDM is installed, the Meta Quest can be configured from the MDM platform.
MDMs have different processes for uploading and deploying content once the MDM is installed.
Deploying Content to Meta Quest with an XR MDM
Upload apps to your content library.
Upload files to your content library.
Deploy apps and files from your library to groups of devices or individual devices.
Use Oculus apps or Oculus Lab Apps with kiosk mode or with a custom launcher.
Here are a couple of examples of how easy it is to deploy content to Meta Quests with an MDM designed for XR. The following examples demonstrate using ArborXR's platform to upload content to an MDM platform and then deploy content to Meta Quests.
Example
Uploading Apps to Your Content Library
Every MDM is slightly different, but here is an example of how you add apps to your content library with ArborXR.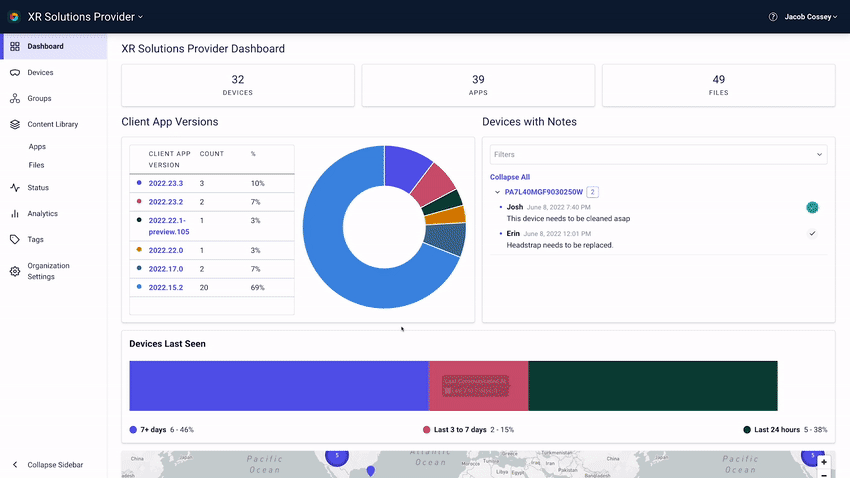 Example
Adding Apps from Your Content Library to Device Groups
Once apps have been added to your content library, you can deploy them to groups of devices in just a few clicks.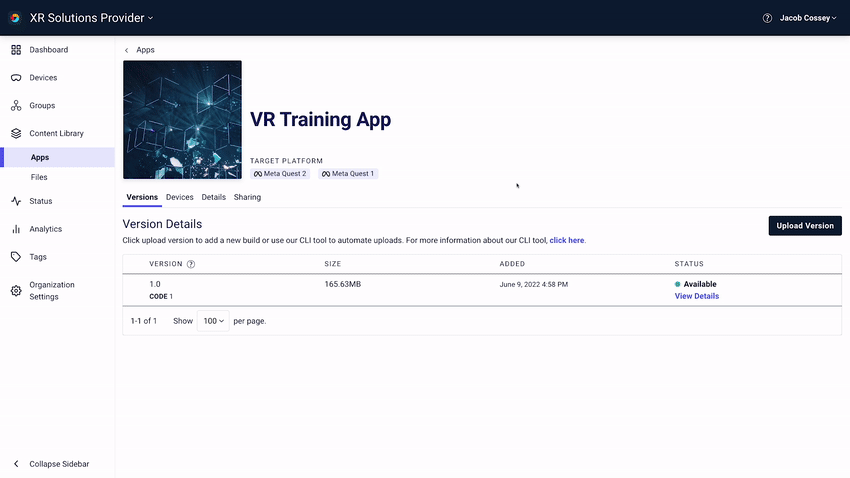 You have options on how you can deploy content to Meta Quests: sideloading through your computer, uploading custom content to an MDM library, or using the Oculus App Store.
However, most organizations find out really quickly that uploading content to an XR MDM library is secure, seamless to deploy, easier to manage, and far less time-consuming. In addition, ArborXR can help you use Oculus Apps with kiosk mode or a custom launcher while restricting the Oculus App Store and web browser for your users.
The Meta Quest can be difficult to manage, especially at scale. However, with the right MDM powering your devices, it will feel effortless.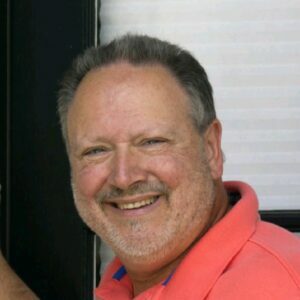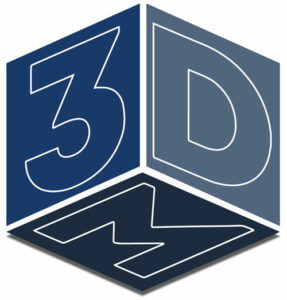 "Almost all of our team members are remote. Using ArborXR, we are able to deploy builds to team members during development for internal review. In addition, ArborXR allows us to deploy to our customers in order to keep a "quick feedback loop", keeping us agile. ArborXR makes it easy to push out the latest versions of our products. Device groups enable us to group apps accordingly with users (devices) making deployment very easy for different projects."
Wayne Daigle, CTO at 3D Media
We're Here to Help You with any VR/AR Needs
ArborXR works with 600+ companies in 60+ countries, including dozens of Fortune 500 and hundreds of ISVs. ArborXR is an enterprise-level device management platform built from the ground up for VR & AR devices and is powering the largest XR deployments in the world. ArborXR powers HP's ExtendXR and is the preferred XR MDM of Qualcomm. Our mission is to help people live more meaningful lives through the power of XR.
Schedule a time with ArborXR where we can give you a live demo of our MDM platform and our recommendations based on your organization's goals.
Subscribe to stay in the know!