How to Lock Down Meta Quest Headsets
One of the biggest problems facing a lot of organizations today is how to lock down Meta Quest headsets, controlling what users can see and do in VR.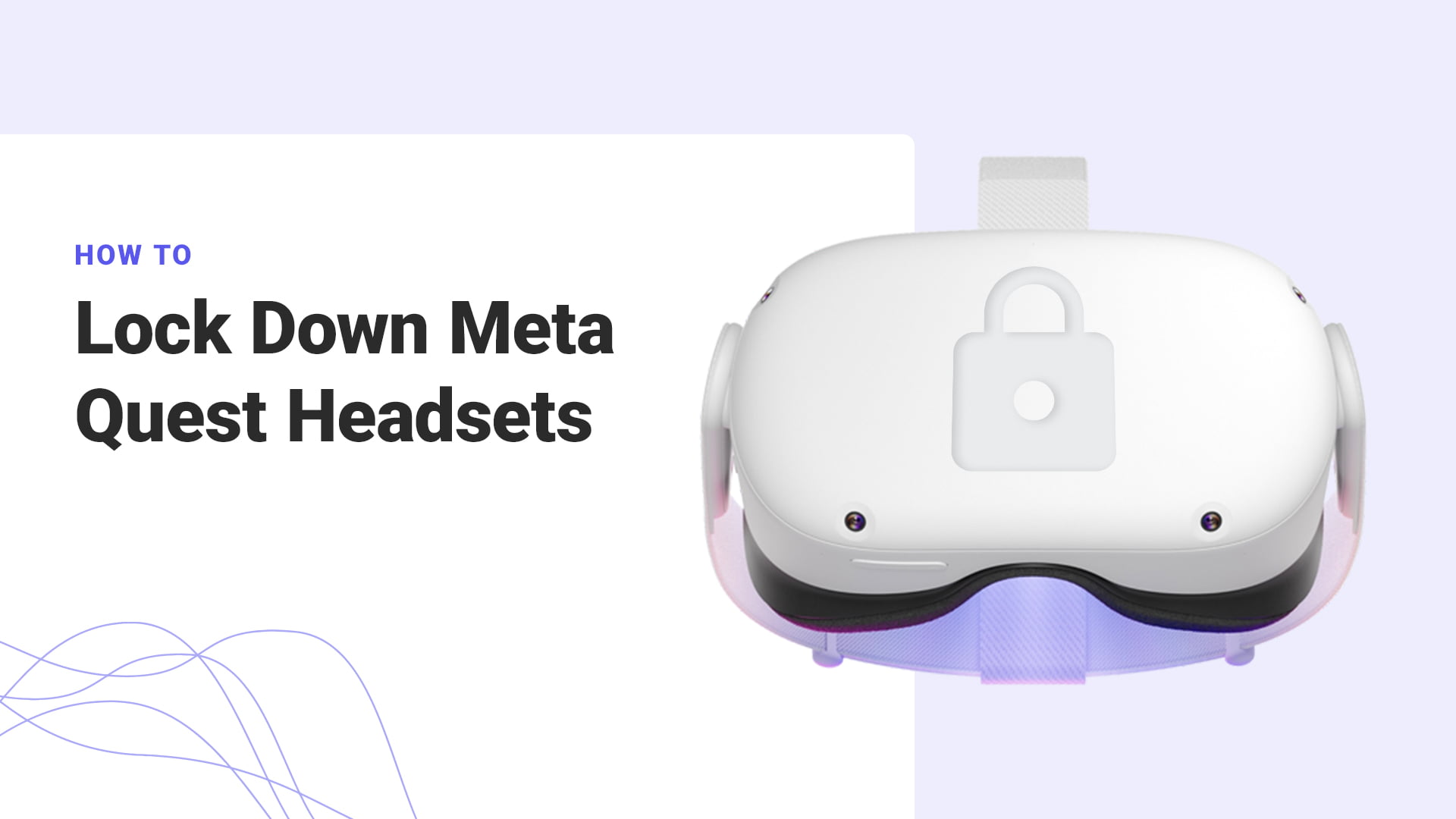 We hear the same thing from customers daily…
"The Quest is amazing and affordable, but the Oculus Home environment is not working for us!"
They've learned that by default employees can download apps from the store, students are surfing the web and organizations have zero control over what happens in the headset.
The custom launchers we've seen aren't any better because as soon as users hit the home button on the controller, they can exit the launcher and get back to the home environment.
We've talked at length about the challenges of Meta's Quests in a business or education setting. One of the biggest problems facing a lot of organizations is that they don't have a way to lock the device down, controlling what users can see and do in VR.
Creating that kind of experience with Quest can be difficult, but it is possible.
Locking down the Meta Quest to a custom launcher is one of the best ways to ensure device security, focus users, and maximum control for administrators.
Add a header to begin generating the table of contents
Why do I Need to Lock Down Meta Quest Headsets?
Meta designed the Meta Quest with the consumer in mind. So, if you don't lock down the headset, users will have free access to the Oculus App Store and web browsers.
How do you keep users focused if thousands of apps and games are at their fingertips? Not to mention the web browser which gives users access to anything they can think of! This clearly isn't ideal for most enterprise, education, and medical uses.
With a custom launcher, like ArborXR Home, admins easily control exactly what apps, files, and settings users have access to.
Users will only be able to launch, switch, and pause only the applications administrators have allowed on the device.
You'll be able to guide your users to the content you want them to use, allowing for an intuitive VR experience without getting lost in menus or settings.
You Need an MDM Designed for VR & AR
When it comes to MDMs, not all are created equal. Your legacy MDM might not work for your needs. Most legacy MDMs don't even include launchers for VR devices, which makes managing a fleet of headsets much more difficult.
The reality is that you need mobile device management (MDM) software powering the Quest. A good VR/AR MDM provider will give you the option to lock down the experience of the headset. It's a much better experience for the administrator to curate what the user has access to by locking down the device to a custom launcher.
Instead, you need an MDM designed for VR and AR devices.
| Feature | ArborXR | Legacy MDMs |
| --- | --- | --- |
| Hardware Inventory | | |
| Wi-Fi Configuration | | |
| Policy Management | | |
| Easy to Use | | |
| Easy Setup / Enrollment | | |
| Reliable Installs of Large Apps | | |
| Version Management | | |
| Differential Updating | | |
| Visibility on App Development | | |
| Content Sharing | | |
| Manage User Experience In-Headset | | |
| Session Data / Application Usage | | |
| User Authentication In-Headset | | |
Reliable Installs of Large Apps

Visibility on App Deployment

Manage User Experience In-Headset

Session Data / Application Usage

User Authentication In-Headset
Kiosk Mode VS Custom Launcher
The two best ways to lock down a VR experience are by using a kiosk mode or by overriding the device's home environment with a 3rd party launcher like ArborXR Home.
You need an MDM designed for XR to set the Meta Quest headsets in either kiosk mode or in a 3rd party launcher.
So, what's the difference?
Kiosk mode is one of the most highly requested features organizations are looking for when using the Meta Quest. Kiosk mode allows one (and only one!) application to launch after powering on the device, delivering a single and reliable VR experience for users.
Launchers allow you to choose which apps (as many as can fit on the device!) and settings are available from your own content library and MDM platform. With a 3rd party launcher, you can restrict their access to download anything from an app store or browse the internet.
Disabling the Oculus Quest Home Button
A custom launcher is only half the equation. In order to keep users from easily exiting your launcher, you have to disable the Oculus Home button. Otherwise, users will be able to exit the launcher and go right back to the Oculus Home environment, with access to the app store and web browser.
The ArborXR Home launcher and our kiosk mode disable the default Oculus home button behavior automatically so that a user cannot go back to the default Oculus home environment. In ArborXR, the Oculus Home button instead acts as a shortcut to quickly access device settings. No legacy MDMs offer this kind of functionality.
How Can I Keep My Quests Safe & Secure?
Remote factory reset.
Device location tracking.
Know who is in the headset and secure your device with

Single Sign-On

(SSO) (coming soon).
Disable USB file transfer and Android Debug Bridge (ADB).
The best way to keep your devices secure is by using enterprise-level security.
Storing your content privately means it is not available on the public internet. All content downloads and uploads are encrypted with industry-standard SSL and HTTPS protocols.
ArborXR also offers customers the ability to connect their own cloud storage bucket to keep it separate from other content on the platform. You connect your own custom S3 or S3 compatible cloud storage bucket to accomplish this. This will keep your data even more secure by isolating your apps & files from other content on the platform.
You will be able to remotely factory reset lost or stolen devices, ensuring your data isn't at risk. Once the reset is initiated, the device will be wiped the next time it comes online and connects to ArborXR's servers.
Device location tracking allows you to see when and where devices were last seen. A reference map is provided so you'll get an approximate device location based on the headset's IP address.
Single Sign-On (SSO) is a game-changer for companies and schools. SSO limits access to your devices and lets you know who is using them. As an optional add-on feature, SSO has end-users sign in with their company or school logins before accessing ArborXR Home.
You also have the option to disable USB file transfer and Android Debug Bridge (ADB) so that a device can't be changed by connecting it to a computer. This can help prevent hacking or tampering and ensures your device setup remains the way you want!
Rest easy knowing ArborXR was built with enterprise-level security and in direct partnership with many Fortune 500 companies.
Now, to get access to these features, a third-party launcher, and more, you'll need to install an MDM. We outline how to set up the Meta Quest below.
Configuring the Meta Quest for a 3rd Party Launcher
In order to place a Meta Quest in a 3rd party launcher, you need to:
Set up Meta Quest with Facebook and Oculus Accounts.
Create a Developer account and place the device in Developer Mode.
Install an MDM that offers a launcher option.
STEP 1: Turn on Meta Quest. The power button is located on the right-hand side of the device. The device will prompt you to remove battery tabs from the controllers in order to turn them on and pair them to the device.
STEP 2: Set your language and connect to Wi-Fi.
STEP 3: Download the companion Oculus app on a phone or tablet.
STEP 4: Create an Oculus account, linking it to a Meta account.
STEP 5: In the Oculus app settings, click devices. Then click on the Meta Quest 2. You will need to type in the number you see in the Meta Quest headset in the Oculus app. Once you do this, the device will continue the automated setup process.
STEP 6: Create a boundary guardian.
STEP 7: Watch and acknowledge safety warnings and data privacy policies.
Now, to set up a new VR launcher on a Meta Quest, you will need mobile device management software (MDM) powering the device.
Installing a 3rd Party MDM
STEP 1: Enable Developer Mode for Meta Quest.
STEP 2: Plug in the Meta Quest to your PC to install the MDM from your preferred software provider. Some MDMs may provide a setup app, and some may have you download the APK directly to your computer.
STEP 3: Once the MDM is installed, the Meta Quest can be configured from the MDM platform.
MDMs have different processes for configuring the kiosk mode once the MDM is installed.
An example of what configuring a VR launcher with ArborXR looks like is shown below.
Lock Down Groups of Meta Quests with a Custom Launcher
Here's an example of how easy it is to set up a custom launcher with an XR MDM. Below you'll see the web interface for setting up ArborXR Home.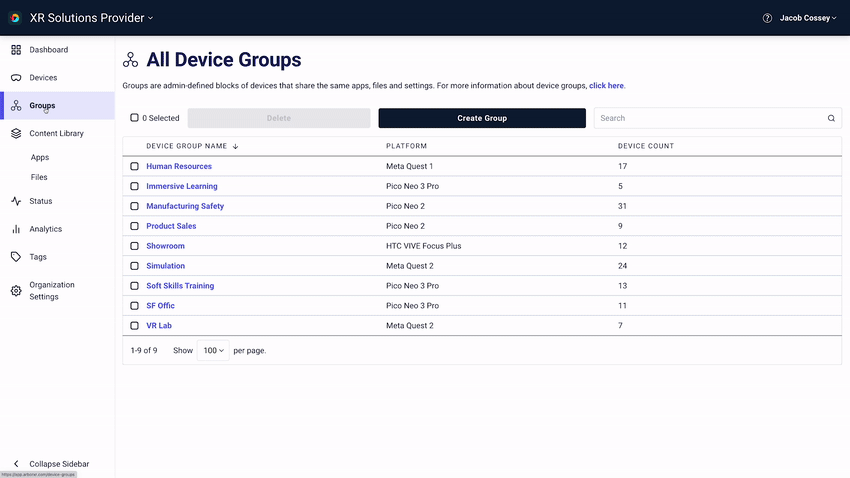 Using ArborXR Home to Set Up Meta Quest
Keeps users focused on the apps and files that you select for them.
Customize the VR environment with your logo and 360° image.
Limit user access to settings.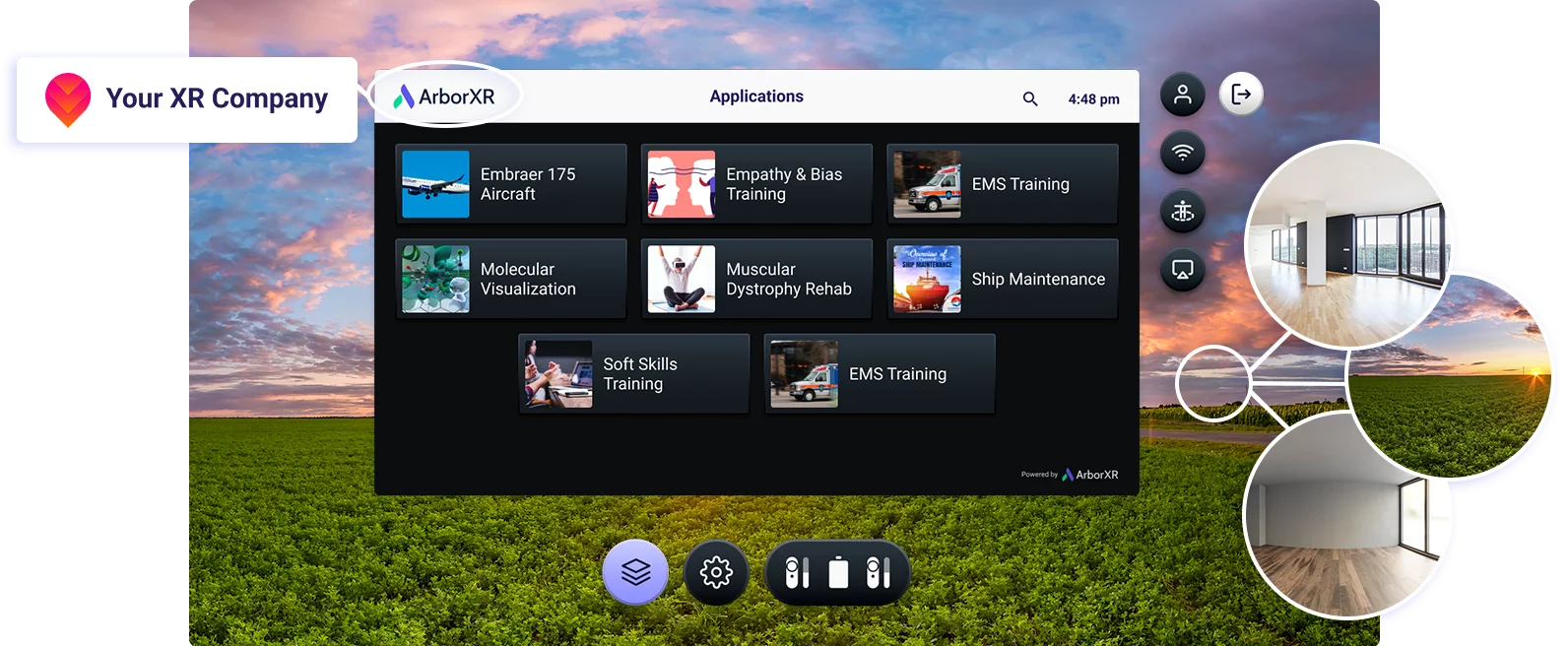 You can easily customize the ArborXR Home launcher with the look and feel of your organization, and enable effortless control over your devices and what users see and do in VR.
Meta Quest is a device designed for consumers. Using Meta Quest for your business or in education means that you need a plan to manage and secure the headset so that your users get the experience you want them to have. An MDM designed for XR gives you the flexibility and tools you need whether it's with individual devices or with hundreds and thousands of Meta Quests.
With ArborXR you can confidently manage VR and AR devices at scale, remotely deploy content, and control what users see and do. ArborXR is built with enterprise-level security and in direct partnership with a number of Fortune 500 companies. Our mission is to help people live more meaningful lives through the power of XR.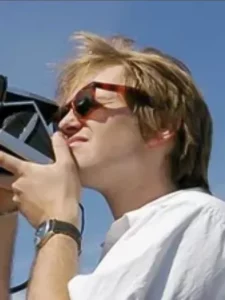 "We couldn't have made our project work without ArborXR. ArborXR gave us a quick and easy way to create a robust kiosked VR experience."
Joshua Higgason, Interactive Design at MIT
We're Here to Help You with any VR/AR Needs
If you want to learn more about VR and AR solutions for your organization's needs, schedule a time where we can give you a live demo and make our recommendations.
Subscribe to stay in the know!