AR & VR Device Management Made Easy
It's not magic, but it sure feels like it.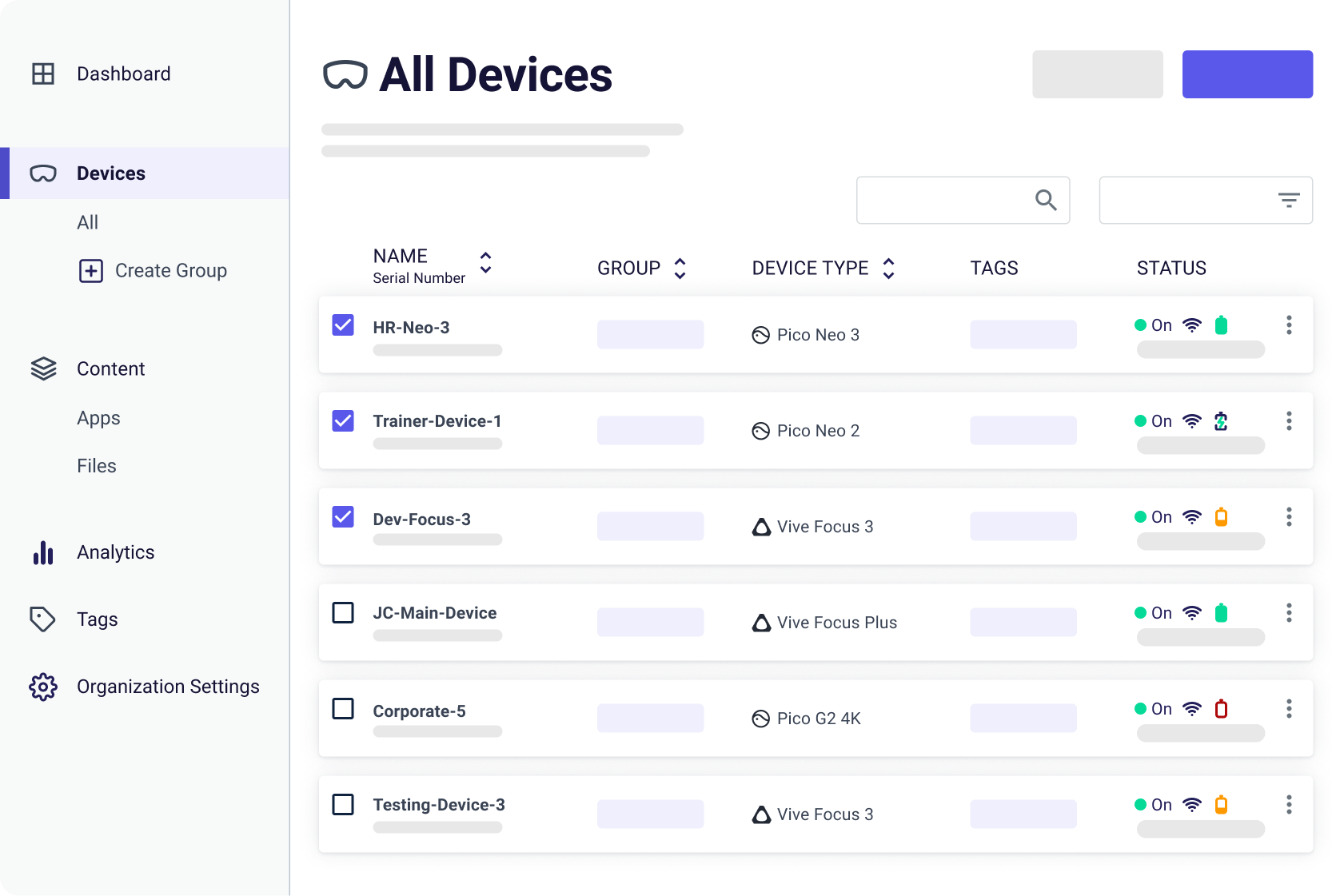 Save time by provisioning multiple AR & VR devices simultaneously.
Provision multiple devices at once (a single PC can provision as many devices simultaneously as you have USB ports).
Save time and bandwidth by generating a configuration package.*
With one click headsets get apps, files, Wi-Fi configurations, and other device settings installed on device setup.
*
coming soon
With supported hardware manufacturers, provision headsets at the factory.
This means headsets ship out with apps, files and settings pre-installed.
Use Almost Any AR or VR Headset
Manage AR & VR device policies and deploy content to a range of Android-based standalone AR and VR devices, including popular headsets like the HTC VIVE Focus 3, HTC VIVE Focus Plus, Pico Neo 3, Pico Neo 2, Pico G2 4K, Oculus Quest, Oculus Quest 2, Vuzix M400, and more.

AR & VR Device Management
Organize AR & VR devices into groups, apply group settings, and install apps.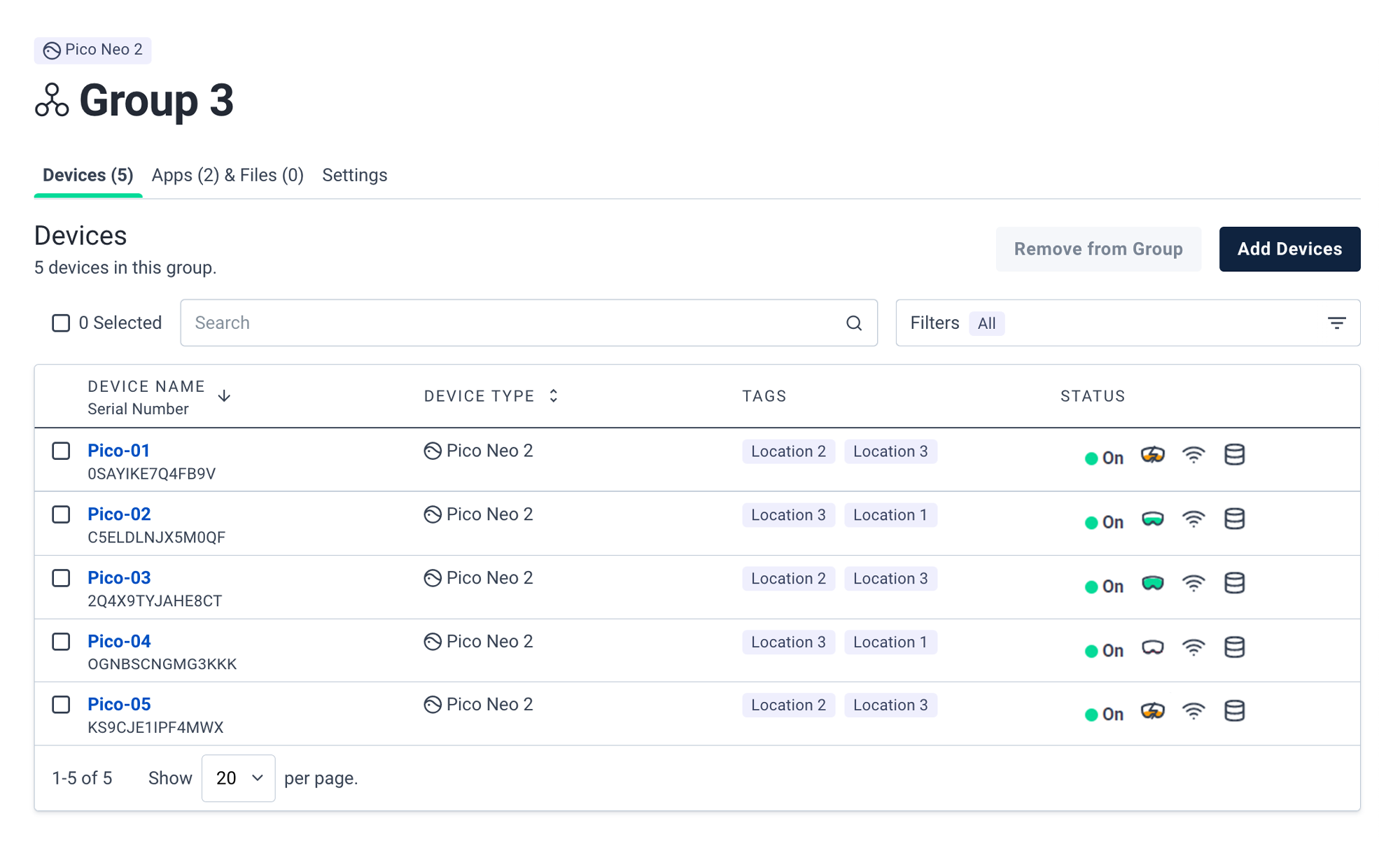 See device details in a glance: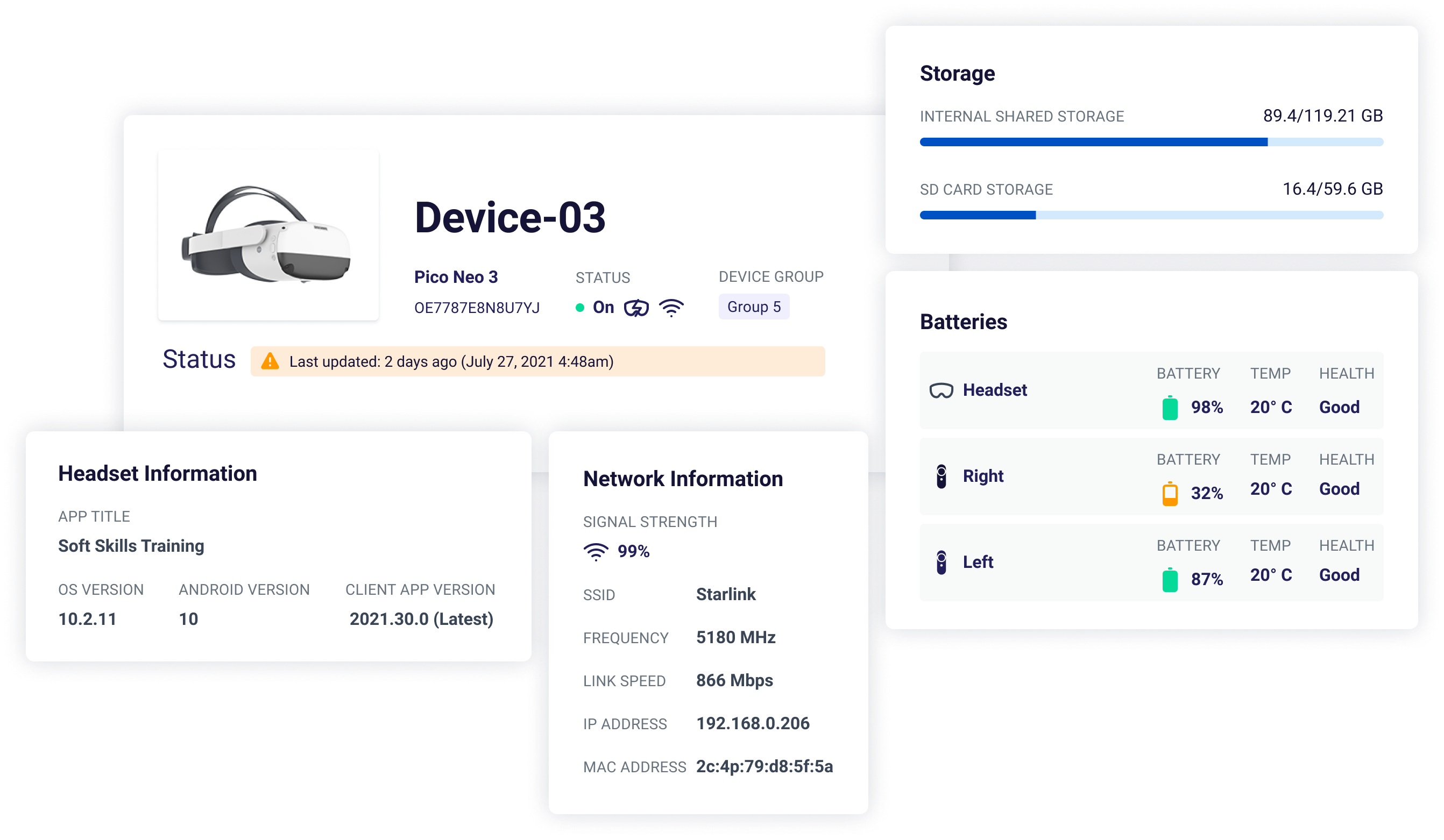 AR & VR Content Management
Upload & remotely manage a content library of apps and 360° videos.
Upload apps (apks) and files (mp4/360 video) to your content library
.obb support included with app uploads
No app or file size restrictions
Version management and rollback
Add notes to versions
Automatic build checking at upload to ensure new app versions meet Android requirements
Content self hosting (optional)
Deploy apps to either groups of devices or to individual ungrouped devices
Deploy files like 360 videos and configuration files to a specified path on the device
Version management, including support for version rollbacks
Real-time visibility on status of install, uninstall and deployment errors (e.g. no more storage space on device)
Both to internal organizations and external organizations
Includes version management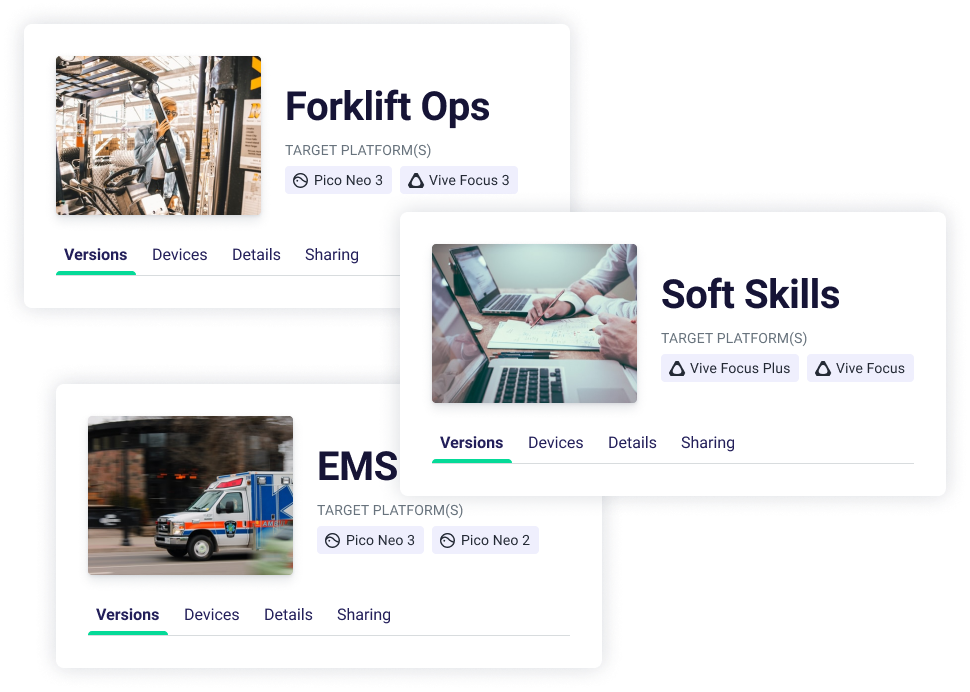 Install content, deploy updates, and track progress remotely.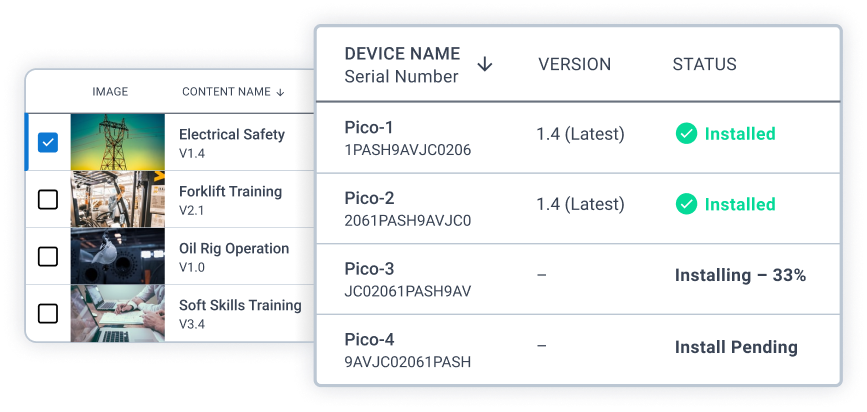 Spot app & file deployment issues in real-time in the dashboard.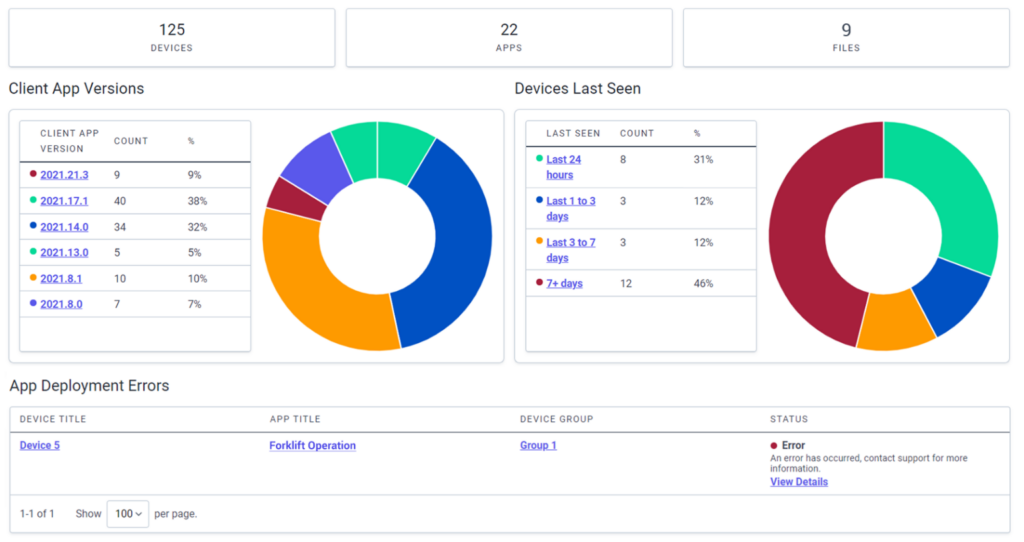 Gain insight into usage patterns and performance with analytics.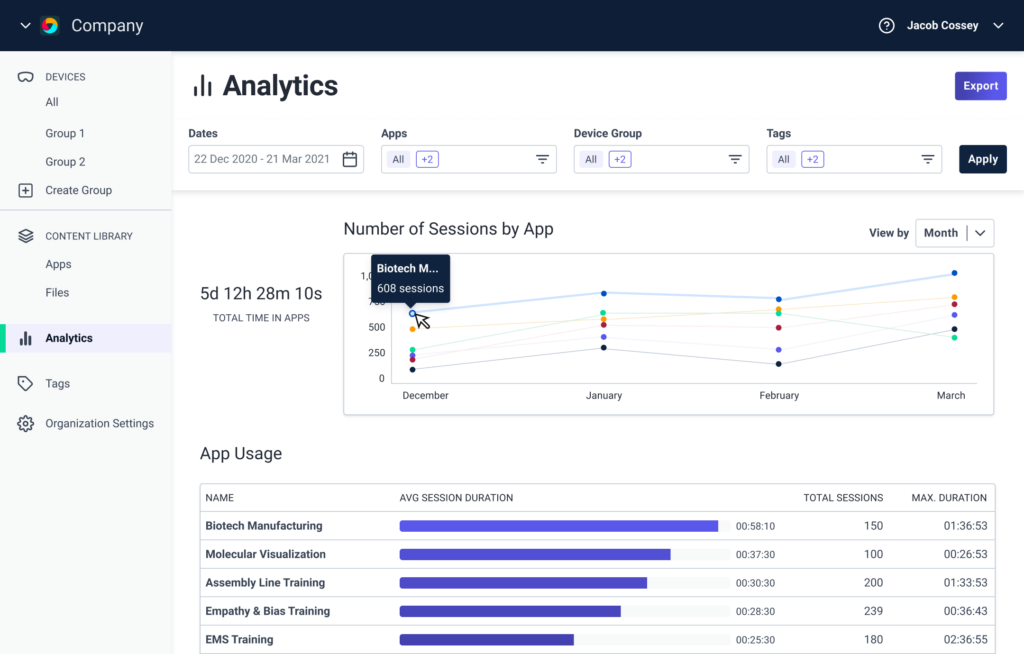 Custom VR Content Launcher
Direct your end-users to the right apps with a Custom Launcher and Kiosk Mode.
Auto launch into specified kiosk app upon boot of device.
Locks down the device and prevents end users from accessing other apps.
Turns device into a single application "kiosk" device.
Pick what apps you want users to be able to launch.
Users can launch apps in-headset.
Admin can remotely display or hide apps and settings.
White label: Replace the logo and launcher background environment (360° image) with your own.*
*
coming soon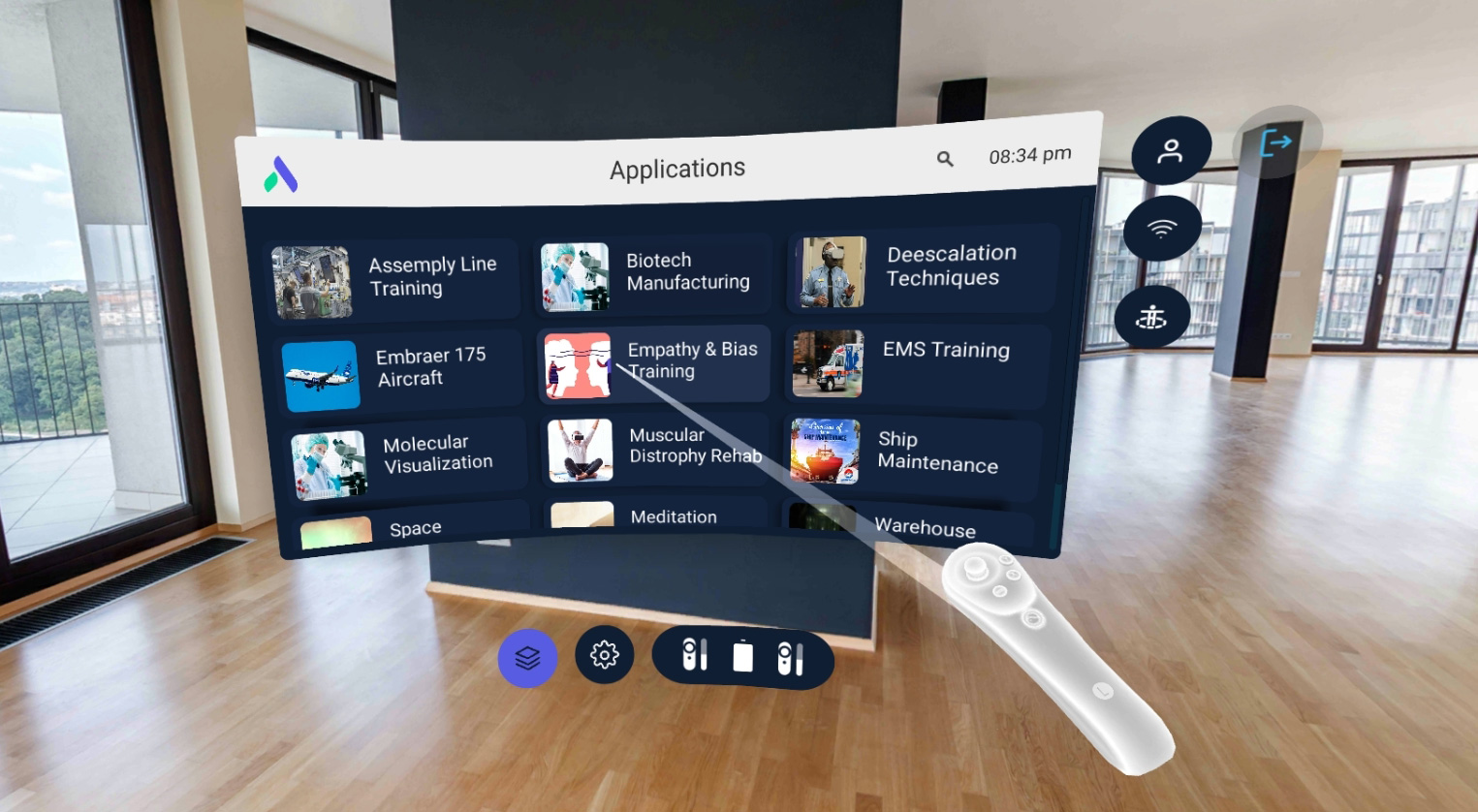 ArborXR allows us to manage our users, devices, and software in a simple, clean interface quickly and easily. We can now protect our IP and deploy to multiple devices while our users only need to put on their headset to access the latest available content.
If you want an enterprise-grade hardware management solution for your developers and customers, you need to check out ArborXR. An enterprise-grade solution with none of the hoops, strings, and walled gardens we usually need to work within.
With ArborXR, we're able to look at the health of the headset and the software. We're able to make immediate updates, replacing legacy files with new files if necessary. It's easy for the client to get the latest and greatest version of the content that they've invested in.
ArborXR reduces our expenditure of time & resources by about 60%. We're deploying to thousands of libraries around the country. There's no way that we could do that humanly unless we had an entire team of people on it. ArborXR allows us to keep scaling without additional team members.
Try ArborXR for Your Team Today
Trusted by Companies Worldwide