Official ArborXR Product Demo
Watch the official ArborXR product demo to learn how you can start scaling your XR deployment with confidence & ease today!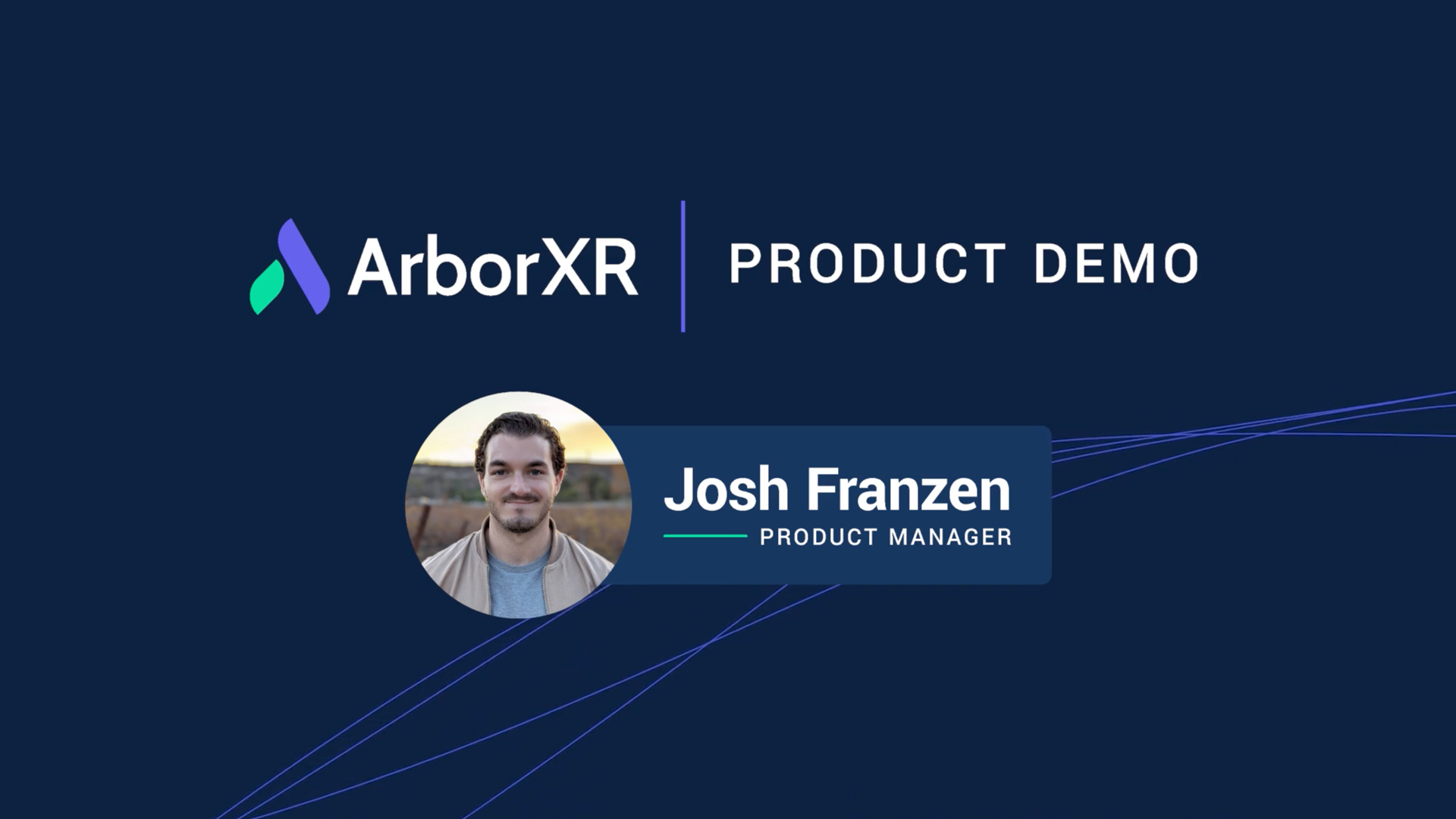 Watch the official ArborXR product demo below:
Begin Demo Video Transcript
Over the last year we've talked to hundreds of enterprise companies & solution providers and we hear the same thing from each of them again and again…
Deploying XR is difficult, especially at scale.
Nobody likes spending hours sharing APKs via a cloud file storage solution, plugging in cables to sideload apps, or putting on headsets checking to see if apps are installed.
Existing MDM solutions are designed for managing phones, tablets and laptops, not VR & AR devices.
The companies & solution providers we talk to are looking for an easy way to remotely deploy apps & files to devices, remotely keep their apps & files updated across their devices, lock down devices, configure settings, and, in some cases, remotely receive apps & files sourced from external solutions providers.
ArborXR was built not just to manage a fleet of VR & AR devices but to solve the core problems associated with VR & AR device management & content deployment.
I'm Josh Franzen, Product Manager at ArborXR, and over the next few minutes I am going to showcase how using ArborXR can simplify deploying XR at scale.
Upon logging into ArborXR the first thing you'll see is the dashboard, which reports on the total number devices, apps & files you have added to your organization. Beneath that are two pie charts, one of which reports on the ArborXR software version running on your devices and the other reports on the last time your devices connected to our servers. Beneath those pie charts you'll see tables that report on any content deployment errors that may have occurred.
The first thing you'll want to do is add devices. Adding devices is easy, and you can either do this one at a time or in batches.
We've built the Desktop Pairing App to simplify and expedite the pairing of devices into your ArborXR organization.

To get started click Add Device then click Download, depending on whether you're a Windows user or a Mac user. Once the download is complete and the pairing app is installed, launch it and connect your device. Upon connecting your device, the desktop pairing application will recognize it and display the device's hardware information and its serial number. At this point, you can name the device then click Install. If you have a USB hub, you can connect multiple devices and click the Install on All Devices button to pair devices in batches.
Once the install is complete, you can click the Manage Device button to be taken back to the ArborXR Web portal. You will be directed to the device's summary page, which is where you can view useful information about the device, such as the serial number, the device type, the operating system version, ArborXR's client app version and so forth. You are also able to monitor the device's status. If it's on, ArborXR is able to report the device's battery life, the device's network health and the device's storage space.

You can now click Devices to be taken back to the devices index page. As you can see, the device was added to this page so you can now monitor it along with all of your other devices. Note that this table will also report the device's status, battery life, and network health.
Note that ArborXR is device agnostic and supports all Android based standalone VR & AR devices.
One last note about the device index page is that you can search – you can search for devices by name or by serial number. You can also filter. You can filter by tags, which are metadata that you can create and assign to devices as you see fit. You can also filter by device type, the client version number, and the last seen date range of your devices.
Next, I'm going to show how you can build and manage a library of apps & files. Beneath the Content Library menu option navigate to Apps if you need to upload an APK, or navigate to Files if you need to upload some other file type such as a 360 video.
You can either self-host all content on your own S3 or S3 cloud storage bucket or host content on ArborXR's servers, at no additional cost.
To add an app, click Add App. Enter the name, specify its compatibility, then click Add App. At this point, you've created the entry for the app. The next step is to upload the APK. To do so, click Upload Version. Here you can drag and drop the APK or you can click Browse and begin uploading. At this point, you can either stay on this page and monitor the progress of the upload or you can multitask and, for example, add a description and launcher image. ArborXR offers version management so you can upload all builds of the app then deploy specific versions to specific devices. Version rollbacks are supported as part of version management.
To add a file, click Add File. You will then need to specify where the files should be stored on the device by entering its path. Next, drag and drop files or click Browse then begin uploading.
Next, I'm going to show how you can leverage ArborXR's Device Groups functionality.
Device groups are admin-defined groups of devices that share the same apps, files & settings.
To create a group, click Create Group in the side navigation menu. Enter a name, specify the device compatibility, then click Create Group.
Once created you will be directed to the group's Devices tab. Click Add Devices to assign devices to the group.
Next, click on the Apps & Files tab to add apps and files to the group. Thanks to ArborXR's version management functionality, when adding apps you have the option to specify which version of the app should be added to the group.
Once added, these apps and files will be installed onto the devices assigned to the group the next time the devices meet the criteria for when apps & files should be installed. Assigning device(s) to a group after the fact results in the deployment of the group's apps, files & settings to the device(s) the next time they meet the criteria for when apps and files should be installed.
With ArborXR, you can specify whether content should be installed immediately, when the device is plugged in, during a scheduled time window, or when the device is both plugged in and falls within the scheduled time window.
After adding apps or files to a group, you can track the status of the deployment by observing the Status column. This column will show you a count of the number of devices the app or file has been successfully deployed to. You can hover over the status to get more information on which specific devices have the app or file installed, which are still in a pending state, and which, if any, have errored.
After adding devices, apps and files, you can now manage the group's Settings. Here you can manage the device's Wi-Fi networks, security settings, manage OS updates, language, timezone, and configure the in-headset experience for end-users.
In the Wi-Fi page you can remotely provision Wi-Fi networks to your group of devices. This includes support for open networks, WPA, as well as the personal and enterprise modes for both WPA2 and WPA3. Various encryption protocols and authentication types are supported, including certificate-based authentication.
In the Headset Experience page you can manage what end users see inside the headset.
Custom Launcher is ArborXR's launcher that displays a grid of all apps that your organization's admin has whitelisted for that group's end users. To customize the custom launcher click Configure then tab between Apps, Settings, and Appearance to configure the apps and settings end-users should have access to within VR, along with optionally replacing the default launcher background environment with your own 360 image. If you have uploaded an organization icon, this icon will be displayed in the top bar of the launcher UI. By enabling you to add your own background environment and organization icon, you are able to offer your end-users a branded experience within VR.
Kiosk Mode, on the other hand, means anytime the device is booted up it will automatically launch into the specified kiosk app and prevent end users from accessing any other apps.
Next, I'm going to showcase ArborXR's content sharing functionality. For ISVs and XR solutions providers whose enterprise clients have their own ArborXR organization, content sharing enables them to upload an app or file once to their organization's content library and then share it to their client's organizations with just a few clicks.
For example, if I am a solutions provider and need to share the Forklift Training app with my enterprise client, I can click the Share Content button, enter the organization's ID, then click Share. The organization that you are sharing content with will need to provide you with their unique organization ID ahead of time.
Once you've clicked Share, the organization owner in the organization receiving the content will get an email notification and be prompted to either accept or decline the shared content. Since Forklift Training was shared content, users in the organization that received the content do not have the permission to manage versions or change the name of the content. All that they have access to is to deploy it to their devices, since this content is being managed by my organization.
ArborXR offers Session Analytics, so you can see how your content is being used by the different group deployments within your enterprise. At the top of the Analytics page you have options to filter by date, group, or application. The graph at the top provides overall usage information along with how many app sessions took place over time. In the next section down is detailed information breaking down each application by average duration, total number of sessions and max duration. And the third section provides insights into active time by device group with detailed app usage by device in the last section. You have the option to download all related data via a CSV file for your own custom analysis and reporting––simply click the Export button at the top.
ArborXR supports multiple users within each organization. You can manage your users by clicking on Organization Settings and then clicking on the Users tab. ArborXR offers 4 predefined user roles, but you can edit the permissions assigned to these roles or create custom user roles as needed. To add a user click add user, assign them a role, then enter their email. At that point they will receive an invitation email and will be taken through account onboarding.
ArborXR also offers an Audit Log, so you can track and audit all activity in your organization.
Another core feature offered by ArborXR is Multi-Organization Support.
If you are an XR solutions provider or an ISV with multiple clients and require devices, content and/or users to be sandboxed per client, you can create a separate organization for each client.
If you are an enterprise or educational institution with VR deployed across multiple departments and require devices, content and/or users to be sandboxed per department, likewise you can create a separate organization for each department.
When creating a new organization, you have the option to establish billing account hierarchy such that you can map the billing of any new organizations you might create to your original organization. This enables you to manage billing across all organizations from one central place.
Once billing account hierarchy has been established, simply navigate to Organization Settings, tab over to Billing, and then click Manage Plan. This will open a widget from which you can manage the plan of each of your organizations.
This concludes the demo. There are several other features not covered in this demo such as In-VR Single Sign-On and Management of OS Updates. If you are interested and would like to learn more you can contact us at [email protected].
Get setup with ArborXR today to see how easy it is to deploy XR at scale.
End Demo Video Transcript
Interested in getting started?
Subscribe to stay in the know!