Stanford University: How Immersive Technology Enhances Education
Stanford University uses XR to teach health, inclusivity, and more. Converted from an interview with Associate Creative Director for Stanford Digital Education.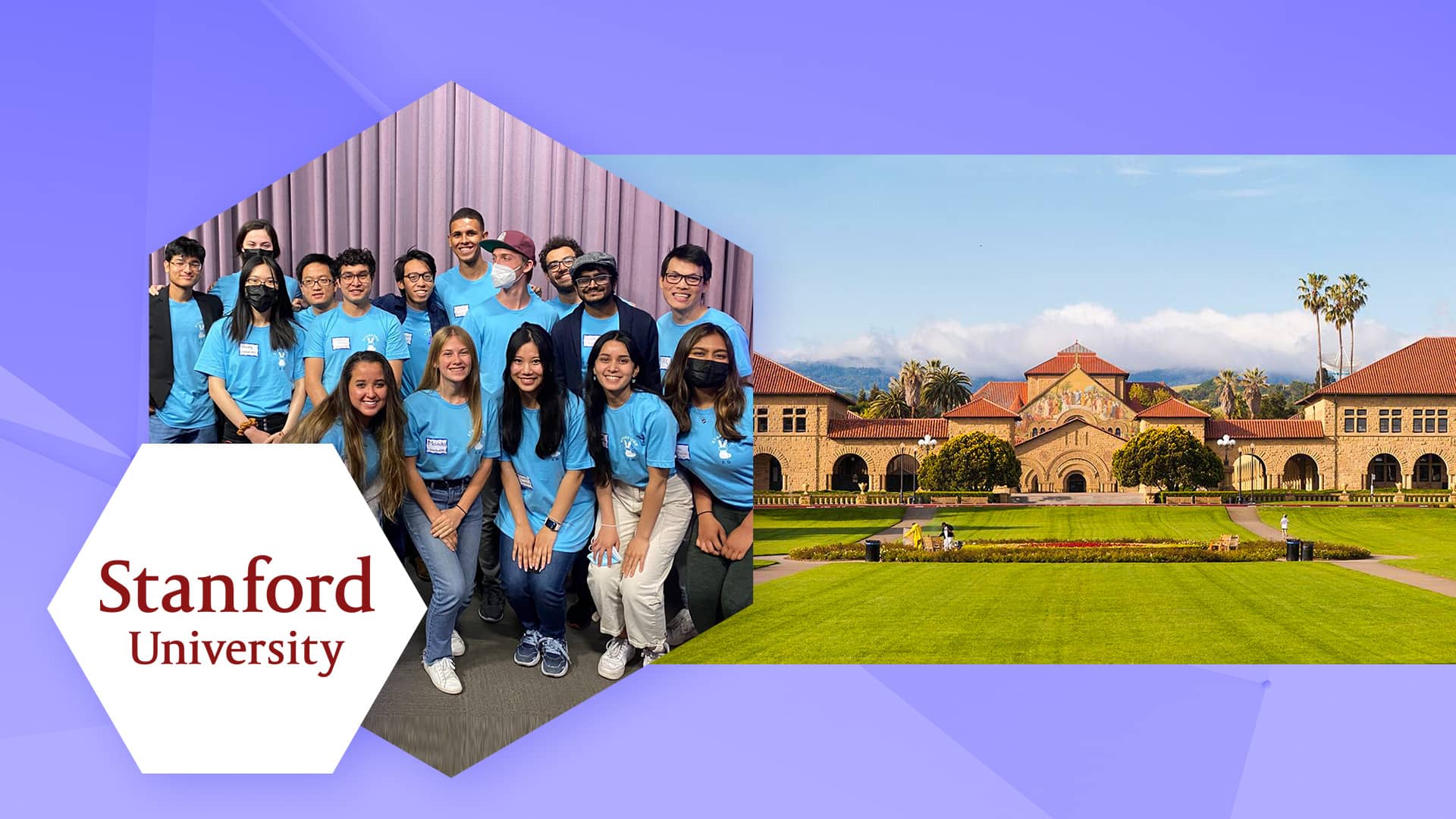 Stanford University has been at the frontline of immersive technology for decades, and XR is no exception. As a leading educational institution, Stanford always seeks ways to engage and inspire their students and faculty. For more information about how Stanford is pushing the boundaries of XR, visit their Virtual Human Interaction Lab.
During the COVID-19 pandemic, the education sector had to completely embrace and accelerate innovation around remote learning. Stanford University was challenged to find more accessible and equitable ways to support teaching and learning in the face of social unrest and the pandemic.
The university established the Stanford Digital Education unit, which tasked Associate Creative Director Erik Brown with finding virtual reality solutions that could powerfully and responsibly engage current and potential students. They needed a way to easily manage student XR experiences remotely across campus.
In response to COVID-19, Brown and a team of Stanford students crafted XR experiences focusing on immersive campus tours and diverse student stories. The Stanford Digital Education team continues to utilize immersive technology to drive inclusivity and collaboration in their student body. For these programs to work, they needed a way to grow VR experiences on a large scale. They used ArborXR to launch their XR program and remotely handle XR devices, content, and student experiences.
New Dangers, New Innovations with Virtual Reality
"In an academic setting, immersive technology adds real value when you can transmit information, transport a learner or transform a concept."
In March of 2020, the campus of Stanford University was quiet. A month prior, students rode bikes to busy cafeterias for a quick bite to eat before joining hundreds of others in lecture halls. By mid-March, a time usually marked by baseball and blooming flowers in the bay, the university was now grappling with the challenge of fully closing the campus. Suddenly, they had to find ways to engage, educate, and care for nearly 16,000 students.
Virtual reality allowed them to solve this challenge.
Before COVID-19, Stanford University established a unit called Stanford Digital Education (SDE), led by Erik Brown as Associate Creative Director. SDE aimed to utilize technology to create equitable and accessible spaces for higher education. Immersive technology was already being implemented at Stanford, so it was natural that the SDE looked to it as a tool. Brown shared a virtual reality (VR) experience that exemplified the potential of VR in education.
This particular VR experience focused on the transformation of the heart due to aging, exercise, and disease. Learners could explore different sections of the heart and observe the contrast between plaque build-up in individuals who exercise and those who don't.
Brown explained, "We were able to transmit a set of information to a learner. We transported them directly into a heart, transforming the learning experience."
When the pandemic emerged, the privilege of access was stripped from everyone. The SDE's goal of fostering equitable and accessible spaces through technology became crucial on a universal scale. VR proved especially valuable in situations where traditional learning environments were difficult or unsafe. Collaborating with XR experts at Stanford, the SDE employed VR to engage students in safe yet powerful ways. As the pandemic continued to keep teachers and students physically separated, VR acted as a bridge reconnecting them.
Inclusion in Virtual Reality
As the world has tiptoed out of pandemic restrictions, Brown and the SDE have expanded how they use immersive technologies to engage and inspire. At the heart of Brown's work is a focus on equality and outreach.
He asks, how can virtual reality technology improve the world? Brown has seen how VR engages people and creates emotional connections. With this ability, Brown feels virtual reality can positively impact the world.
"I remember when I was growing up, there was this idea that VR would make people stay in their homes and just live in glasses and the VR world. And the truth is, virtual reality is an opportunity to train people to actually go out into the real world, do better work, and process better," says Brown.
Campus Visits with Virtual Reality
With the use of virtual reality, geographical distance is no longer a challenge. In partnership with a group of students known as Stanford XR, Brown has seen VR used to create an immersive and personal campus experience.
One focus of this project is to offer a more equitable experience to students who may need help accessing the campus for a tour. Brown says,
"When people are remote, or they can't necessarily fly in with ease–students who live on the East Coast, for instance, are able to access the campus in a more tangible way. With virtual reality, we get to transport them in."
Visitors experience classrooms, labs, and faculty members all in virtual reality. It's a way for students to experience first-hand something that they might not have access to otherwise.
Sharing Student Experiences with Virtual Reality
These student-led experiences can also offer a sense of community and belonging. Students are creating and sharing their own stories in the virtual space. Brown sees two significant benefits from this story space.
"There's a ton of diversity, especially at the undergraduate level. We want students who are a little bit further away to see that there's a lot of great innovation going on and a lot of access that they could benefit from at Stanford."
XR can increase inclusivity. It can break down barriers and create access for overlooked or underserved people. Brown says it best,
"There are always demographics who are often just not thought about when creating accessible educational experiences. The reality is, VR has the potential to increase access across demographics and give everyone a better education."
The problems of today, whether those are problems within a company or more significant societal issues, have the best chance of being solved if we scale XR technology to include more people – people with differing abilities, demographics, experiences, and perspectives.
Immersive Technology and Empathy
When asked what lies at the heart of what he does, Brown spoke about his experience on city buses. He used to live on the outskirts of Newark but worked in New York. The daily commute took Brown through very different socio-economic settings.
The windows of those buses became living displays of two different realities – the haves and the have-nots. Brown saw an opportunity to tell stories that might put a spotlight on privilege and create more collective empathy. XR has opened new doors for those types of stories.
Brown shared a couple of experiences that he's had with the Virtual Human Interaction Lab at Stanford (VHIL). In one experience, Brown was transported into the body of an unhoused person, where he experienced the sites, sounds, and nuances of a day in their life. He talked about the empathy that an experience like that builds.
The second experience involved Brown and those in the room with him being transported into the body of a Black man during an incursion with the police. Erik Brown, a Black man, told us about watching non-Black participants go through this experience. He said that he could see the "aha" moment when these people began to understand, in part, what reality is for a Black man.
"It's sort of ironic that you have to go through a virtual experience to actually understand, to some extent, what reality has to offer for somebody else," says Brown.
Sharing stories is essential. Being transported into the story carries a power all its own. Virtual reality puts users in the story, where they can build empathy in meaningful ways that can improve the world.
Scaling XR at Universities
Scaling XR at Universities can engage, inspire, and elevate the student experience. While Stanford University has quite a bit of access and opportunity, which Brown acknowledges, there are also some "universal truths" that can help other colleges and universities launch their own XR programs.
One thing that every school has is a student body. Brown says that including the students in an XR program benefits them and the university.
Students Can Build Their Portfolios
StanfordXR has brought students in from the various schools on campus to work on their XR initiatives. Bringing in different skill sets and backgrounds results in better solutions, and it also results in better portfolios. The employers of tomorrow will be searching for those who are creating innovative solutions today. By bringing more students into XR projects, a university can ensure that they can showcase a dynamic portfolio to future employers.
First-Hand Experience with Virtual Reality
Schools rarely have the budget to invest in emerging technologies, much less spend top dollar on custom VR content. But every school has students walking around campus with heads full of ideas and a growing arsenal of tools. Budding software developers. Young computer scientists. Future 3D modelers.
As Brown puts it, "On a college campus, you have access to all types of potential and really well-trained people."
Universities can build out their XR programs simply by inviting their students to be part of the project. Students get first-hand experience developing virtual reality apps alongside educators working in XR for years. Brown says this open approach can help build a meaningful community of creators while saving the school from high costs.
Brown says, "I think, as a creator, it's always a challenge because either you're a gearhead and super excited by the tech, or you're sort of a storyteller, and you're really excited about the storytelling. And I think with virtual reality especially, you need to bring those two acumen together. If you don't have one of those acumen, find someone who does."
At Stanford, they have taken an inclusive approach, making sure different types of students are included. They involve writers, filmmakers, and other storytellers who build complex stories and narratives. They involve software developers and computer scientists who bring the stories to life by creating immersive experiences.
They even involve ethicists in the conversation, ensuring the project maintains strong ethical foundations. At the center of this communal approach is a tool that allows the technology to reach everyone. That tool is ArborXR.
"Managing XR content is a challenge. We had to ask ourselves, 'How do we support XR at scale?' When working on an XR project in a team, you need software that allows people to work together collaboratively. ArborXR enables us to work together and allows us to track all of our headsets, and manage XR content remotely."
Tools for Virtual Reality in Education
For schools to scale VR efficiently and effectively, there has to be a powerful management tool in place. ArborXR empowers Stanford to manage their VR hardware and software with ease. Creators can upload and deploy VR content to devices across their campus without having to touch the headsets.
Teachers can view detailed headset statistics, uncovering how students use their devices and helping them overcome obstacles they may be facing. They can also track device locations because, as Brown puts it, someone will inevitably take their headset home over Spring Break and forget it. ArborXR's solutions save time and money and create a sustainable pipeline for the university to engage students in powerful new ways.
Making XR More Accessible in Education
Brown's mission, what he calls his "north stars," are equity and outreach. With proper access, VR can offer real-time collaboration, collective experience, and impactful learning that can truly improve the world.
When we asked Brown what he sees in the future of XR, he told us.
"I think whatever I can imagine right now and tell you, it's a drop in the bucket. Once more people are able to bring their experiences to the creation process around VR and XR in general, the limits are kind of endless because everyone is just going to have a very unique use case. Once you have a million use cases, you just start experiencing this tech in a very different way. So, I think that's what the future is. Make it accessible. Once it's accessible, let's see where it goes. It could go everywhere, anywhere, all the time."
 If you are considering deploying XR technology in your classroom, whether through a pilot program or a full-scale adoption of thousands, we'd love to help you manage your devices. Reach out to us today for more information on how XR can impact education.
MyndVR is transforming healthcare for the aging population. They are creating a global network of XR endpoints to deliver the most advanced immersive therapies to seniors in long term care communities and those aging in place (home).
"When we think of the future of MyndVR and digital therapeutics, I couldn't be more excited to partner with ArborXR to bring this to reality. ArborXR is a big part of the ecosystem of how we deliver digital therapeutics to the massively growing population of older adults," says Brickler.
Now, with MyndVR using ArborXR for VR headsets and content management, recreational, cognitive, physical, and occupational therapy in virtual reality is even easier to access for seniors across the US.
How is Your Organization Using Virtual Reality in Impactful Ways?
We'd love to hear about it and see how we can help you scale. Schedule a time with one of our team members to learn more about how ArborXR can help you manage your XR devices, VR content, and the user experience.
Subscribe to stay in the know!