Remote View: Monitor, Guide, and Troubleshoot for Users in Virtual Reality
Remote View makes it easy for managers to monitor users' progress, guide them through VR experiences, and troubleshoot any problems. Available now on ArborXR.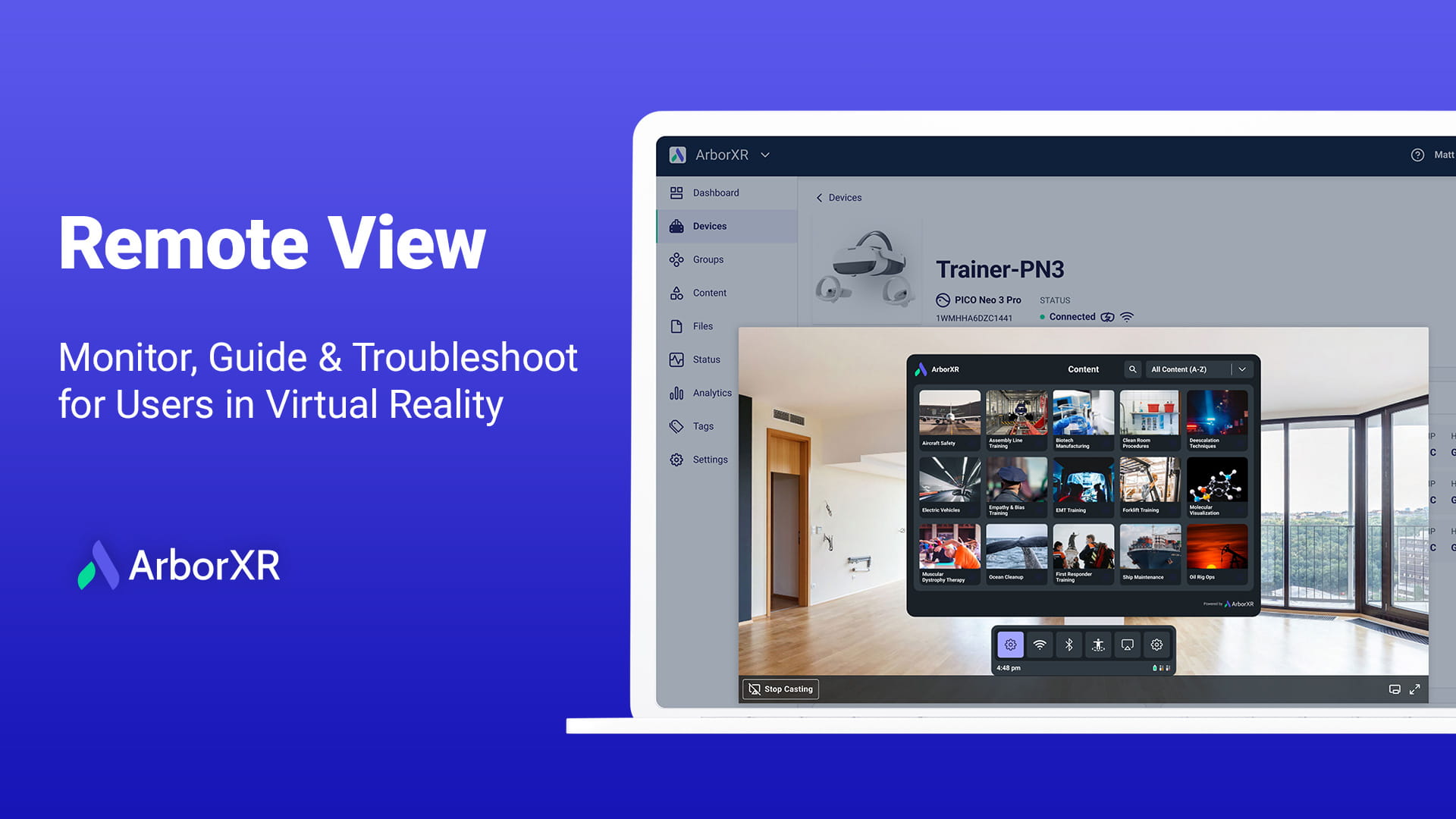 As immersive technology increasingly becomes adopted by organizations worldwide, there are still significant challenges to using virtual reality (VR) at scale. End-users often feel overwhelmed, stuck, or confused. Meanwhile, technical administrators struggle with ensuring users are in the right VR experience, guiding them through VR and how to address any potential bugs or issues.
Administrators need a way to see what users see in VR to guide them and troubleshoot any issues that may come up. And the more VR headsets an organization scales with, the more essential it is that admins and facilitators have tools to guide and troubleshoot users remotely.
We built Remote View to help exactly with that. Remote View makes it easy for managers to monitor users' progress, guide them through VR experiences, and troubleshoot any problems.
With Remote View, administrators and facilitators have the ability to observe precisely what their students or employees are seeing in virtual reality (VR).
How do you know if multiple students in a classroom are going through the VR modules you've assigned? What about employees who might be using their headsets in an office across the building? You can simply use Remote View from the ArborXR web portal to monitor their progress live.
By remotely monitoring, facilitators gain an understanding of users' actions within VR and can help them stay focused. You'll never have to guess what people are doing in VR with Remote View. This invaluable visibility can help you keep every student or employee on track while enhancing the overall VR experience for both administrators and users.
One of the biggest obstacles to getting user adoption is the intimidation people feel when they put a VR headset on for the first time. No more confusion, fear, or overwhelming moments in VR. Remote View places administrators firmly in the driver's seat, offering real-time visibility into users' VR experiences.
Do you see a student or employee struggling? View what they are trying to do in their headset and guide users through every step of their virtual journeys, ensuring they navigate with confidence. With Remote View, you become the trusted facilitator, leading users to their next actions in VR and maximizing the value derived from immersive experiences.
What happens if your users run into an issue within VR? Training plans can easily get derailed if there's a bug or issue with the XR content you've loaded on the headset. But you don't have to wait for users to report issues or have to take off their VR headset to get things back on track. Remote View empowers administrators to proactively resolve issues quickly. Since you'll be able to see what the user sees, you can troubleshoot VR devices and address challenges promptly.
Not only can you use Remote View to diagnose the issue, but you can remotely reboot devices and launch content (i.e., different app versions) from the web portal to potentially resolve the issue. This ensures uninterrupted experiences, minimizes downtime, and enables users to focus on the core objectives of their VR interactions.
How Does Remote View Work?
It's really simple to use Remote View. Log in to your organization, navigate to Groups on the left navigation bar, and click on a specific Group you'd like to use with Remote View. From the Actions menu, click "Cast Devices."
On some devices, after a few seconds, a dialog will open on your user's device.
Users should select "Start Now." Keep in mind, if they press "Cancel," you'll need to reboot the device in order for this permission dialog to open again.
After a few seconds, you will see in the ArborXR web portal what your user is seeing in their VR headset. See below to view what Remote View looks like in the web portal:
What Devices Does Remote View Work On?
This feature is supported on the following devices:
PICO 4 Enterprise
VIVE Focus 3
PICO Neo 3 Pro
PICO G3
PICO Neo 2
PICO G2 4K
Phones and tablets
VIVE Flow (coming soon)
You probably noticed that Meta Quest – one of the most popular VR devices – isn't listed above. Right now, Remote View is in beta and is available for all non-Quest devices on ArborXR. Once Meta gives MDMs access to the necessary functionality (APIs), we will support Quest devices as well.
Using a device that isn't listed above? Contact us to inquire about support.
To learn more about how to set up and use Remote View, click here.
For administrators and leaders seeking to harness the transformative power of virtual reality, extended reality, and augmented reality, Remote View is a game-changer. It not only simplifies the complexities of VR but also offers an intuitive way of managing user experiences.
Remote View serves as one of the keys to unlocking the true potential of VR for your organization. Administrators gain control, visibility, and the ability to guide users through immersive experiences. And with ArborXR's other tools, like the remote launch of XR content, kiosk mode, and ArborXR Home, you can control what users see and do in VR. By optimizing the in-headset experience, administrators and facilitators can unlock new levels of productivity, innovation, and success.
Remote View is a transformative solution that addresses some of the most often-felt pain points of VR implementation. With Remote View and other tools to manage devices, XR content, and the user experience, your organization will be set up for success.
Whether it's using virtual reality for collaboration, training, design, manufacturing, healthcare, or education – the future of immersive experiences starts with having the right tools in hand.
Ready to take your organization to the next level with VR? To use Remote View, get started on the Essential or Enterprise plan today.
Subscribe to stay in the know!