Customer Story: Transforming Training with Pfizer
VR training helps Pfizer meet employee training goals. From our March 2023 conversation with Nick Hockley, Smart Factory Technology Manager at Pfizer.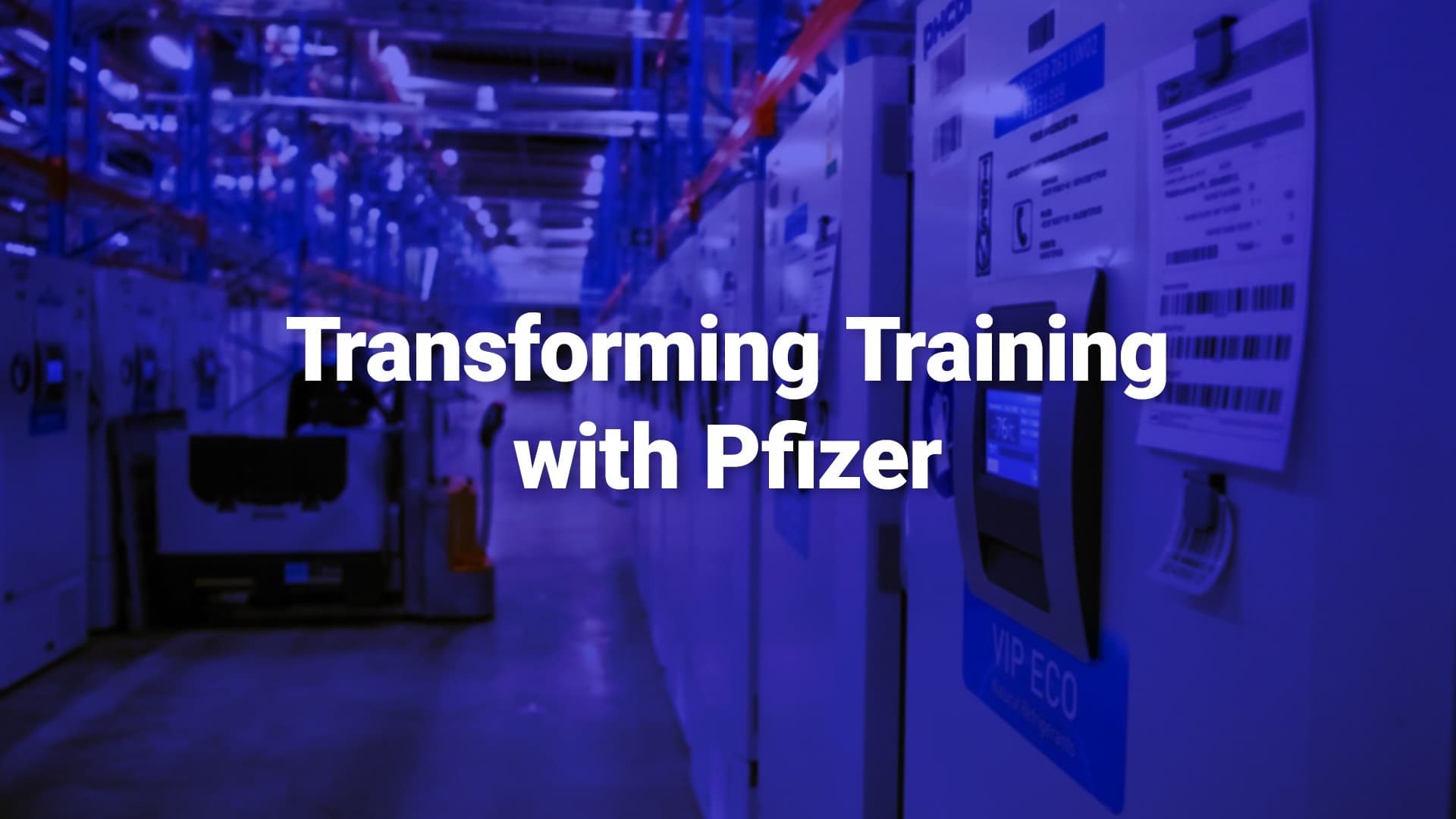 Pfizer is a multinational pharmaceutical and biotechnology company that creates medicines and vaccines. They have utilized XR technology since 2018, and expanded their VR training initiatives to support the production of COVID-19 vaccines in 2020.
In the wake of the COVID-19 pandemic, Pfizer needed to onboard and upskill thousands of manufacturing workers to meet the critical demand for millions of vaccines. With limited physical space and in a race against time, they knew that innovation was needed.
Pfizer implemented virtual reality training for their manufacturing facilities, which sped up their employee onboarding process and helped increase the production of life-saving vaccines. Pfizer has now implemented an entire VR architecture, including mobile device management, which has reduced training time by 40%.
Training with Virtual Reality
In 2018, Pfizer's Smart Factory Technology Manager, Nick Hockley, and his team began brainstorming ways to utilize XR technologies.
With 39 manufacturing sites worldwide, there was always a need for onboarding and upskilling. But in a company spread across more than 125 countries, finding an effective and efficient training program can be difficult. They decided virtual reality training was the most logical first step in adopting XR.
The need for onboarding and upskilling new employees has always been high, but it has grown exponentially over the last decade.
In 2011, the first wave of baby boomers stepped out of the US workforce and into retirement, and every day since then, 10,000 people have entered retirement age.
According to the Harvard Business Review, this trend is not unique to the US but global. With an aging workforce, efficiently training new workers is vital for businesses to succeed.
According to Hockley, those first couple of years were the proof-of-concept phase. He was testing VR headsets and software and experimenting with 3D scanning. He also shared the importance of communicating relevant stats, use-cases, and information about VR with stakeholders throughout Pfizer.
"It's really valuable having a standardized pitch deck, or information deck. Here's the XR industry, here's the projected revenue between now and 2030. These are examples of VR training. All of this is breaking it down in layman's terms for somebody that's brand new to having those conversations."
For Hockley, this phase was about bringing people in and giving them a vision of what immersive technology could do. Soon enough, he and his team began seeing demand from different organizations across Pfizer.
In December 2019, a cluster of patients in China's Hubei Province experienced a pneumonia-like illness that did not respond to standard treatments. Within 90 days, more than 118,000 cases of this new virus were reported across 114 countries.
Six days after COVID-19 was declared a global pandemic, Pfizer and BioNTech announced their intent to co-develop a potential vaccine – an initiative they dubbed "Project Lightspeed." As deaths mounted and life as we knew it drastically changed, Pfizer raced to develop one of the most important vaccines in history.
At this point, little was known about the virus. But one thing that was apparent was that billions of people needed a vaccine, which meant thousands of new manufacturing workers needed to be trained quickly within Pfizer facilities. The scientists were hard at work.
The question was, how would they get so many new workers trained?
Scaling with Virtual Reality
The team at Pfizer had already proven VR training was a powerful tool, but in the shadow of COVID-19, they had to scale it in an unprecedented way. Over the ensuing months, Pfizer hired and contracted thousands of manufacturing workers.
As Hockley put it, "There was a large amount of employees hired to support those efforts, and there was no time and no actual physical environment for them to get the repetitions and experience they needed to carry out the tasks…"
He explained that a new manufacturing floor worker might take about a year to become fully operational with traditional training methods. Why did it take so long to train? In some cases, learners spent a lot of time waiting for "the right moment, the right setup, the right scenario, proper access to a certain line, to get enough repetitions for them to feel familiar and be able to go and do an on-the-job sign off with someone watching them…"
A highly contagious virus only magnified the limitations of traditional training methods. Conversely, VR thrives when things are difficult or dangerous. Hockley and his team created immersive VR simulations of real-world scenarios without putting people in danger. The VR training program also allowed them to transform 100+ page SOPs into interactive training experiences. They utilized 3D replicas, virtual group training, and real-time feedback.
The results were astounding. By the time the brilliant scientists had developed the vaccine, Pfizer's manufacturing teams were ready to begin production. Hockley and his team immediately saw the positive results of their VR training program.
"Our training leads were reporting back, about a 40% reduction in total training time," says Hockley.
Over the next nine months, Pfizer and BioNTech accomplished their goal of manufacturing millions of vaccines. For the first time since the beginning of the pandemic, there was a spark of hope across the globe. The manufacturers trained in Virtual Reality were a massive part of that spark.
Finding the Right VR Partners
The pandemic put Pfizer's immersive learning program to the ultimate test, and it was incredibly successful. Things have become clearer in the five years since Hockley began brainstorming what XR might do at Pfizer. In a 2022 presentation at AWE, Hockley shared their current VR architecture.
As Hockley pointed out, this chart may seem confusing. The fact is that introducing, piloting, scaling, and maintaining a healthy VR training program requires complex and intelligent systems. This is all the more true within a massive organization like Pfizer. Pfizer's VR Architecture plots out some things he and his team have done to find and maintain success.
Very close to the center of their architecture, you may notice ArborXR. Device management software is essential to manage a fleet of XR devices, deploy content, and control the in-headset experience. In our chat, Hockley touched on the two main things ArborXR does well for them.
Managing a few devices on your own isn't so difficult. But when you scale up to hundreds or thousands of devices, management becomes too time-consuming. Whether facing the gap created by an aging workforce or with limited time and space to upskill and onboard new workers, VR may be your solution.
Like Pfizer, you will have to research to find use-cases that can impact your organization most. You will need to convince stakeholders with a successful proof-of-concept initiative. You will have to be consistent. And you will have to take partners where partners are needed.
Our goal is to make it easier for organizations like yours to experience the power of XR so that you can do amazing things. So that your brilliance and hard work might change the world much as the employees of Pfizer have.
How is Your Organization Using Virtual Reality in Impactful Ways?
We'd love to hear about it and see how we can help you scale. Schedule a time with one of our team members to learn more about how ArborXR can help you manage your XR devices, VR content, and the user experience.
Subscribe to stay in the know!