Enterprise Review of the Meta Quest Pro Headset
The Meta Quest Pro is a new premium standalone headset with promising new features for AR and VR. However, there are still significant limitations for enterprise uses.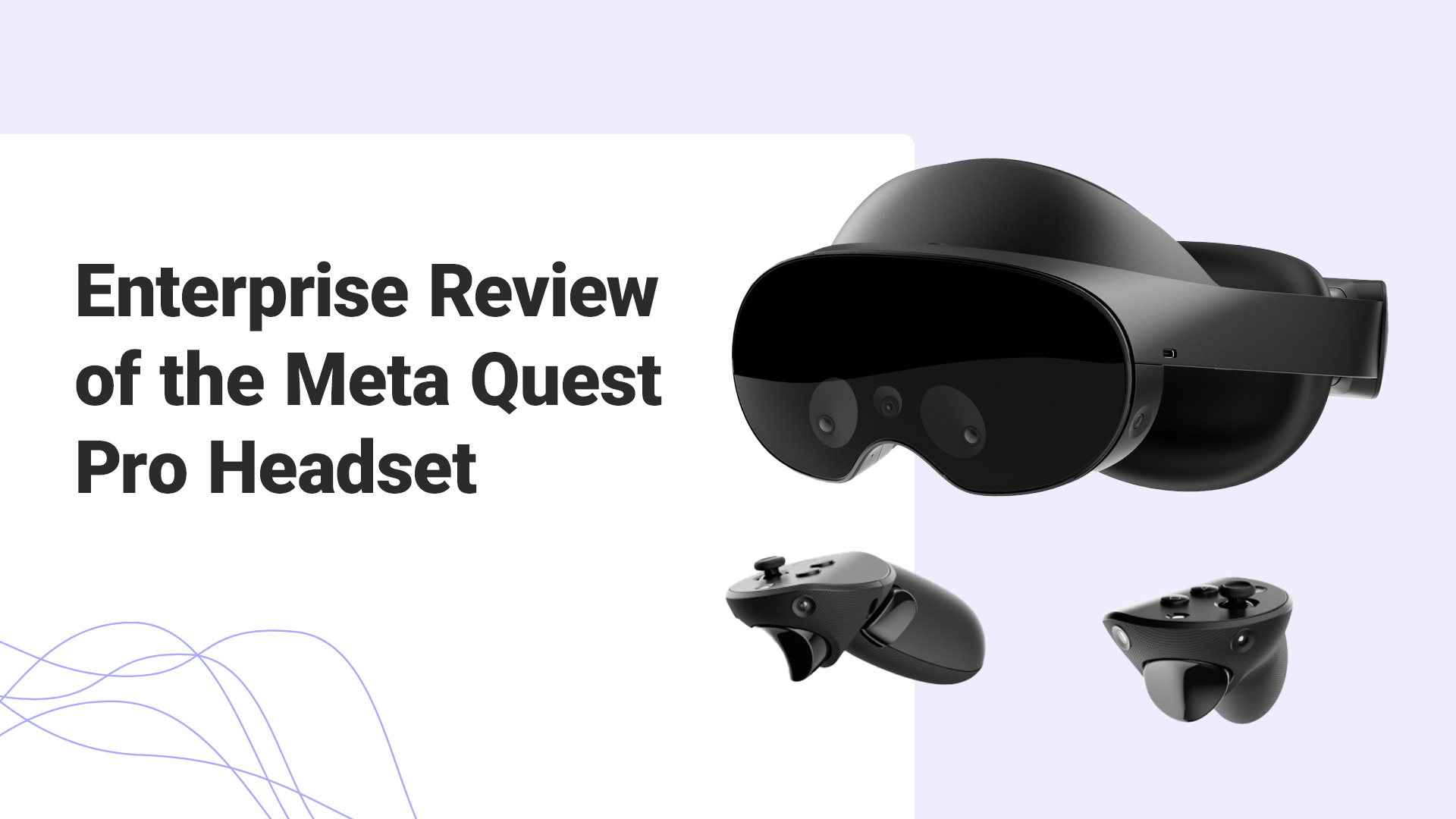 One of the biggest takeaways from the Meta Connect event in October of 2022 was Meta's renewed focus on enterprise use cases for VR. Meta revealed the Meta Quest Pro, their new high-end enterprise VR headset.
They also announced new strategic partnerships with Microsoft and Accenture, as well as a device management service called Quest for Business (a revamped version of Oculus for Business, which sunset in October of 2021). While we are still waiting to learn more about Meta Quest for Business, we know that it will not interfere with or prevent MDMs like ArborXR from being installed. This is good news for the industry as Meta's VR hardware (like any other XR headset) needs a dedicated XR MDM to scale deployments for enterprise and education.
We're going to walk you through key considerations for the Meta Quest Pro as an enterprise headset and share our takeaways.
ArborXR's Takeaways for Enterprise Customers
The Meta Quest is quite comfortable and a major upgrade from the Meta Quest 2. The headset's design with a halo-style head strap allows an even weight distribution by placing the battery on the back of the device.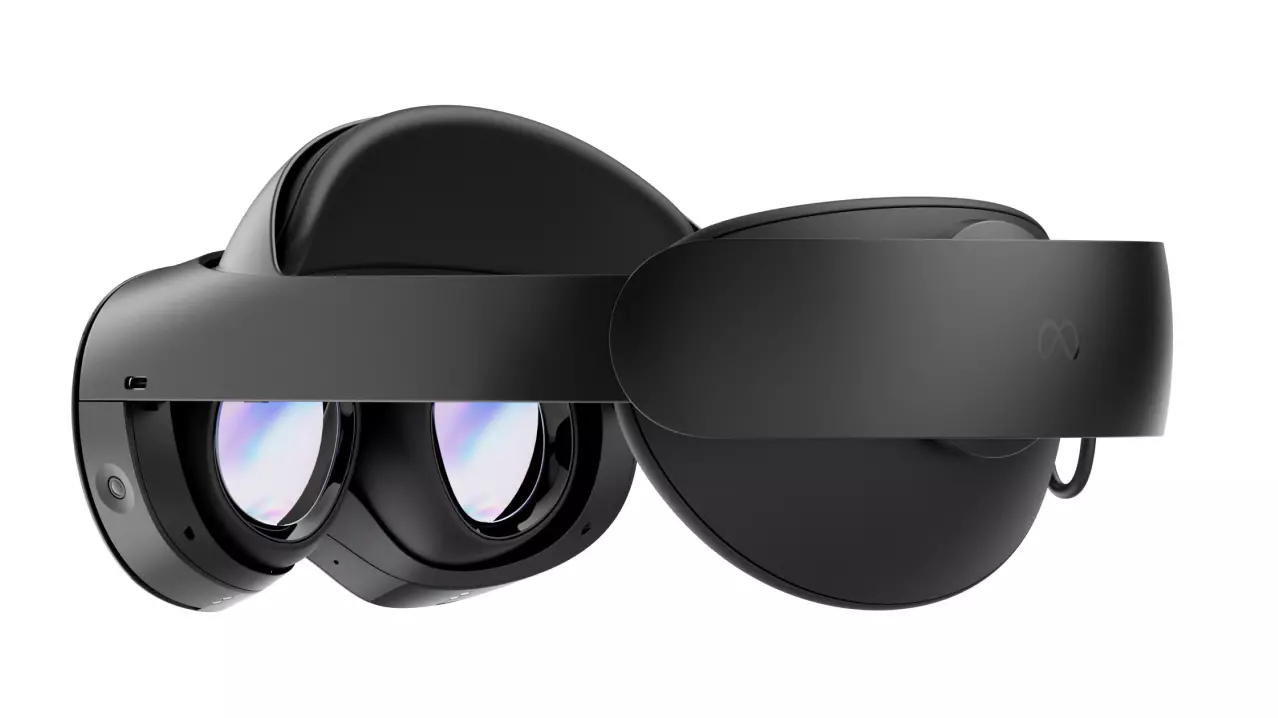 There also is an adjustable dial knob similar to the VIVE Focus 3 that makes it easier for users to adjust the head strap comfortably. Still, the Meta Quest Pro is one of the heaviest headsets on the market at 722 grams / 1.6 lbs, comparable to the VIVE Focus 3 at 785 grams / 1.7 lbs. For long training sessions, the headset's weight may be difficult for users to get used to.
Of all the specs of the Meta Quest Pro, the battery life is by far the most disappointing at only 1 hour. Most standalone headsets' battery life range between 2-3 hours.
We know a lot of enterprise customers who commonly have VR training experiences that are 1.5-2 hours long, so this could be a major downside for the enterprise market.
While you can use the Meta Quest Pro plugged in, this negates the benefit of having a standalone headset and restricts users' range of motion. The battery life is likely poorer due to the powerful Qualcomm processor included.
The Meta Quest Pro has the best Qualcomm processor on the market for standalone headsets: the XR2+. It is 50% more powerful than the XR2 and has 30% better thermal performance.

The Meta Quest Pro comes with 256GB of storage and 12GB of RAM, which gives plenty of processing power to handle graphic-intensive VR apps.
Meta redesigned their hand controllers by placing cameras inside them to provide more accurate tracking. The cameras function as "inside out" tracking, which allows the controllers to track movement even if you move your hands out of your field of view. Because of this, the controllers are much heavier than the Meta Quest 2.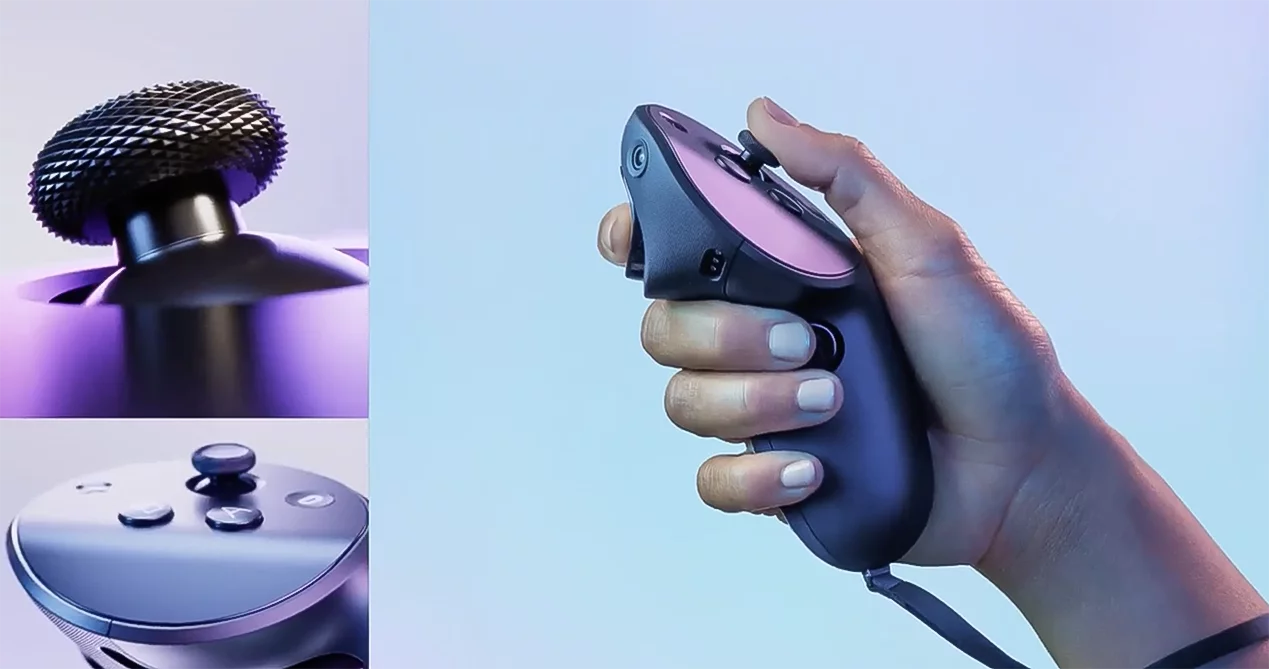 Meta also removed the halo ring from the controllers making them more compact and less likely for you to bump controllers into each other. In addition, the Meta Quest Pro controllers feature a stylus on the bottom of them, which could make for more accurate drawing and writing in VR.
Hand tracking is still an improving technology across the board for all XR headsets, but Meta's hand tracking has always been some of the best on the market. The Meta Quest Pro's 10 AR/VR sensors should add even more accurate tracking and could drastically push forward hand tracking uses in XR.
In order to use the device, users will need a Meta account. If organizations plan to use only custom VR content not featured on the Meta app store, it's possible to use only one Meta account.
One Meta Account Paired to Many Devices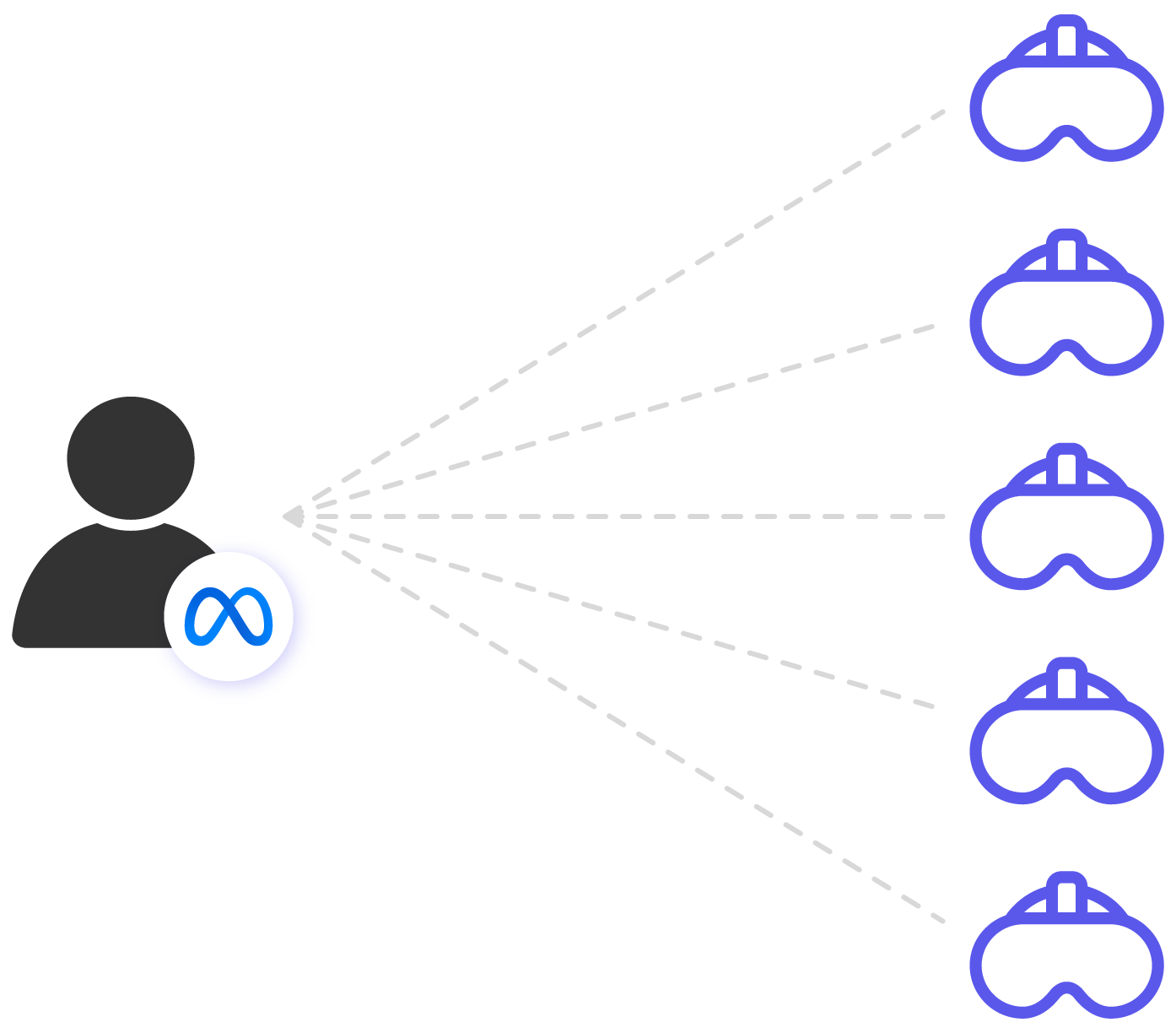 However, if any VR app is used that has APIs on the Meta app store, individual Meta accounts must be used on each device. In our experience, there is less guesswork and frustration in the long term to use an individual Meta account on each device, even though it is more tedious to manage.
One Meta Account for Every Single Device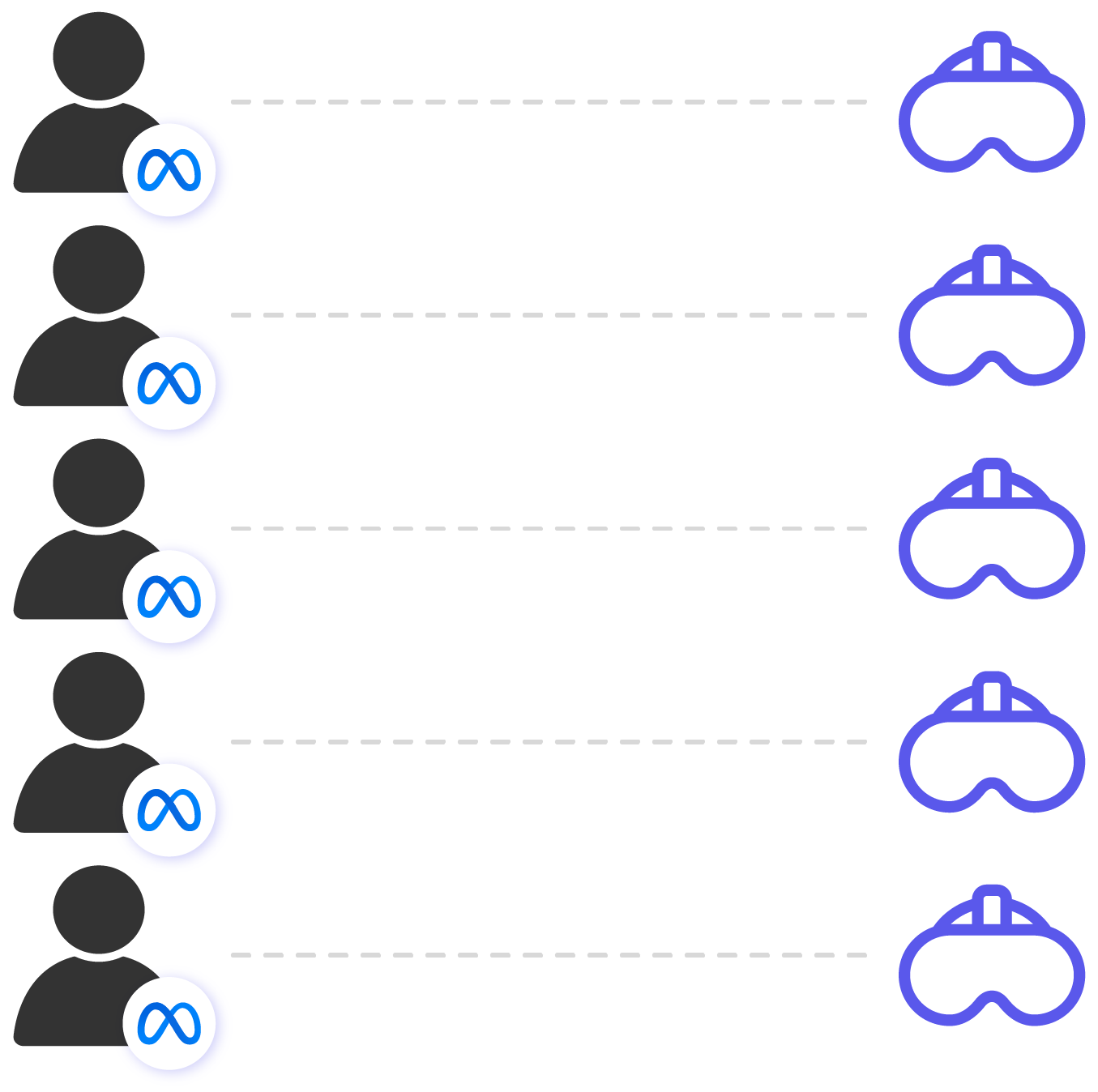 In addition, using any XR device management system is much more complicated with Meta than with other headsets. Learn more about
challenges with the Meta Quest
, where we talk more about device setup with developer mode, MDMs, Meta accounts, and more.
When the Meta Quest Pro was originally released, it was listed at $1499. Since then, Meta has lowered the cost of the Quest Pro to $999. The significant reduction in price makes the quality of this headset worth consideration in virtually any enterprise XR use case, especially in design and engineering.
Still, in our experience, most XR proof-of-concept initiatives focused primarily on VR training prefer to use more affordable headsets, where organizations plan to deploy hundreds or thousands of headsets to employees.
The Meta Quest Pro features color passthrough, which means you can see the real world through the headset's camera but have virtual tools overlaid on the digital feed.
Color passthrough should open the doors even wider for AR and MR use cases in enterprise. This is promising for blending both VR and AR experiences but also makes it easier for users to remain in the headset while adjusting their surroundings or taking a brief break. Plus, color passthrough makes it easy to quickly answer texts on your phone or type on your computer without removing the headset.
Users can remove light blockers to see the physical world in their peripheral vision and the virtual world within the headset. In enterprise environments, this could be valuable for employees first getting used to XR. Many first-time users find getting used to VR disorienting, but having your surroundings in sight may make it easier to use VR without feeling like you're going to run into something.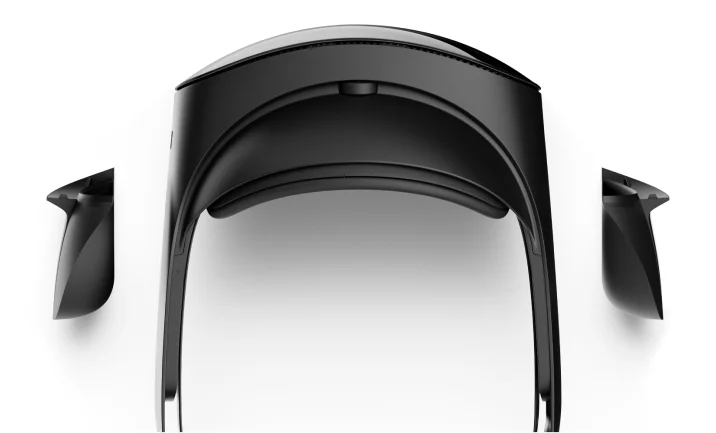 It's worth noting that Meta's "full light blocker" is an additional accessory that must be purchased as it does not ship with the Meta Quest Pro.
The Meta Quest Pro also acts as a hybrid model in that you can use it as a tethered headset or a standalone headset. One advantage of tethering the Meta Quest Pro to a PC through the Air Link and Link Cable is for even more processing power and faster performance to render seamless VR experiences. For enterprise, this could be a useful addition for graphics-heavy design and engineering use cases.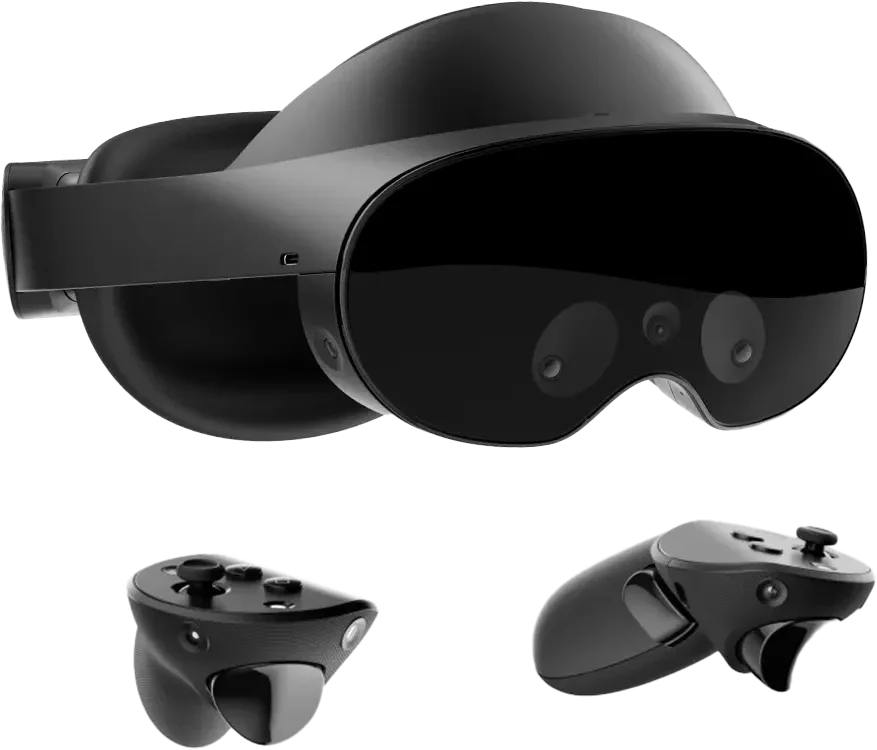 The Meta Quest Pro is an incredible new headset. It's a major upgrade from the Meta Quest 2, introducing a color passthrough display that can blend AR and VR and make it easier for users to navigate their surroundings while in XR. It features the most powerful processor on the market––the Qualcomm Snapdragon XR2––with powerful performance and visual rendering.
The Meta Quest Pro's battery life and complications with Meta accounts still pose significant challenges for widespread enterprise adoption. Because of these limitations, the Meta Quest is worthy of consideration where budget is not a concern and if admins are willing to manage Meta's accounts at scale.
Command Your Fleet of XR Devices with ArborXR
Confidently manage VR & AR devices at scale, remotely install content, and control what users can see and do. ArborXR is built with enterprise-level security through working closely with dozens of Fortune 500 companies. Our mission is to help people live more meaningful lives through the power of XR. Join 2,000+ companies in 90 countries using ArborXR to manage their AR and VR fleets.
Subscribe to stay in the know!