7 Challenges Using Meta's Oculus Quest for Business
Are you planning to use Meta Quest in business or education? Learn more about the challenges you may face deploying Meta Quest hardware for your VR project.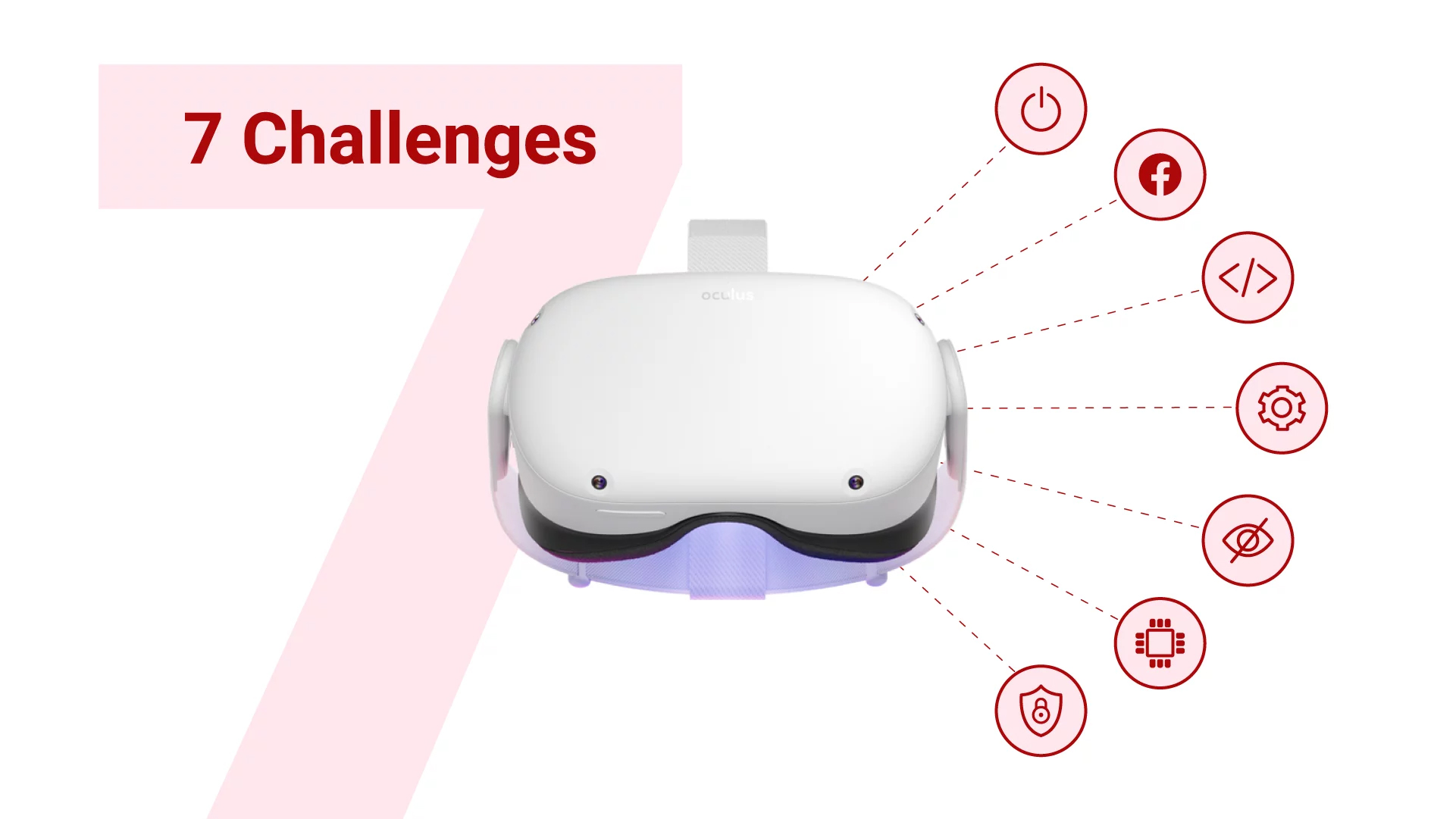 There's no doubt that Meta's Oculus Quest changed the game for the VR industry.
Meta created the first all-in-one standalone VR device that an average user could afford. Prior to this, expensive setups with gaming graphic cards and wired headsets were huge barriers to using VR at scale.
For VR to grow, someone had to cut the wires. Meta was the first to do it in an affordable, powerful way.
When Oculus Quest was released in May of 2019, the future of VR felt accessible. Now, it's one of the most popular headsets for consumers, education, and enterprise.
That said, there are some major challenges if you want to use Quest for your company, healthcare institution, or school.
Are Oculus and Meta Quest the Same Thing?
Meta is now the parent company over Instagram and Facebook. Meta purchased Oculus in 2014.
Meta recently rebranded everything formerly "Oculus" to "Meta." Oculus Quest, Oculus Store, or Oculus accounts, are now referred to as Meta Quest, Meta app store and Meta accounts.
Meta Quest 2 and Oculus Quest 2 are the same piece of hardware with different names.
In this article, we primarily use the term "Oculus Quest" for hardware and "Meta" for the company. We also use the term "Meta accounts" because their challenges are slightly different than during the Oculus era.
In light of the challenges you may face, it's worth taking a look at other hardware options. We discuss the pros and cons of popular enterprise headsets in the article "What Enterprise VR Headset Should I Buy?"
The Oculus Quest requires a little more from you in setup and management than most other headset solutions. From talking to hundreds of customers we've identified a few of the key problem areas.
Top 7 Challenges with Using Meta's Quest in Business
Add a header to begin generating the table of contents
Oculus for Business has Shut Down
Oculus for Business was a service Meta offered bundling Quest hardware with device management software. Their software package included device setup and management, as well as enterprise-level service, warranties, and support.
Meta is working on a new workplace solution for Quest, but it's unclear when a new platform will come and what it will include.
Existing Oculus for Business users can still access the Oculus for Business device management software, but it is no longer being updated. This is only available for devices purchased through the Oculus for Business program before it was discontinued.
New devices can no longer be purchased through the Oculus for Business program, leaving only the consumer Quest with no native device management option.
Use a Third-Party MDM Designed for XR Devices
Use a third-party mobile device management (MDM) provider designed for XR devices to manage and secure your Oculus Quest devices. You'll have no way of managing devices remotely, updating content, or locking down the user experience in the headset without a third-party software solution assisting the Oculus Quest.
Each Quest May Need Its Own Meta Accounts
On August 23, 2022, Meta made updates to accounts used on the Meta Quest. Prior to this update, Facebook and Oculus accounts were required for every device.
Admins with existing fleets of Quests may not be able to use their Quest devices until they merge their Facebook and Oculus accounts to a Meta account.
Admins beginning new fleets of Quests can now create Meta accounts with email addresses instead of using Facebook or Instagram. The benefit from this update as they no longer have to tie their Quests to a social media platform.
Admins will still need to create a "Meta Horizon profile" during Meta account set up which is essentially a social media profile for the Meta Quest.
Setting up Meta accounts and Meta Horizon profiles on each device is time-intensive and means IT administrators may have to create and manage hundreds (or thousands) of email addresses and Meta accounts.
Alternatively, users can use their own Meta accounts to set up the Meta Quest. The downside is that this removes control from IT Administrators and allows users access to any content they want to download.
Can I use one Meta account on multiple Quest headsets?

Yes. We are uncertain how many devices can use one Meta account before admins will have to create another. It's also important to note that Meta does not allow one account to run Meta apps on multiple Quest headsets simultaneously.
This means if your app uses any of Meta's APIs or if it's downloaded from Meta's app store, it will only run on one headset at a time.
However, if you are using custom-made content that is not available on the Quest store or does not leverage Meta's APIs, then you do not need multiple Meta accounts. You can pair one Meta account to multiple devices. From ArborXR, you can remotely deploy your content to any or all of your devices.
Can I use Meta Apps with ArborXR?
Yes. It is possible to download an app from the Meta app store and

use the Meta app

 with ArborXR in kiosk mode and in our launcher, ArborXR Home.
In this scenario, you would need individual Meta accounts for every device that you use because Meta does not allow apps registered to the same Meta account to run simultaneously.
Disclaimer: Here's a customer tip for how to deal with managing Facebook accounts at scale. We don't endorse this process but wanted to provide a customer's insight:
Create One Account per Device
Create a Google account on an Android device, bypassing the need for a phone number.
Use that Gmail account to create a Facebook account.
Facebook accounts must be named something generic and random to avoid getting flagged.
Enabling Developer Mode for Oculus Quests
To sideload applications or install an MDM you need to put your Quest headsets in Developer mode.
Most VR hardware manufacturers ship their headsets with developer options and USB file transfer enabled by default. This allows for quick and easy access to "sideload" any applications or install an MDM.
Quest, however, does not ship with this feature enabled, requiring you to manually place each quest in Developer Mode.
In order to get the device in Developer mode, you have to create an Oculus Developer account as we mentioned before.
But there is a bit more to it. To create a developer account you have to use a real credit card or phone number to verify the account.
As you can imagine, this level of detail only becomes more frustrating as you scale with more and more Oculus Quest devices.
Here is how to place your Oculus Quest or Oculus For Business device in

Developer Mode

.
Disclaimer: Here's a customer tip for how to deal with managing Developer accounts at scale. We don't endorse this process but wanted to provide a customer's insight:
Virtual Credit Cards for Developer Accounts
To create a developer account, you must use a credit card for validation.
Some clients use

virtual

credit cards for this purpose.
If too many developer accounts are tied to the same credit card, Meta may decline the transaction attempt. This means the developer account won't be verified.
Creating a virtual credit card and limiting that card's use to 5-6 developer accounts is a solution customers have shared with us.
Meta Accounts Complicate MDM Setups
As we shared above, in order to be able to manage headsets, install content remotely and control what users do and see in the headset, you'll need a device management solution (MDM).
Unfortunately, Quest headsets are a bit complicated to set up with MDMs.
As part of the Quest setup process, Meta requires users to set up the device with a Meta account.
Depending on how you set up your Meta account, multiple accounts may have been added to the device.


For example, if you continued with Facebook and linked your Facebook account to your Meta account, there could be three to four accounts added to the headset (i.e., Facebook, Meta, and potentially even Oculus).

Here is the catch: before you can install an MDM, you have to remove all accounts.
Removing the Meta and/or Facebook account is only temporary. Once you install the MDM and restart the device, the account you originally linked to the Quest will be in the device settings.
While not a deal-breaker, this is a frustrating extra step that adds complexity and time to get your Quest fleet setup.
Automatically Remove All Accounts
ArborXR's Device Setup App automatically removes the Meta and/or Facebook and Oculus accounts from the Meta Quest to install the MDM in just a few moments. Most other MDMs require users to put on each individual headset and manually remove accounts within VR.
The Quest Home Environment Limits 3rd Party Launchers
Controlling what users can do and see in VR is critical. Unfortunately, the Oculus Home environment is built for home users and includes a web browser and the Oculus App Store. This means you need a 3rd party launcher to lock down the environment.
Meta doesn't support 3rd party launchers and any existing launcher solutions are unstable and don't fully lock down the environment.
One common issue is that users can press the Home Button to escape the launcher and return to Oculus Home, giving them access to all settings including the web browser and Meta app store.
Obviously having users (or students) downloading content or accessing the internet unrestricted isn't ideal.
This is a major security concern and a potential problem for Enterprise and Educational organizations.
This means you should extensively test the launcher included with whatever MDM you are looking at. Many legacy MDMs are built for laptops, tablets, and smartphones, not VR and AR headsets. They often don't even offer custom launchers and have reliability issues with their platform.
Firmware Updates Are Unpredictable and Could Cause Issues on Your Device
Meta doesn't allow you to control when firmware updates get pushed over the air to your devices.
This means that new updates can cause problems with launchers or applications you may use on your device.
Alternatives to Oculus (Meta) Quest
Other manufacturers such as Pico and VIVE are more open to giving control over firmware version updates.
Oculus Quest setup includes agreeing to Meta's default

data and privacy

settings. Some of the things that are tracked by Meta include your "physical features and dimensions", "content you create", and "information about partners and third parties, including third-party apps, developers, other online content providers, and marketing partners," etc.
You can adjust your privacy settings. If you plan to use the Meta's app store, you will need to adjust privacy settings in the device's main Meta account.
Know What Data You're Giving to Meta
Organizations need to closely read and understand what they are agreeing to and if they want to give Meta access to the kind of information they collect.
Know the Challenges with Using Quests in Business and Education
To sum it all up, Quest is affordable, powerful, and easy to use. But there are some considerable challenges to managing Quest in education and business.
If you're starting with Meta's Oculus Quest headsets today, you need to be prepared for:
No native Meta device management tool (Oculus For Business is shut down).
Managing individual Facebook accounts for every device.
Developer mode is not enabled.
Extra setup steps with device management solutions (MDMs).
Limited support for 3rd party launchers.
Automatic firmware updates could cause issues.
Meta's data privacy policy.
Feeling discouraged?
Even with all the challenges we've discussed, Oculus Quest is the right choice for a lot of our customers. It's undeniable that Quest is a great way to step into the VR world.
And with the right MDM provider, you can make Oculus Quests work for you.
Talk to an Expert
We have lots of experience navigating the challenges of managing Quest and we are here to support you along the way with any questions you might have.
Want to learn more about VR and AR solutions for your business or educational needs? Schedule a time where we can give you a live demo and give our recommendations.
Subscribe to stay in the know!