What Enterprise VR Headset Should I Buy?
One of the biggest decisions you'll face with a new XR deployment is finding which enterprise VR headset to buy. Here's a guide to the best on the market right now.
Over the last several years, we've worked with hundreds of schools, independent software vendors (ISVs), and companies, including dozens of the Fortune 500. When it comes to XR headsets, we know what works and what doesn't.
So, what enterprise VR headset should you buy?
The ideal enterprise VR headset will deliver a smooth, easy experience for users while providing admins control over what users see and do in VR. For developers, a good enterprise VR headset will minimize deployment and content management challenges.
We've narrowed down a selection of choices of the very best standalone enterprise VR headsets on the market right now.
Note: Although there are incredible tethered enterprise headsets you can use, we chose to focus on standalone headsets. Standalone headsets are considerably more affordable, don't require a PC and are wireless. They are far easier to manage at scale for organizations looking to deploy large fleets of headsets.
And we've highlighted the pros and cons you'll face with each choice.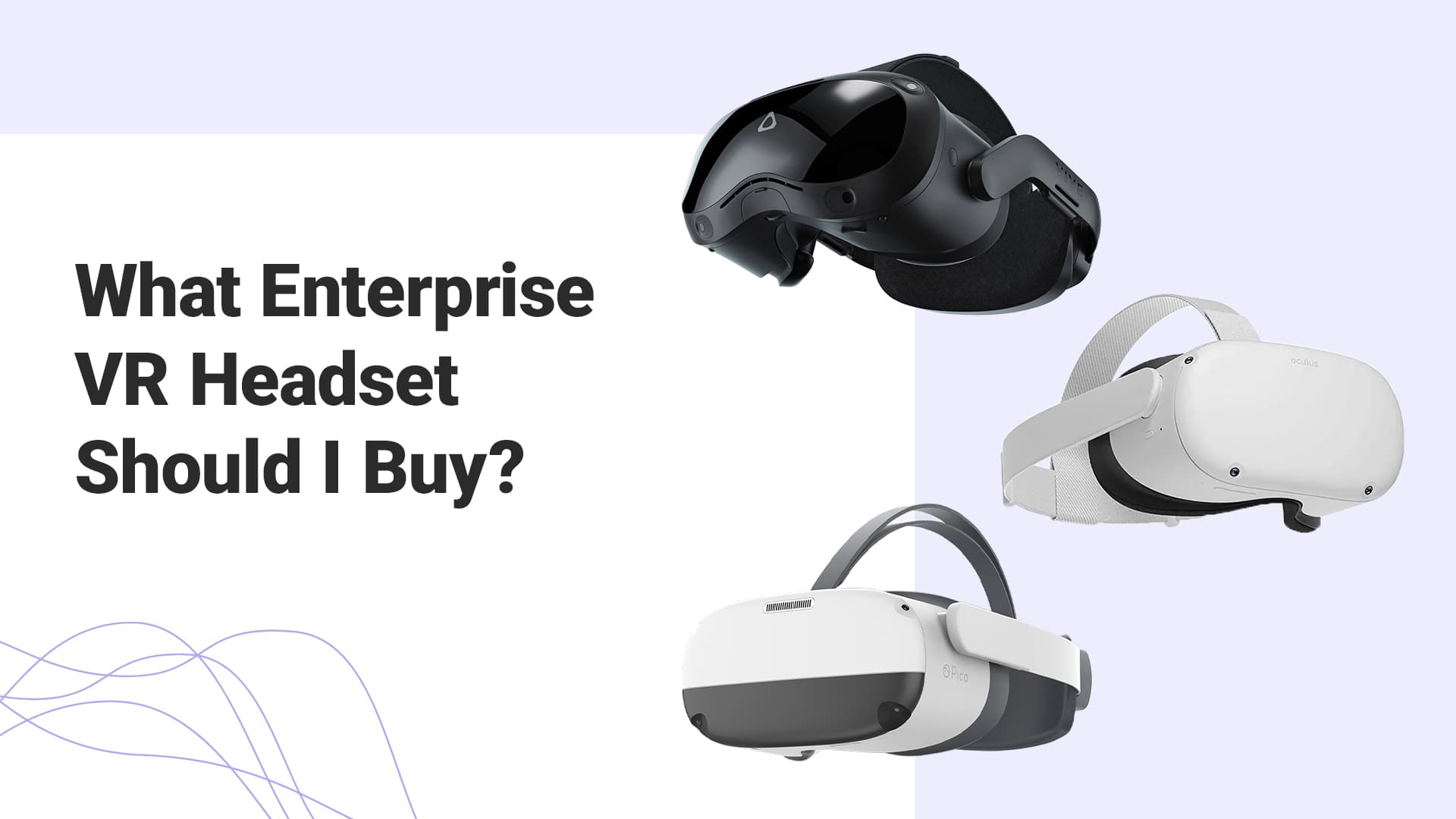 Add a header to begin generating the table of contents
There are several factors to consider when selecting the right headset for your organization. You'll want to compare specs, pricing, performance, and ease of deployment.
The HTC VIVE Focus 3 may be the most expensive on this list, but its high-resolution display, premium build quality, and comfort make it an excellent choice for the best in class.
The Meta (Oculus) Quest 2 is both powerful and affordable, but admins will face challenges managing Meta Quest at scale.
The PICO Neo 3 is an excellent alternative to the Meta Quest. The PICO Neo 3 has similar stats and performance as the Meta Quest but it's a bit more expensive. That said, the benefit is that you don't have to worry about the challenges that come with using the Meta Quest.
The Meta Quest Pro and PICO 4 Enterprise both have stunning visual fidelity, color passthrough, excellent movement tracking, and top of line processing power, but the Quest Pro caters more to consumers while PICO prioritizes enterprise customers.
And lastly, the DPVR P1 4K Pro and the PICO G2 4K are excellent for users who plan to use 360° videos or web applications.
Specs

Meta Quest 2

Meta Quest Pro

PICO Neo 3

PICO 4 Enteprise

HTC VIVE Focus 3

PICO G2 4K

Lenovo VRX

DPVR P1 Ultra 4K

Starting Price

$299 USD

$1,000 USD

$699 USD

899€

$1,300 USD

$399 USD

$1,299 USD

$599 USD

Battery Life

2 - 3 hours

1 hour

2.5 - 3 hours

2 - 2.5 hours

2 - 2.5 hours (removable battery)

2.5 hours

1.5 - 4 hours

5 hours

Charge Time

2.5 hours

2 hours

2.5 hours

2 hours

2 hours
(battery quick charge to 50% in 30 min.)

1+ hours

Unknown

2 hours

Resolution
1832 x 1920
per eye
1800 x 1920
per eye
1832 x 1920
per eye
2160 x 2160
per eye
2448 x 2448
per eye
2048 x 2160
per eye
2280 x 2280
per eye
1920 x 2160
per eye
RAM

6GB

12GB

6GB

8GB

8GB

4GB

12GB

4GB

DoF

6DoF

6DoF

6DoF

6DoF

6DoF

3DoF

6DoF

3DoF

SoC

Qualcomm® Snapdragon™ XR2 Platform

Qualcomm® Snapdragon™ XR2+

Qualcomm® Snapdragon™ XR2 Platform

Qualcomm® Snapdragon™ XR2 Platform

Qualcomm® Snapdragon™ XR2 Platform

Qualcomm® Snapdragon™ 835

Qualcomm® Snapdragon® XR2+

Qualcomm® Snapdragon™ 845

Weight

503 grams

722 grams

620 grams

591 grams

785 grams

490 grams

771 grams

410 grams
There is no "perfect" enterprise VR headset. Each device has its pros and cons. Understanding your company's unique wants, needs, and challenges will help you make the best decision about which to purchase.
Now, to help you make an informed decision, let's briefly discuss key features to consider below, and then we cover the pros and cons of our top picks for enterprise VR headsets on the market right now.
Key Considerations for Users
Key Considerations for Users
Before we dive in, there are a few features for enterprise VR headsets worth defining.
3DoF stands for 3 degrees of freedom, and 6DoF stands for 6 degrees of freedom. Think of it like this: 3DoF means you can look around in a VR environment while 6DoF means you can view, interact, and move around in a VR environment.
When you move forward in 6DoF, objects move closer to you, just like in the physical world. When you move forward in 3DoF, the entire VR experience moves with you, and objects do not come closer, which can feel disorienting because it isn't what you would normally expect. 6DoF has essentially become the industry standard for XR headsets. Learn more about the differences here.
Hand Tracking vs. Controllers
Hand tracking and controllers in VR are magical experiences. However, when either input method is glitchy or buggy, it's a frustrating experience for users. Hand tracking is an evolving technology in VR and shows a lot of promise for enterprise, education, and medical use cases. Controllers are a more reliable method of interacting in VR, but there is more of a learning curve with multiple buttons and joysticks. Learn more about controllers here and learn more about hand tracking here.
See hand tracking in action in the Ultraleap video below: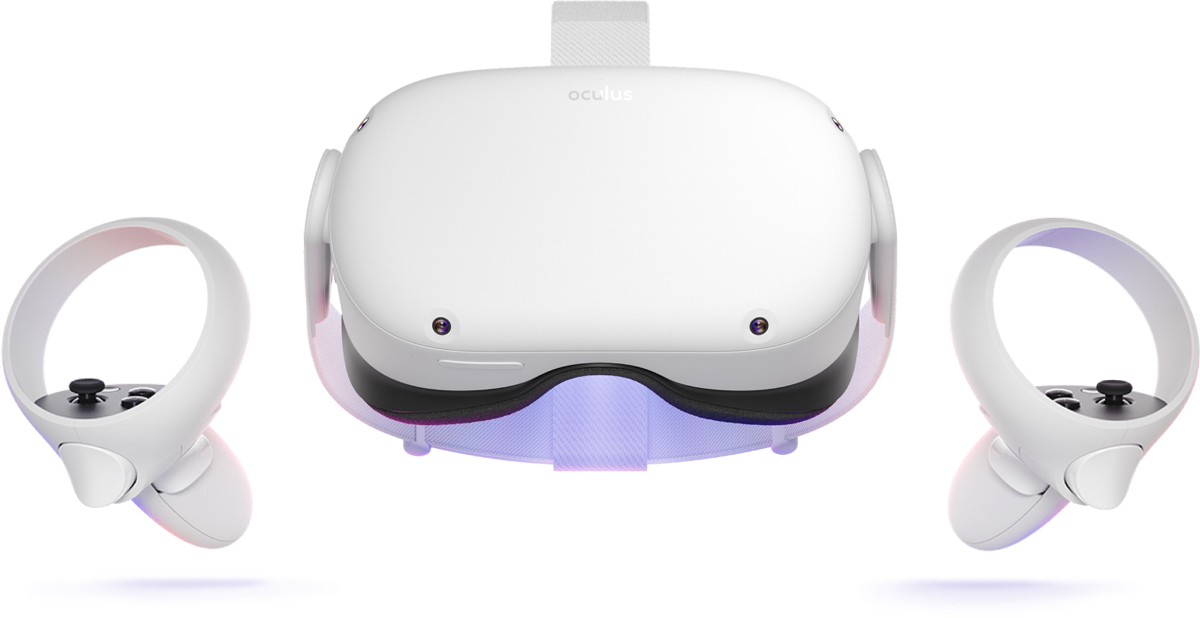 Meta Quest 2
There's no doubt that the Meta Quest is one of the most popular standalone headsets in enterprise and education right now. It's lightweight, affordable, and powerful. Plus, the Meta Quest is easy for most users to get comfortable with pretty quickly.
Hand tracking on the Meta Quest is among the best in the industry, thanks to a recent update from Meta. Meta Quest's hand tracking 2.0 massively reduced latency and increased the ability to distinguish hands with complicated motions, even if users' hands cross over each other.
Hand tracking can be very important, depending on your use case. For people with mobility issues, who may struggle with gripping controllers or using buttons, hand tracking can really make a difference in VR.
But if you're planning on using Meta Quest for business, there are some real drawbacks to consider.
In 2017, Oculus announced that the company would offer a VR solution for enterprise. Built on Facebook Workplace, Oculus for Business was designed to help organizations manage VR headsets in the workplace at scale. However, Facebook has shut down its Oculus for Business platform and announced plans to release a new business service in the future. In the meantime, the consumer version of the Meta Quest is an affordable option.
The Meta Quest features a streamlined interface with a few apps installed and requires a Facebook account for login. It is crucial to consider how you will manage Facebook account logins if you deploy a large number of headsets for an organization.
Admins will need to have users log in with their Facebook account on Oculus, or they will need to log in to each headset with a unique Facebook account Meta Quests allows you to log in to multiple headsets with only one Facebook and Oculus account. However, Meta Quests sharing the same account cannot simultaneously run Oculus Store apps or apps using Oculus APIs.
Note: Meta made some announcements that may change things. We will update this blog when we have more information on how changes with Meta Horizon profiles will impact enterprise and education.
Many organizations are concerned that using the Meta Quest requires agreeing to Meta's data and privacy policies, which share data by default. As a result, organizations need to consider what data, including personal data, is being collected and shared if they choose to use Meta Quests.
Another drawback with the Quest is that you can't natively lock down the in-headset experience with kiosk mode or a custom launcher. The only way to use kiosk mode with the Meta Quest is to use mobile device management (MDM) software designed for VR devices.
Kiosk mode and custom launchers have many incredible benefits, especially by limiting distractions and focusing users on the apps admins choose. For example, custom launchers give admins the ability to lock down settings, the Oculus Store, and the web browser while offering only a curated selection of apps. Kiosk mode offers the same amount of control for admins but only allows access to one specific app for the device so that users cannot use it for any other purpose.
For example, here's a customer who deployed content on their Meta Quests with kiosk mode: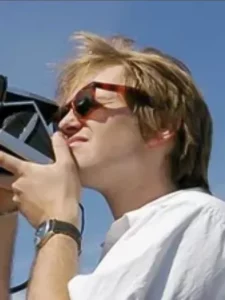 "We couldn't have made our project work [on the Meta Quest] without ArborXR. ArborXR gave us a quick and easy way to deploy updates and create a robust kiosk VR experience that was enjoyed by thousands at the prestigious Bayreuth Festival on Meta Quests. We created a VR opera experience that operated flawlessly because of ArborXR."
Joshua Higgason, Interactive Design at MIT
We've outlined in even more detail the 7 challenges you'll face using Meta Quest for business.
Meta Quest has a great user interface. It's powerful and affordable. But it's not so easy to manage for businesses, medical institutions, and schools. While the Meta Quest may be cost-effective, it has significant logistical challenges that only get more problematic as you scale your deployments of headsets. In addition, Meta poses very real privacy concerns for organizations using the Meta Quest.
Given the many challenges you will face, Meta Quest works best for smaller deployments. However, if the price point is your main concern, it is the most affordable option.

Meta Quest Pro
One of the biggest announcements out of the Meta Connect in October of 2022 was Meta's renewed focus on enterprise use cases for VR. They revealed the Meta Quest Pro, their high-end enterprise VR headset.
The Meta Quest Pro has the most powerful processor on the market––the Qualcomm Snapdragon XR2+, which is 50% more powerful than the XR2. It is capable of tethered and standalone use, giving incredible flexibility for VR use cases. For example, tethering the Meta Quest to a PC could give even more processing power to graphic-intensive VR apps for design or engineering.
The newly implemented pancake-style lens gives a much broader field of view 106 degrees compared to the Quest 2's 96 degrees which means users can see more in virtual reality. The Quest Pro also has a higher display resolution of 1800×1920 per eye. These lenses are manually adjustable just like the Meta Quest 2.
The hand controllers are also redesigned. First, Meta removed the halo that surrounds the controller on the Meta Quest 2 which may make it easier for the controllers to not bump into each other. Second, they have included cameras in each controller so that tracking continues even when your hands are outside of your field of view. Due to these cameras being included, the controllers are much heavier than Quest 2 controllers.
The Meta Quest Pro is also a step forward in augmented reality (AR) and mixed reality (MR), as users can remove peripheral blocks on the headset and utilize a color passthrough lens to see their surroundings. Color passthrough also allows users to take a break from VR without having to take off their headset.
One notable downside is the Meta Quest Pro's battery life. The headset only allows for one hour of use before needing to be charged which is far less than the industry standard 2-3.5 hours. This is almost certainly due to the Qualcomm XR2+ processor included in the Quest Pro. The trade off between battery life and processing power may be a sticking point for organizations used to having training modules run 1-2 hours at a time.
When it comes to device setup, Meta devices are more complicated to deal with in enterprise settings than other headsets. Users will need a Meta account or admins will have to create individual accounts for each headset. If organizations plan to use only custom VR content not featured on the Meta app store, it's possible only to use one Meta account.
However, if any VR app is used that has APIs on the Meta app store, individual Meta accounts must be used on each device. In our experience, there is less guesswork and frustration in the long term to use an individual Meta account on each device, even though it is more tedious to manage.
The release Meta Quest Pro and their recently announced Quest for Business both signify that Meta plans to continue innovating for enterprise VR use cases. The display resolution is top of line, it's comfortable enough to use for long sessions, and color passthrough holds promise for AR and MR uses while making it easy to navigate your surroundings without taking the headset off.
The Meta Quest Pro is a premium enterprise headset with promising new features both VR and AR. For design and engineering professionals, or anyone who would benefit from a virtual PC, this headset can be a powerful tool.
However, short battery life, tedious management of Meta accounts, and the price point of $1000 for the specs you get (compared to other headsets) may be a bit too steep for wide adoption for most companies.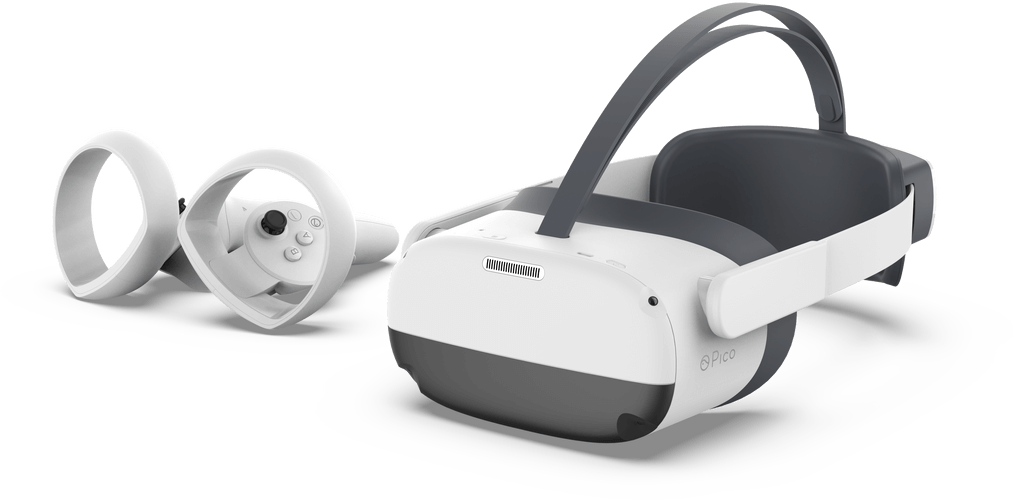 PICO Neo 3 & Pro Eye 3
The PICO Neo 3 is a great alternative to the Quest 2, but it's also more expensive, at around $699. It has many of the same customization capabilities and security requirements. It's also an excellent option for enterprise VR, as it offers a high-powered processor and cross-platform capability for both wireless and wired streaming options via a built-in display port. This means admins or users can stream wirelessly or wired to see what is happening in the headset on an external monitor.
PICO produces some of the most comfortable headsets on the market. The battery pack serves as a counterweight located on the back of the headset, alleviating pressure on the front of the head. As a result, it is arguably more comfortable than the Meta Quest, which is an important consideration for long training sessions.
Soon, PICO Neo 3 will offer a new hand tracking bundle from Ultraleap, and early previews show a major upgrade to hand tracking software. Most hand tracking software in the VR industry lose accuracy as the two hands come in close contact. Ultraleap's new software boasts significantly better two-handed performance with even less latency than any other headset on the market. If hand tracking is important to your VR use case, then the PICO Neo 3 is well worth your consideration.
One benefit of PICO devices is that you can disable the physical boundary, making it easier for users to quickly get up and running. For example, you might not need the physical boundary enabled if users are in a controlled environment or are watching 360° videos.
The PICO Neo 3 Pro Eye includes eye-tracking, which helps the headset know what you are looking at while in VR. The Pro eye models give the best view with a feature called "foveated rendering." This feature tracks your eyes and focuses most details in VR right where you are looking in the headset. This avoids having blurred aspects or objects in a user's field of view. The headset automatically adjusts to give the best viewing experience in VR by sharpening focus on objects users look at.
PICO (and HTC) do not make you jump through as many hoops as Meta does. To set up your device, you need it in developer mode. And PICO makes that easy. Out of the box, the device is already in developer mode. Plug it into your computer and sideload your applications or install your preferred MDM.
In comparison, the Meta Quest forces you to go through a tutorial video (which you can't skip), create a boundary guardian, and set up a unique Facebook/Oculus account… which then is upgraded to a Developer account… which you have to verify with a real credit card… and you have to do this painstaking process with every device you deploy. It's not so bad for a handful of devices, but as you scale to hundreds and thousands, this process is a real pain to manage.
On the other hand, PICO ships in developer mode, saving time, especially at scale. There are no tutorial videos admins must go through or unique accounts to manage. Plus, admins won't have to worry about managing mass amounts of email addresses and accounts to get the devices ready for set-up.
The PICO Neo 3 headsets' design is with enterprise users in mind. While the PICO Neo 3 is a little more expensive than the Quest, it provides admins with an easy setup process, greater comfort, a hygienic design, and device customization for enterprise customers. Furthermore, PICO makes it easy to manage your devices by supporting third-party mobile device management platforms. In addition, the PICO Neo 3 may be the best standalone headset for hand tracking with the Ultraleap software upgrades coming this summer.
The PICO Neo 3 offers powerful customization capabilities and an excellent user experience. It's a great fit for any size deployment, but especially for larger deployments in the hundreds and thousands.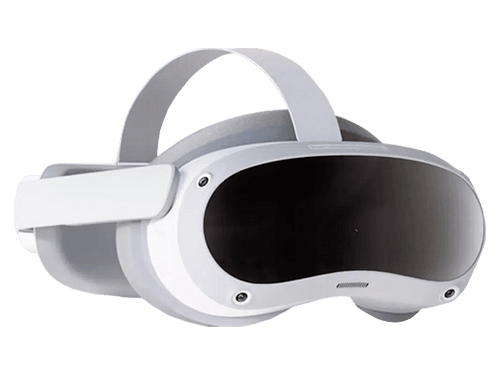 PICO 4 Enterprise
As VR headsets continue to evolve, more and more businesses and educational institutions are looking for ways to integrate immersive technology into their work and learning environments. That's where the PICO 4 Enterprise comes in. This all-in-one VR headset offers a range of features and benefits that make it a powerful tool for businesses and educators alike.
PICO recently released two headsets, the PICO 4 (consumer) and the PICO 4 Enterprise headset. We will focus primarily on the PICO 4 Enterprise, since it has better hardware features and is easier to use at scale.
What's the difference between the PICO 4 Enterprise and the PICO 4?
Enterprise-specific app store
Access to the PICO Business Suite
A leather face cover that is more comfortable and easier to clean
Face and eye tracking with additional cameras
Supports sideloading
PICO 4 Enterprise supports XR mobile device management, PICO 4 (consumer) does not.
Let's take a closer look at some of the PICO 4 Enterprise specs. The headset is powered by a Qualcomm Snapdragon XR2 processor, which provides a smooth and responsive experience with minimal latency. It has 8GB of RAM and 256GB of storage, which is more than enough for most business and educational applications. The headset also features two high-resolution displays with a combined resolution of 4320 x 2160 pixels, which delivers clear and crisp visuals.
PICO 4 Enterprise introduces color passthrough capabilities, enabling you to easily navigate your work environment without taking the headset off. Color passthrough makes it easy to see objects and some text, but it likely wouldn't be easy to read a computer screen for long durations in color passthrough. The headset also has some of the best light blocking (better than Meta Quest Pro) on the market, making for even more immersive VR experiences. The only headset on the market that is better with color passthrough capabilities is the Varjo XR3.
The headset is surprisingly lightweight and comfortable to wear, with a padded head strap that makes it easy to find a solid fit. With a re-designed head strap, it's much easier to put the headset on or take it off without your face touching the lenses. Our developers consider the PICO 4 Enterprise more comfortable to wear than the Meta Quest Pro and significantly more comfortable than a Quest 2.
PICO added auto-adjusting IPD (interpupillary distance), a new feature that gives the best viewing experience by moving the lens the proper distance from a user's eye. The lens can move anywhere from 62-72mm, and an internal motor adjusts based on the eye-tracking capabilities of the PICO 4 Enterprise. Auto-adjusting IPD removes the need for users to take off the headset and manually adjust the lens, making for a much more seamless enterprise VR experience.
This brings us to another big improvement: the PICO 4 Enterprise features eight cameras and sensors that will provide incredible hand, face, and eye tracking for even more immersive experiences in VR. Due to the added cameras on the outside of the headset and on hand controllers, PICO's hand-tracking is now on par with Meta's hand-tracking. Face-tracking and eye-tracking act to gauge facial expressions and monitor where users' attention turns to in VR, allowing developers to make XR content feel even more realistic.
The PICO 4 Enterprise gives greater system access to developers. With the Unity SDK, developers can access features like property sleep, eye tracking, face tracking, hand tracking, haptic vibrations, and more. Developer mode on PICO 4 Enterprise is easy to turn on, and then you can access hidden menus. PICO prioritizes easy access to developer options, knowing that enterprise customers have to configure headsets for their end-users with device and content management systems.
One unique addition that is extremely helpful for enterprise: "play area." One of the biggest challenges companies face with XR is users getting lost navigating menus or setup. The play area feature allows admins to import maps and schematics of rooms and then enable pre-defined boundary guardians so that users don't have to set up a new VR guardian every time they put on a headset.
Another challenge using XR in enterprise settings is setting up an entirely new technology and ecosystem required to support it. With that in mind, PICO's 24/7 dedicated enterprise support is a huge advantage that most other hardware manufacturers don't offer.
Unlike most other VR headsets, the plastic halo head strap on the PICO 4 Enterprise is not removable. PICO 4 Enterprise uses a plastic halo head strap with a dial to adjust the way the headset fits. While this might not be ideal for consumers who want to customize the headset, this shouldn't be a major concern for enterprise settings. The head strap is still comfortable and easy to adjust.
Our Take: PICO 4 Enterprise
PICO 4 Enterprise is aptly named because it is one of the most enterprise-friendly headsets on the market for XR. With specs that rival the Meta Quest Pro, enterprise-ready settings, enhanced hand tracking and color passthrough, it's a welcome addition to the enterprise XR headset market.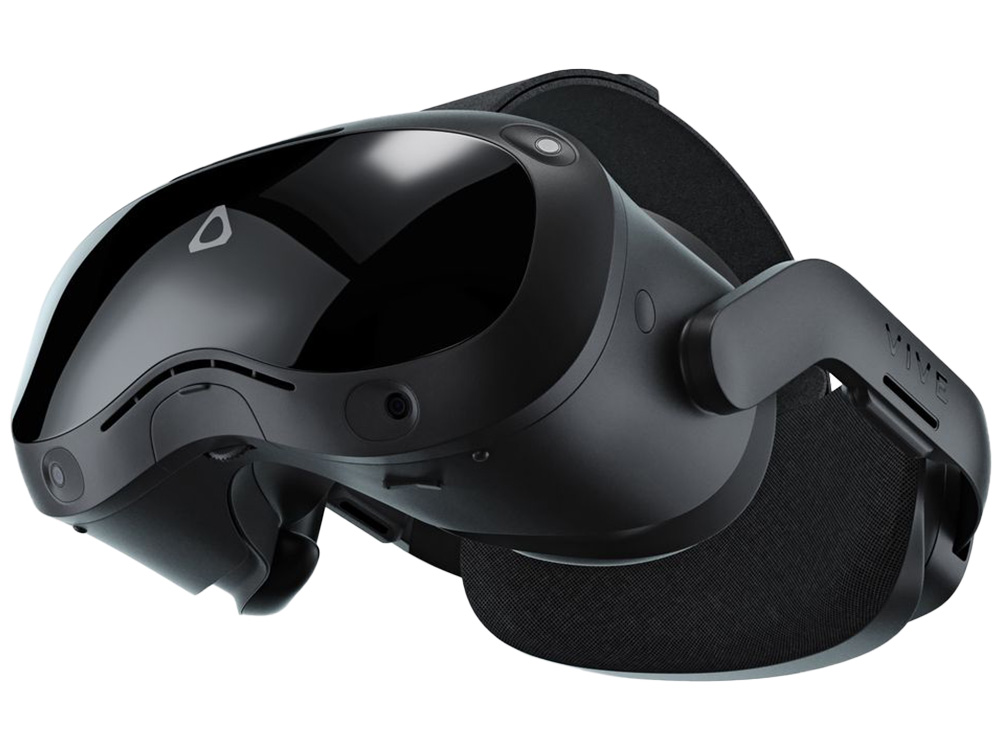 HTC VIVE Focus 3
The HTC VIVE Focus 3 is the most expensive of the headset options mentioned, at $1,300––but it also has the capabilities to match. It has the highest visual fidelity and the largest field of vision. It makes for a great choice for those displaying a lot of text or immersive video in their VR content.
Not only does the HTC VIVE Focus 3 display graphics at high resolution, but it is also comfortable to wear. Although the VIVE Focus 3 is heavier than most other standalone headsets, the battery placement means it has a relatively even weight distribution. So, its level of comfort coupled with the display's resolution delivers one of the best user experiences.
Battery life on most standalone headsets is usually between 2-3 hours. HTC VIVE Focus 3 also features a removable battery, which supports fast charging. The advantage is that you can replace battery packs for even longer VR experiences. Replaceable and rechargeable batteries essentially make your battery life for VR experiences infinite.
It is possible to connect a high output power adapter to the USB-C port so the device does not power down while the battery is swapped. You could also connect a battery with DC output while it is being used to extend the run time. It's worth noting that it's not recommended that users run the headset while the device is charging with the AC cable that came with it because it is very short. The cable is so short that it limits users' mobility, which greatly decreases the ability to move and look around in the VR experience.
Swappable batteries make extended sessions in VR possible, but the VIVE Focus 3 is also more comfortable for users due to its built-in fans. The fans help disperse heat away from users while keeping the processor running optimally. It's worth noting that the fans produce a gentle hum (not overly loud) and this could be slightly distracting for some users.
The HTC VIVE Focus 3 also includes dual-driver speakers with 3D spatial sound. This is top-quality audio for an XR headset. Spatial audio creates cinema-like surround sound, to make it feel even more immersive in VR. It's also possible to plug headphones directly into the HTC headset for greater audio fidelity.
HTC VIVE has worked closely with ArborXR to provide an even more seamless way to set up our MDM software with their devices through their batch configuration process. This makes it easier than ever to get your devices set up and ready to use.
Some key benefits of batch configuration include the ability to customize HTC's default settings and home environment, pre-install Android Packages (APKs), and disable VIVE's default tutorial video. In short, the process of getting a device configured is easier than ever on one of the best standalone headsets on the market.
Our Take: HTC VIVE Focus 3
The HTC VIVE Focus 3 is expensive but it may be the best choice if you are looking for the largest field of view, impressively long VR experiences due to removable batteries and built-in fans, along with the highest-fidelity experience. With batch configuration options and a scalable setup designed for enterprise, it's one of the best standalone headsets you can buy.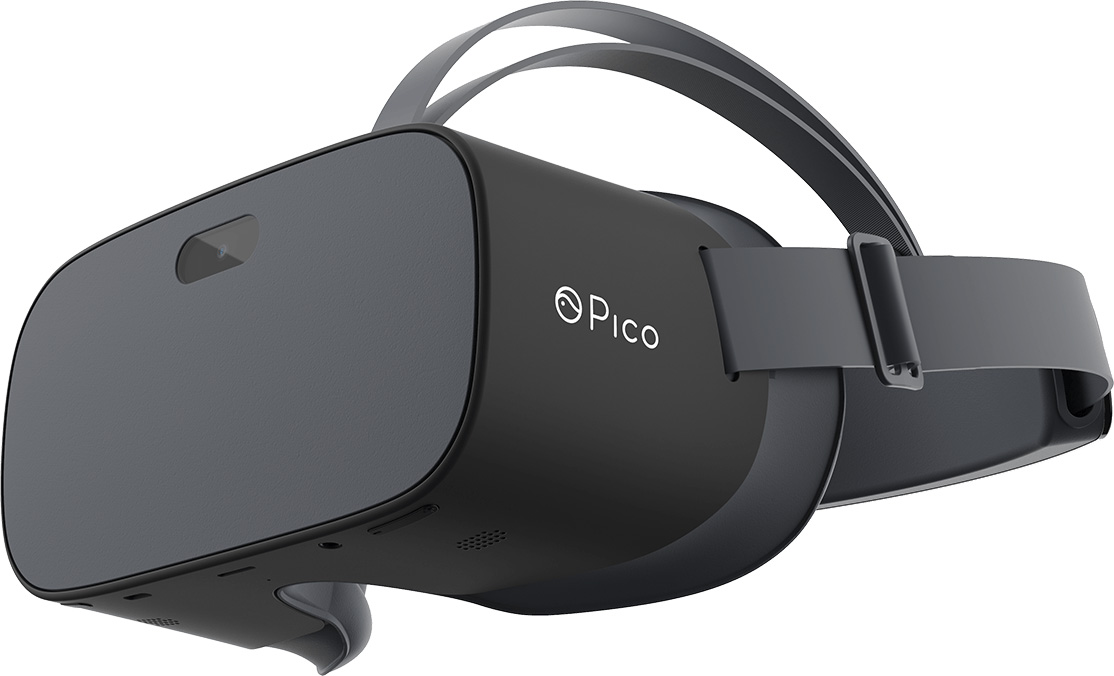 PICO G2 4K
All of the above headsets on our list offer users a 6DoF experience, meaning a fully immersive "walkabout" experience. But if an organization's primary use case is 360° video content, you might not need that.
The PICO G2 4K is one of the best 3DoF headsets on the market. It is also very affordable, at just $399.
A few standout features help make the PICO an excellent option for companies––its 4K screen resolutions, ergonomic controller, lightweight package, and ease of setup and use. As far as resolution goes, it is second only to HTC VIVE Focus 3 and a third of the price.
Limbix, a company that provides mental health treatment to young people, uses VR technology to help therapists connect with patients for different forms of therapy and had the following to say:

"Limbix chose PICO for three primary reasons. First, we had the ability to create medical-grade hardware. Second, we leveraged their built-in Kiosk Mode to provide a seamless and self-contained environment. Finally, by supporting SD cards it enabled us to store more content on the device, and to leverage SD cards for content updates, instead of Wi-Fi."
While PICO does offer kiosk mode for devices, there isn't yet an option from the manufacturer to manage kiosk mode on large numbers of devices easily. Instead, admins must navigate the settings menu and switch on kiosk mode with each device. However, MDM software designed for XR headsets can help you manage kiosk mode remotely and easily for large deployments of devices.
Unless you plan on downloading applications from the PICO store, you can get started using the PICO G2 4K without creating any user accounts, unlike with the Meta Quest.
While the headsets might look chunky at first inspection, they are incredibly comfortable for prolonged usage, partly because the battery is fitted at the back of the headset strap. This helps balance the weight and prevents you from feeling too much weight on the front.
The best 3DoF display resolution on the market. A great choice if you are mostly using XR devices for video and 360° viewings.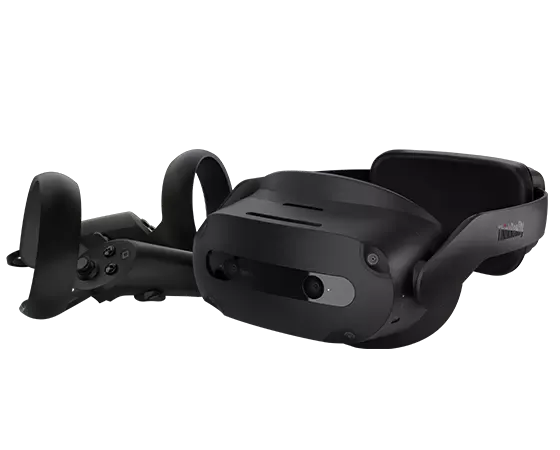 Lenovo VRX
When it comes to VR headsets, the market continues to grow with options. Some of them are consumer-oriented, and some are tailored to business needs. Among the newest contenders for enterprise is the Lenovo ThinkReality VRX.
It's an all-in-one VR headset designed to meet the demands of large organizations. With its impressive specifications and enterprise-focused ecosystem, the VRX has the potential to compete with other established options on the market.
Full-color passthrough cameras are quickly becoming essential to any XR headset designed to work in an enterprise setting. This functionality enables users to seamlessly merge their real-world surroundings with their virtual experiences. Users can remain in the headset, while still navigating around an office space or even typing on a keyboard. Lenovo's VRX delivers at the highest level with its dual full-color passthrough cameras. After comparing it to other headsets, our developers consider it equal to the PICO 4 Enterprise in clarity and significantly more clear than the Meta Quest Pro.
With one of the best high-resolution displays at 2280 x 2280 per eye, the VRX invites users into an immersive world. Like other high-end headsets, the VRX integrates pancake lenses to enhance the VRX's visual prowess, providing a higher pixel count per lens than many Quest 2. This feature contributes to elevated clarity and enhances the overall visual experience.
Similar to the PICO 4 Enterprise and VIVE Focus 3, ergonomics have been carefully considered in the design of the VRX. Lenovo has prioritized comfort for extended enterprise use, featuring an adjustable strap and a built-in ventilation system. Moreover, the placement of the battery at the rear ensures a well-balanced weight distribution, reducing strain during prolonged use.
The VRX's weight, approximately 1.7 lbs with straps, contrasts with the lighter Pico 4 Enterprise at around 1.3 lbs. A factor to ponder, this discrepancy may influence comfort during prolonged usage and warrants further refinement.
One significant thing to consider? There is no face or eye tracking in the current models of the Lenovo VRX. The lack of face and eye tracking could limit certain interactive developer options, data-gathering possibilities, and certain use cases for XR.
This is a bit surprising and may impact specific enterprise applications that thrive on enhanced user engagement or if an organization needs to provide alternative user methods for accessibility concerns. Plus, there's been a growing trend of gesture-based VR applications. The absence of these features potentially impacts user interactions within virtual environments, a notable aspect given the growing emphasis on gesture-based interactions. However, it's likely that Lenovo will add this support at a later date.
A unique selling point for the VRX is the comprehensive ecosystem of enterprise support that comes with Lenovo. With global support available 24/7, services that aid in deployment, and security features set it apart from consumer-focused alternatives, leveraging Lenovo's expertise in catering to business requirements.
For example, Lenovo provides devices as a service– or DaaS– which is a way to finance the VRX. Their DaaS program offers flexible monthly payment plans as an alternative to upfront investments, making the adoption of immersive technologies more accessible for businesses of all sizes. They also provide broad MDM support so that companies can use an MDM solution that works for XR.
The Lenovo ThinkReality VRX emerges as a promising contender for organizations seeking immersive VR solutions that scale well. Lenovo's background as an enterprise technology leader adds credibility to its focus on addressing unique business requirements. It's very likely that Lenovo's future iterations of the VRX will incorporate important feedback from the companies and vendors they work closely with and will become even more enterprise-friendly as the VR market grows.
As the VR landscape evolves, the ThinkReality VRX could evolve into a compelling choice for businesses embracing immersive technologies.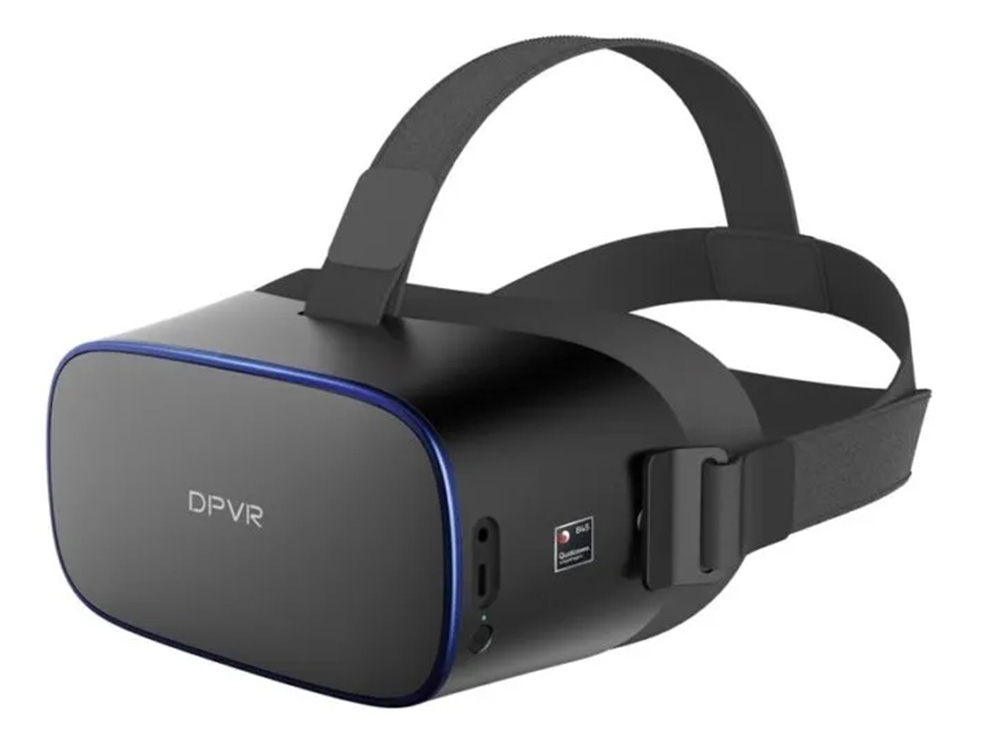 DPVR P1 Ultra 4K
DPVR is an up-and-coming standalone headset manufacturer. They primarily produce 3DoF standalone headsets and tethered 6DoF headsets. They have many 3DoF options to choose between, making it easy to dial in the specs you need for your use case.
DPVR has five models in their P series: P1, P1 Pro, P1 Pro 4K, P1 Ultra 4K, and P1 Ultra 4K (4G/5G), spanning from $198-$699. Each model is 3DoF, with specs differing depending upon weight, processor, resolution, RAM, and storage. For example, you can choose between Qualcomm's VR, XR1, or 845 processors. Or you can choose between a 2560×1440 or 3840×2160 resolution displays.
The DPVR P1 Ultra 4K starts at $599, which places it in the top tier of 3DoF headsets. It has better resolution than the Meta Quest 2 or the PICO Neo 3, at 1920×2160 pixels per eye. It weighs less than any other headset featured in this article, and DPVR has even lighter-weight 3DoF headsets available for purchase.
The DPVR P1 Ultra 4K is powerful and efficient. DPVR has one of the most powerful processors for 3DoF headsets on the market. Armed with the Qualcomm® Snapdragon™ 845 processor, the P1 Ultra 4K is 35% more efficient than PICO G2 4K which uses the Qualcomm® Snapdragon™ 835 Processor.
Battery life in XR headsets generally runs between 2-3 hours, but with the DPVR P1 Ultra 4K, users can get up to 5 hours of battery. Plus, users can run the headset while it's plugged in.
Our Take: DPVR P1 Ultra 4K
A powerful, relatively affordable, and lightweight 3DoF headset. DPVR can potentially provide the longest sessions in 3DoF VR in the industry. Between long battery life and the ability to run on a charger, users will get extended sessions in 3DoF VR.
If you're planning on using 360° video only, DPVR has a lot of options to choose from that can fit your use case.
So, which enterprise VR headset should you buy?
That depends on the needs of your business.
There is no "perfect" enterprise VR headset. Each device has its pros and cons. Understanding your company's unique needs and challenges will help you make the best decision about which enterprise VR headset to purchase.
A mobile device management (MDM) platform designed for XR can help you remotely manage and upload apps from ISVs while helping manage the in-headset experience. The right content combined with the right method of managing content on your XR hardware will set you up for success in the long run.
Command Your Fleet of XR Devices with ArborXR
Confidently manage VR & AR devices at scale, remotely install content, and control what users can see and do. ArborXR is built with enterprise-level security through working closely with dozens of Fortune 500 companies. Our mission is to help people live more meaningful lives through the power of XR. Join 2,000+ companies in 90 countries using ArborXR to manage their AR and VR fleets.
Subscribe to stay in the know!