What Meta's New Account Update Means for Enterprise
We dug into Meta's new account update and its implications for new and existing deployments of Meta Quest headsets for enterprise users.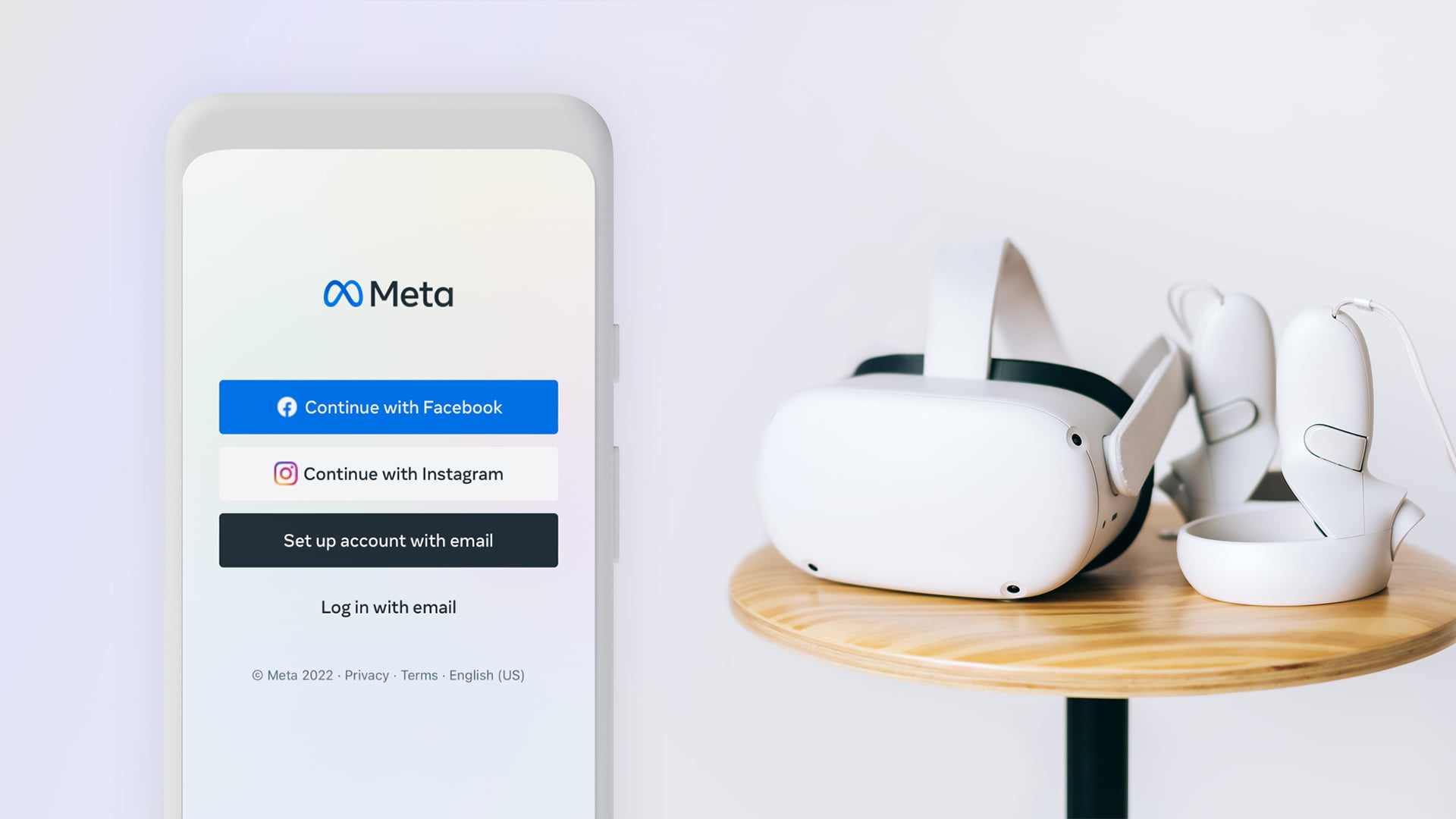 On August 23rd, Meta released major changes to user accounts for the Meta Quest.
Our team did a deep dive to understand how these changes might impact current and future deployments of Meta Quest headsets. We will update this document to reflect any changes from Meta or new insights from our customers.
Meta now requires that users merge their existing Facebook or Oculus accounts used with the Meta Quest to make a "Meta account." These changes give users more control over their settings and accounts on the Meta Quest. One of the major downsides for enterprise admins with current deployments is that it seems the Meta Quest cannot be used until existing accounts merge.
Our overall assessment is that these changes incrementally improve the process for new setups but cause significant complications to existing setups.
Add a header to begin generating the table of contents
Meta Quest will prompt admins to update their Facebook accounts to Meta accounts.
There is no way to skip this prompt, which means that entire deployments of headsets will not be usable until every account is updated.
Merging accounts may be time-consuming if you are using many different Facebook logins.
Admins will need to migrate each Facebook account signed in on a headset to a Meta account.
Admins will need the headset on hand to update and pair through the Oculus app or

web browser

.
Headsets should still work normally if customers are using ArborXR to control the headset experience, or using

kiosk mode

to launch apps that were deployed from their ArborXR library.

"Unmanaged" apps

(for example, those with Oculus Store APIs) will not work and instead display a 3 dot loading screen. However, once you finish setting up a Meta account,

deploying content to the Meta Quest

should work as normal.
Creating and managing numerous personal Facebook accounts was a point of frustration for many organizations. Admins can now use Meta accounts as part of their setup process for new headsets.
This is good news for companies setting up many headsets and simplifies the account creation process. While far from ideal, it's better than using personal social media accounts.
After you migrate to a new Meta account, you'll want to disconnect your Facebook account by clicking "Continue without Facebook."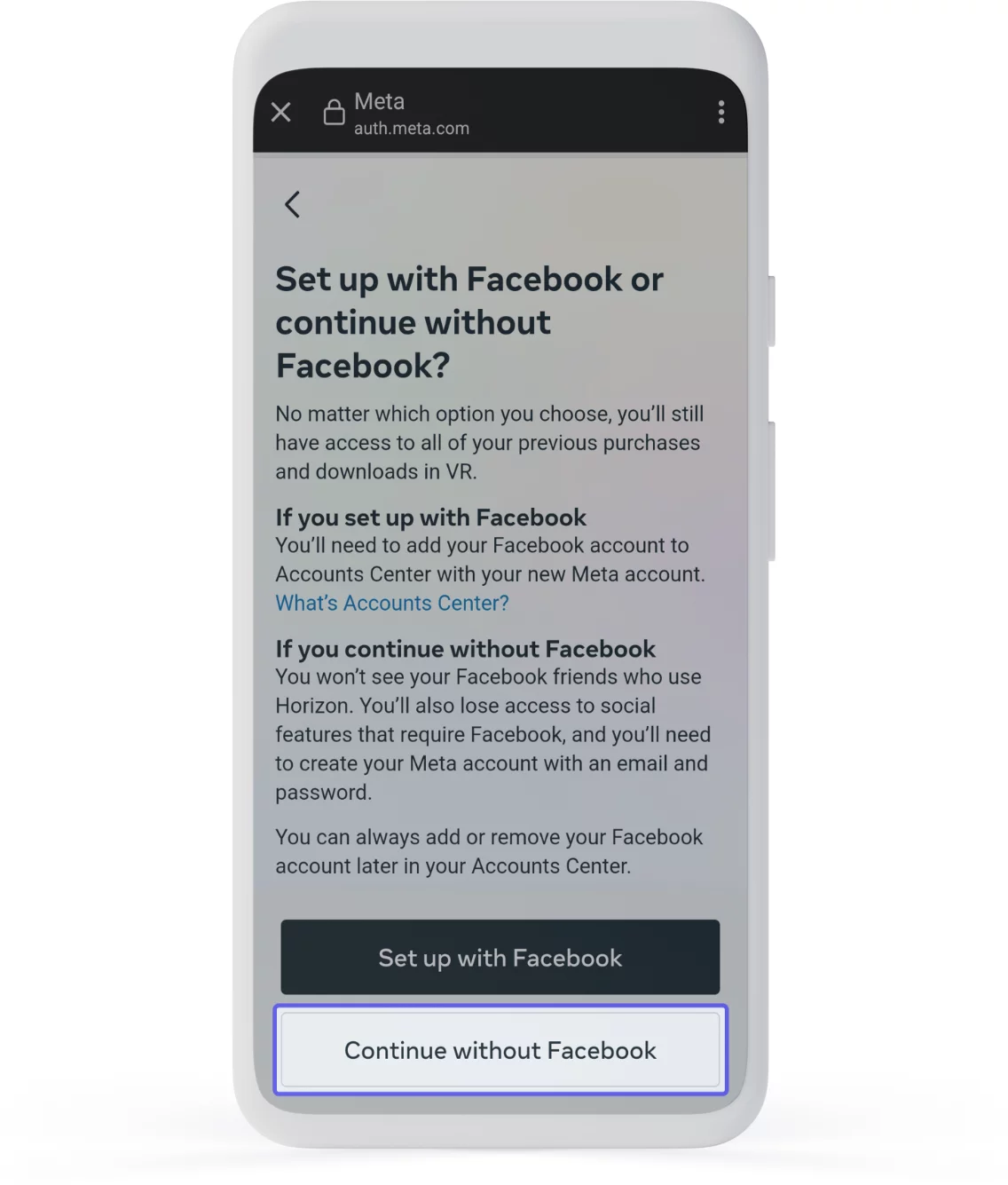 Any apps and purchases on the Facebook account will now transfer to the Meta account.
With Facebook disconnected, organizations won't have Quest data tied to a social media platform and will no longer need to manage Facebook account logins.
Once you disconnect a Facebook account from a Meta account (through a browser or the Oculus app), it will automatically remove from the paired Meta Quest headset.
If you continue with Facebook, you can still disconnect Facebook from the Meta account later. However, it's trickier than disconnecting during the initial migration to a Meta account.
This new update doesn't change the process of setting up an MDM on the Meta Quest.
Admins will still need a developer account in order to install an MDM.
Developer accounts are needed to place the device in developer mode. Once the device is in developer mode, admins can sideload apps. Learn more about this and other challenges (and solutions!) in

7 Problems with using Meta Quest for Business

.
Oculus accounts must migrate to Meta accounts by Jan 1, 2023, to continue using a headset.

This includes Oculus Developer's Test User accounts. You can learn more in Oculus FAQs

here

.
Significant Changes from Meta
Users can now create a "Meta" account with an email address, Facebook account, or Instagram account.
Every existing Facebook account used in VR must merge into a Meta account.
After receiving a prompt to update, headsets will not work until users merge accounts.
Users can keep their Facebook account linked to a Meta account.
They can also disconnect their Facebook account and use an email address or Instagram instead.
Admins can also start from scratch by factory resetting devices and setting them up as new.
Oculus accounts are being retired. Meta will prompt users to merge their accounts by January 1st, 2023.
Meta accounts allow you to log in and use the Meta Quest. After users create a Meta account, users must create Meta Horizon profiles.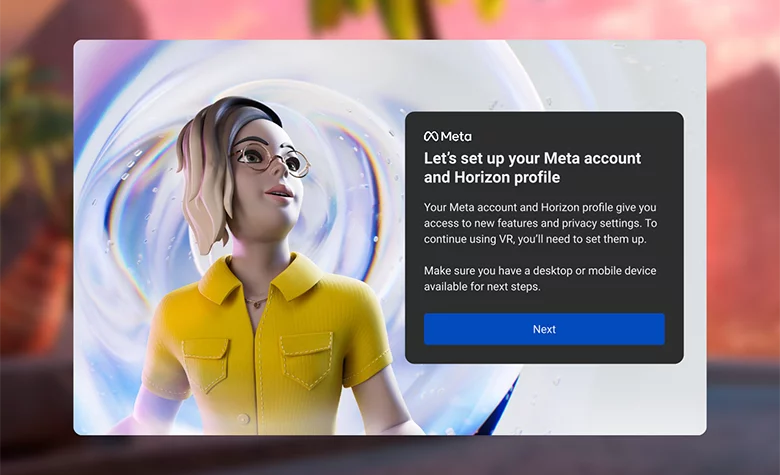 Meta Horizon profiles are VR social media profiles connected to your Meta account for your apps and followers.
How do I disconnect my Facebook account from my Meta account?
The good news is that admins have the

option to disconnect Facebook

accounts while setting up a new Meta account.
If you set up a new Meta account by keeping it connected to Facebook, you can still disconnect it later. If you press "Continue with Facebook" during the initial setup and want to disconnect it sometime later, Meta makes it tricky to find––see below:
Disconnect Facebook Account on a Web Browser:
Log into Facebook and go to Settings
At the bottom left, select Accounts Center
From here, choose Accounts again in the bottom left
Remove the desired account
Disconnect Facebook Account on Oculus Mobile App:
In the Oculus App, open the Menu in the bottom right corner
Click your banner at the top, and then click the ellipsis button to open Edit Profile
Close by clicking the X in the top right
Select the back arrow at the top BUT not the very top
Scroll to the bottom and select Accounts
Choose the account you wish to remove
Our recommendation is that admins should set up new headsets with Meta accounts using email addresses, instead of Facebook or Instagram.
For customers with an existing deployment of Meta Quest headsets, we recommend that customers disconnect Facebook accounts when merging to Meta accounts by clicking "Continue without Facebook" selection.
The benefit of removing Facebook/Instagram accounts from set up is that it prevents your Quest data from being tied to a social media platform. Plus, it means fewer accounts for admins to manage.
While admins will still have to create a Meta Horizon profile, they only have to select a name and certain settings. For example, users can skip connecting followers and creating an avatar.
It's important to note that enterprise admins must still set up an Oculus developer account to place the Meta Quest in developer mode (if they don't have a developer account). Developer mode is required to install any MDM or to sideload applications.
It also appears that this update will require some work from admins. For admins managing hundreds or thousands of devices with individual Facebook accounts, merging them to Meta accounts will be painfully time-consuming.
Headsets will need to be present to ensure they pair correctly to the new account. That might be frustrating for large fleets of devices. The process to merge is relatively straightforward, but in the event that Facebook log-ins are lost or forgotten, it's worth considering factory resetting the headset.
Meta's new account update is a step in the right direction. This update helps users who are starting today with a simplified sign up process, giving them more control over what accounts and data they share. In our opinion, that's a win.
Unfortunately, the new update also brings fresh headaches for admins. It's frustrating enough to migrate all Facebook and Oculus accounts to new Meta accounts with your devices on hand. Now, it seems that entire fleet of headsets may be unusable until they do so.
Schedule a Call
We have lots of experience navigating the challenges of managing Quest and we are here to support you along the way with any questions you might have.
Want to learn more about VR and AR solutions for your business or educational needs? Schedule a time where we can give you a live demo and give our recommendations.
Command Your Fleet of XR Devices with ArborXR
Confidently manage VR & AR devices at scale, remotely install content, and control what users can see and do. ArborXR is built with enterprise-level security through working closely with dozens of Fortune 500 companies. Our mission is to help people live more meaningful lives through the power of XR. Join 2,000+ companies in 90 countries using ArborXR to manage their AR and VR fleets.
Subscribe to stay in the know!