Choosing XR Content: Find the Right VR/AR Developers for Your Organization
Learn the differences between different types of extended reality content and discover which works best for your organization's VR program.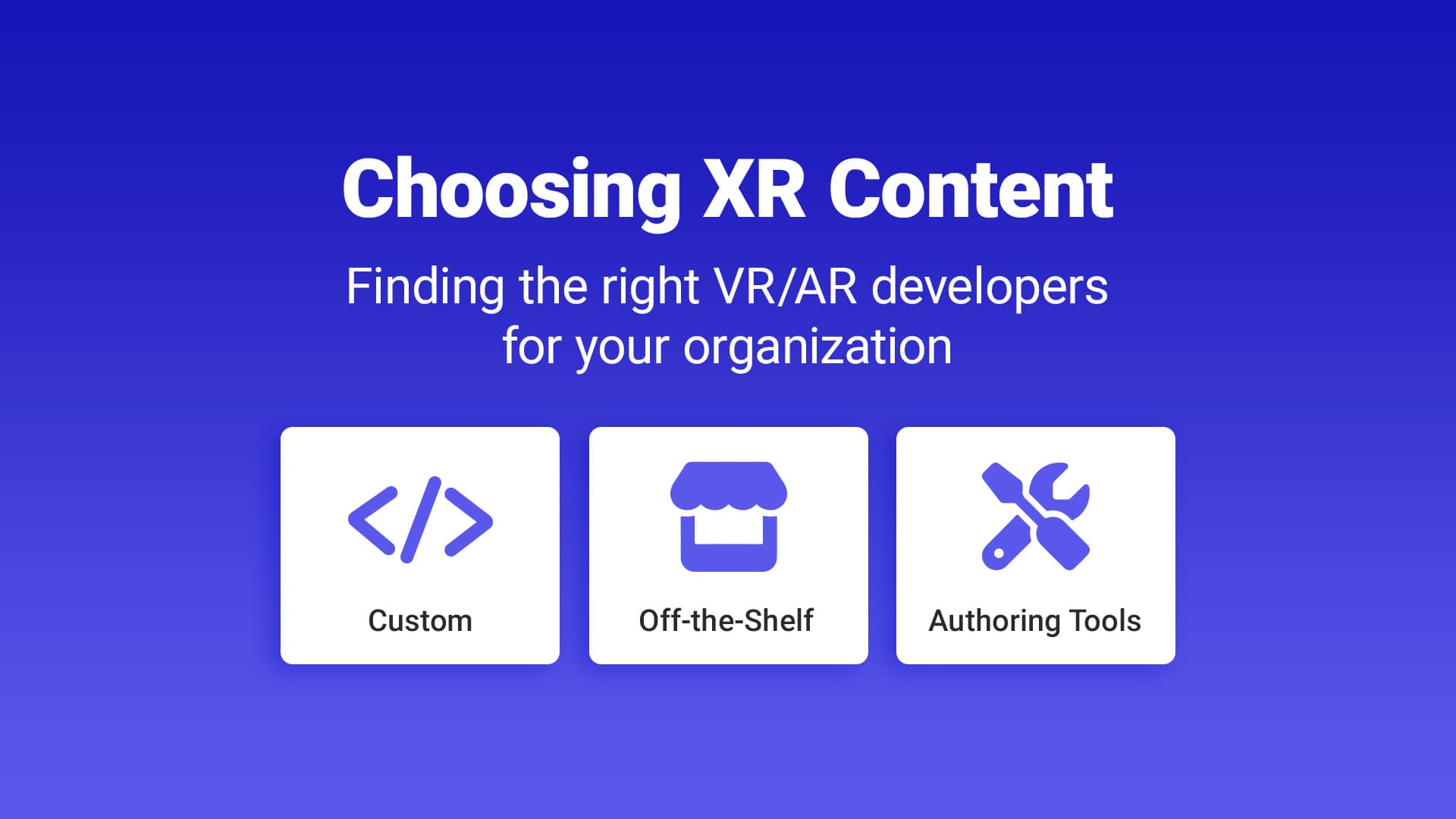 Finding the Right XR Content
A growing number of companies worldwide are investing in virtual reality (VR) and augmented reality (AR) for their organizations. Whether it's for training, education, healthcare, or collaboration, extended-reality (XR) use cases save time and money while increasing user engagement and retention.
Finding the right XR content is crucial to success. If you're in the early planning stages for pilot programs or want to scale your existing VR initiative, finding XR content suited to your industry can be difficult. Many assume native app stores will have all the necessary content, but this is rarely true. Almost every hardware manufacturer has an app store filled with consumer apps, but there are no apps designed for specific industries.
So where do you find and procure XR content tailor-made for your company or school?
We created the ArborXR Directory to help you find trusted industry XR developers.
In this article, we'll discuss the different approaches to procuring XR content for your organization:
Custom Content
Authoring Platform
Off-the-Shelf Content
Quest Store Content
Custom Content From a Developer
In our experience, some of the world's most successful and largest deployments worked with third-party agencies to create XR content from the ground up. It's certainly possible to create XR content in-house. But many organizations prefer to work with third-party agencies to develop XR content.
Why is that? Because outsourcing content development to an agency or studio allows an organization to direct the creation of tailored content without using any internal resources. With the expertise of an XR agency or studio, the final product of your XR content can be realistic and compelling, delivering an incredible return on investment.
What is Custom Content?
"Custom content" refers to having developers create AR/VR content designed to your specifications. Subject matter experts (SMEs) typically work directly with an XR agency or content provider to develop XR content. Custom content is proprietary. Pricing for this type of content is quoted depending on the project's scope and may require additional fees for regular updates.
What are the Pros and Cons of Using Custom Content?
Custom Content Through an Authoring Platform
Most enterprise customers look for VR developers that are reliable, fast, and responsive. Companies and schools need content that is easy to deploy and keep up-to-date. What if there is a change to a protocol that requires a VR module to be completely revamped?
Authoring tools allow you to adjust VR content quickly without waiting on developer involvement.
What is an Authoring Platform?
An authoring platform allows you to create your own VR content. One of the biggest challenges with custom content for virtual reality is that you have to rely on the time-tables provided by your external development team. The process can take some time. You may have to go through several rounds of feedback before an app is ready.
Since VR developers are not typically subject matter experts (SME) in the industries they service, they have to rely on you to tell them when a change needs to occur. Every update to training curriculum, SOPs, or new policies normally requires developer involvement. And once you let developers know a change is needed, you have to wait to get a new app version. That can take weeks or even months.
Authoring platforms make it so you no longer have to wait. Once you have the 3D assets connected in an authoring environment, internal SMEs can adjust the VR module with an authoring tool. You can control every app update and even create new VR apps. Better yet, often authoring tools are no-code, meaning anyone on your team can build and update XR experiences without having to code or learn a game development platform like Unity or Unreal.
What are the Pros and Cons of Using an Authoring Platform?
Authoring tools give the most flexibility for customers to either create their own custom VR content or to iterate and update existing VR content. While they will require someone in your organization to learn how to use the tool, they are definitely worth the investment, time and effort. The more flexibility and control over content you have, the easier it will be to have a successful XR deployment.
Off-the-Shelf Content From a Developer
We hear these questions all the time: "where can I go to buy content? Is there an app store with all the education and enterprise-specific content I need?"
Unfortunately, most app stores focus on entertainment and games. And while many non-consumer VR developers will put their apps on app stores (or in Meta's App Lab), app stores are challenging to use at scale.
If you find VR content in an app store, you must download and keep all apps up-to-date on every single headset. Even with a dozen headsets, this can be frustrating and overwhelming. With hundreds of headsets, it's a logistical nightmare. Plus, most headsets don't let you restrict app stores or web browsers, so you wouldn't be able to stop end-users from downloading new apps or surfing the web.
Still, organizations may want to explore ready-made enterprise or educational content. That's where "off-the-shelf" content comes in. When you use off-the-shelf content with an MDM designed for XR, you can remotely install and update content while controlling what users see and do in the headset.
What is "Off-the-Shelf" Content?
Pre-made XR content that is ready to use is called "off-the-shelf" content. This type of content doesn't require (and usually doesn't allow) any customization. Off-the-shelf apps are universally applicable across multiple industries or contexts.
What are the Pros and Cons of "Off-the-Shelf" Content?
Off-the-shelf content is the fastest and most efficient way to procure XR content for your organization. Generally, developers design their content to be universally applicable so that any organization can easily fit it into their training curriculum or workflow. Examples include soft skills training, safety training, and meeting or collaboration tools.
Meta Quest Store Content
Meta Quest headsets are the most popular standalone virtual reality headset on the market for consumers. And this is also true when it comes to significant XR deployments in enterprise and education. The Meta Quest 2 has some of the best virtual reality specs for the price and they have a robust consumer experience in-headset.
Meta's business focus on virtual reality makes many people assume that finding and deploying XR enterprise and educational content will be easy with the Quest Store. They have an app store and the App lab where developers can upload their content for users to download. Shouldn't getting content for your organization from the Quest store be easy?
Unfortunately, Meta's ecosystem is designed for consumers, not education or enterprise. No app store, including Meta's, enables remote installation of apps across a fleet of devices. Even with Meta's new Quest for Business, there is no integration with the Quest App Store.
Organizations are unable to purchase an app from the Quest store and then remotely deploy it to multiple headsets at once through Quest for Business. This means downloading each app one at a time on each headset. As organizations scale their deployments, using the Quest store for content may pose many challenges that even Quest for Business may be unable to address.
Note: Similar issues apply to using other XR app stores from hardware manufacturers like HTC and PICO. Content downloaded from app stores doesn't allow organizations to remotely install app store apps across a fleet of devices,have control over app version management, or schedule updates. This can be severely limited for any kind of XR deployment.
What are the Pros and Cons of Using Quest Store Content?
Although it is possible to incorporate apps from the Quest store or other app stores into your organization's VR program, we recommend reaching out to XR developers directly for content. It's much easier to deploy content to Meta Quests when you have access to the .apk, which a developer can provide you through an XR device management platform.
Every organization's needs for XR content are uniquely different. Concerns around budget or time to procurement may make off-the-shelf content the most amenable option. If SMEs are willing to invest in learning a new platform, it's hard to argue against the total control an authoring platform gives an organization to create and update XR content on the fly. Many larger companies prefer outsourcing all developer work to agencies, knowing that creating content is best performed by those with robust experience and skillsets for XR.
Wherever your journey in XR begins or grows, the ArborXR Directory can help you find the best developers across any industry. Need help discussing what content type is best for you? Contact us here.
Subscribe to stay in the know!