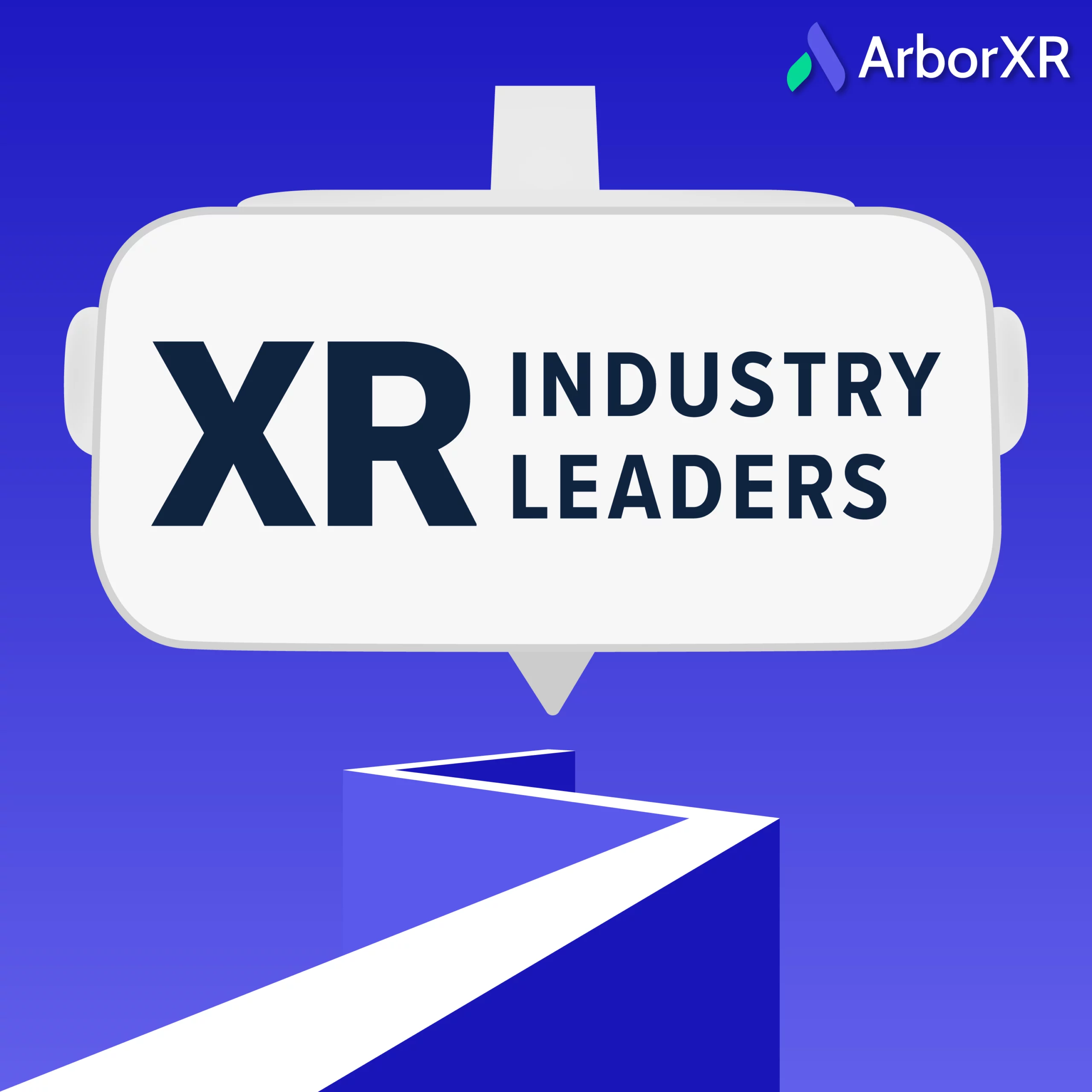 VHA: How Virtual Reality is Revolutionizing Veteran Care
Listen and Subscribe on Your Favorite Platform:
Episode Summary
The Veterans Health Administration (VHA) is changing the game in healthcare by using virtual reality to improve the lives of their patients. In this episode of XR Industry Leaders, we speak with Caitlin Rawlins and Anne Lord Bailey from the VA about how VR headsets can help veterans with pain management, mental health, and overall well-being.
They share insights on how VR can interrupt negative stress signals to the brain, the potential for VR to target specific symptoms like acute pain, PTSD, anxiety, depression, and social isolation, and the stories from veterans who saw immediate symptom relief.
The VA has shipped out over 1,200 headsets in all 50 states, overcoming challenges with virtual reality and creating scalable and repeatable processes to ensure their staff and patients are supported.
Tune in to the full podcast for more on the VHA's virtual reality playbook and resources for implementing VR technology in healthcare.
Key Moments
Introduction to VR in VHA (03:18)
Getting started with VR (10:35)
Stories of how VR is used in VHA (14:18)
Data showing VR is effective (17:34)
Common challenges using VR at scale (27:38)
VR as an alternative to prescriptions (36:29)
Advice for new VR adopters (39:21)
"You have to experience the value of XR. Make sure that you're facilitating opportunities to get heads in headsets because that's what builds your XR champions and they are the ones who help you tell the story."
"Build a community around VR. As people experience VR, they become advocates for it. Working together, understanding and sharing lessons learned, and developing resources has been really critical to help the standard for how we do virtual reality."
About the Guests
Dr. Anne Lord Bailey is VA Immersive Lead for VHA's Office of Healthcare Innovation and Learning. Dr. Bailey started her health care career as a pharmacy resident and then pharmacy practitioner for Western North Carolina VA Healthcare System in Asheville, NC. In 2021, Dr. Bailey became OHIL's lead for immersive technology, establishing VA Immersive as a collaborative program across OHIL. She has worked with thought leaders in government, academia, and industry, while co-leading the expansion of the VHA Extended Reality (XR) Network alongside Caitlin Rawlins. Recently, Dr. Bailey was awarded 2022 G2Xchange Change Agent Award, 2022 Service to the Citizen Award, and International Virtual Reality in Healthcare Association's 2022 Hero Award.
Caitlin Rawlins has been a registered nurse for over 10 years, with VA for 6 years, and initiated the first positive distraction-focused VR program for pain and anxiety management in VHA in her first year of VA practice. She now aids in leading VHA Innovation as VA Immersive Program Manager. She has helped support the expansion of XR technology use from one facility to over 160 and network engagement to more than 1,700 VA employees. Ms. Rawlins has been awarded the 2019 ANCC Pathway Award, 2022 G2Xchange Disruptive Tech Program Award, IVRHA Hero Award, and, along with other OHIL Immersive Tech team members, was a recipient of the 2022 Service to the Citizen Award for her work with XR.
Episode Transcript
Brad Scoggin: Hey there, welcome to "XR Industry Leaders" with ArborXR. My name is Brad Scoggin, and I am the CEO and one of three co-founders of ArborXR. And we've had the opportunity of working with thousands of companies since 2016, and we've learned a ton about what it takes for XR to be successful in your organization.
Will Stackable: And I'm Will Stackable, co-founder and CMO. This podcast is all about interviewing the leaders who are on the ground making XR happen today. True pioneers in the space from Amazon, Walmart, and UPS to Koch, Pfizer, and beyond to uncover the pitfalls, lessons learned, and secrets that you can use to help grow XR in your organization.
Brad Scoggin: Well, thanks for joining us today. Today we have kind of a new thing. We have two guests from the Veterans Health Administration. We have Dr. Anne Lord Bailey, who is the Director of Clinical Tech Innovation, and we have Caitlin Rawlins, who is the Deputy Director of Clinical Tech Innovation. Thank you so much both of you for joining us today and trying out this four-person podcast.
Dr. Anne Lord Bailey: Absolutely. Thanks for having us.
Brad Scoggin: So I'd love to kind of where we always like to start is we wanna hear a little bit about your own personal journey into XR. Especially maybe as it relates to your work now with the VA. And maybe if one of you wouldn't mind also just sharing a little bit about kind of the background, what is the VHA and kind of the clientele you're serving, et cetera. That'd be a great way for us to start.
Dr. Anne Lord Bailey: Absolutely. So I can kick us off. I'll start talking a little bit about VHA. So we talk about, you hear VA a lot of times. VHA is the health administration part of the Veterans Affairs. We serve 9 million enrolled veterans. We have almost 400,000 staff and healthcare systems, 171 healthcare systems across all 50 states in Puerto Rico and other places as well. So it's a huge opportunity to really impact the broader healthcare landscape when you get to do things in VA. So I am actually a pharmacy practitioner by training. I did my residency in VA, I've grown up in VA. I love working with veterans. Early in my career, started specializing hepatitis C and working in innovative healthcare models and then had the opportunity to start an innovation program at the VA in Asheville, North Carolina. Which is where Caitlin and I met. Our stories definitely intersect at XR as the innovation specialist and Caitlin was a bedside nurse at the time. I'll let her tell the rest of that story, but that's where she and I met was talking actually about her VR project there in Asheville.
Caitlin Rawlins: Yeah, and as Anne mentioned, I'm a registered nurse by clinical background. That's how I started my career in the VA. Similar to Anne, I actually did my kind of transition to practice my clinical internship with the VA and in the emergency room at the Asheville VA prior to completing my second nursing degree and fell in love with the veteran population. I come from a family of veterans. My partner is a veteran and just fell in love with the culture of the VA, which is extremely supportive. You'll find actually happy employees that aren't jaded about their jobs, which is not always the case in healthcare. So it was a really exciting place to be. As a new nurse in the VA I noticed really quickly a need for more non-pharmacological options for pain management and anxiety management. I worked as a bedside nurse on a post-operative ward and was giving out opioid pain medications, didn't have a lot to give my patients. And started looking into extended reality as an option, as a non-pharmacological, non-invasive intervention for those patients. So, you know, I did all of the like literature reviewing. Looking at what the evidence was at that point. And in 2017, most of the literature was not really in clinical implementation. It was primarily in like experimental settings, academia and less so in actually just using it with patients. But I still utilized that information that I found in the literature to kind of present this to leadership and got a unanimous approval from my nursing service at the time, which I'm very grateful for because it led Anne and I down this long six year path to where we are right now. But they unanimously approved the purchase of the first two virtual reality systems that I used with patients. You know, we went through a lot of hurdles in that process to getting from idea to actually the first patient that we used virtual reality with in our healthcare system. It was, you know, close to a year long process of getting approvals, getting things funded, getting vendors vendorized in the VA. Which is a whole separate conversation. But we finally used it with our first patient at the Western North Carolina VA at July 18th, 2018. And you know, I connected with Anne very shortly after that as I had kind of done an initial four months pilot and was really wanting to spread it further. And Anne as my innovation specialist was the person to potentially help me do so. So we connected then and the rest is the history we'll talk to you about today.
Brad Scoggin: That's awesome. That's very, very impressive. The VA's definitely close to my heart. My mother-in-law was a nurse there for almost 20 years or more. And my wife, who's a doctor now. She spent her middle school, high school years volunteering at the VA. So love the VA. And so I'd love to start with maybe Caitlin, like tell us more of the details. I mean, 2017 in XR years was a long time ago in normal years, it wasn't that long ago, but that's pretty early days. Just the very initial selling that to your leadership. Maybe you kind of go deep there, but how did you do that? What were some of the questions? How did you overcome objections, et cetera?
Caitlin Rawlins: Yeah, sure. Yeah, and I agree with you. Like one year in XR is, it's like dog years. It's like seven years in like real world. I don't know. There's some weird conversion there that happens. But yeah, in 2017, you know, I did some research into that. I couldn't find any other VAs using XR, which Anne and I have found over the past several years that there were a few using XR at that same time I was exploring it, but in siloed efforts and specifically around imaginable prolonged exposure therapy. So we've found these over the years working towards spreading this. But that initial pilot that I was looking at doing on that single inpatient ward, it was really a matter of getting initial buy-in from leadership and having their support. Gratefully the Asheville VA where Anne and I come from originally has a really strong culture of shared governance with its nursing staff, which if you're not aware of that, it basically means that there's a lot of different nursing councils and work groups and they help make a lot of the decisions in the hospital. Which is not necessarily the case in most private sector hospitals or even in most VA hospitals. Shared governance doesn't always exist. So that kind of culture allows you to present ideas as a bedside nurse to solve a problem you've identified and have an entire group of people making up all of the areas of the hospital make a decision on whether or not to push that forward or not from that particular point, so the initial piece of it. Once I got initial approval through the nursing practice council, nursing research and clinical inquiry council, then it went to executive nursing council or their work group. And that's where I actually had to present the evidence, like this is the evidence that exists currently for it, this is how much it costs, this is like the risk associated with it. These are the potential benefits of it. And really just trying to sell that idea. This is how many morphine milliequivalents of opioids that we have to give on this post-op board on a given day. And that's a lot and that's not something that we should do. This provides us a new alternative to typical pain management, or at least not as even as an alternative, but sometimes just as an adjunct to decrease the amount of medication needed, decrease that dosage, increased the amount of time between doses. So I sold it to them. That was basically like selling it to them. And so they approved it, started that pilot, but then the data started to speak for itself, and Anne can attest to this, she was present for some of those initial sessions with patients as we started using it with different patient populations. But the patient reaction to virtual reality in particular speaks for itself. So if you have a patient that's in 10 out of 10 pain, writhing, can't get any relief from anything else, and you put 'em in a VR headset and 10 minutes later they are fast asleep, that speaks for itself. You know, you didn't use any medication and all of a sudden that patient is at peace, they're comfortable. That's huge. So, you know, at that point you don't have to do as much of the buy-in part of it because the data you're collecting and the patient candid remarks about that experience really help push it forward.
Brad Scoggin: Yeah, that's awesome. I mean that we've seen that again and again in different use cases and I mean, this is a very meaningful use case and I do just wanna say, I mean, it's impressive and I think it's something that those of us in XR really appreciate, Caitlin, that you went through that process, right? Like that you recognized it, you took the time. I mean, it's really, really cool. And yeah, I mean we all know the side effects of opioids and any way you can reduce, you know, the usage of opioids. But that's what we see too. Again, this is a really impactful use case, but it's once you get them in the headset, once the results are there, and it's pretty cool to see there's kind of like this, I don't know if it's a ground swell yet, but there's kind of this behind the scenes thing happening in XR where in enterprise and education and healthcare, there's all these really, really impressive use cases where people that are using it are seeing, wow, we're learning faster, we're training faster, retention rate is higher, we're not using as much pain medication. I mean, it's almost like, what? Like this is nuts, you know? And there's people like you all behind the scenes pushing this thing forward, which is really, really awesome. I know Will has some questions on scope, but even just going back in dog years or whatever it is, VR years. So I just wanna have a visual for the first…was this like with a vibe? Were you setting up base stations like in the patient room or how and where did the content come from in 2017?
Caitlin Rawlins: These were definitely tethered devices. They were tethered to, like high powered gaming laptops and we had them on mobile, like metal lockable carts. So we would have like the laptop there and the VR headset and the controllers and you'd wheel it into the patient's room and then have to plug everything in, get the laptop turned on. Get the windows, like media stuff running. And it was a process without a doubt. So the where we've come to now, like Anne can tell you, she takes virtual reality headsets with her wherever she goes at this point. And that was not possible.
Brad Scoggin: And no cart. She doesn't need a cart?
Caitlin Rawlins: No cart even.
Brad Scoggin: Prove it. Prove it. There you go.
Caitlin Rawlins: Proving it.
Will Stackable: I'd love to zoom out a little bit. I kinda wanna understand the scope of the activity within the VA. Talk about, yeah, like what are the different use cases that are active right now? How many clinics? What could you share about the scope?
Dr. Anne Lord Bailey: Yeah, so I can talk about that a little bit. I think the work that Caitlin did was incredibly foundational at the local medical center. And what we know is that once one VA has accomplished something like this, it really opens the door, but it doesn't mean that it naturally grows. And so while Caitlin was really digging in deep to lay the foundation, I started looking for others at the national level who had done things even in other areas that had scaled across the country. At the time, Beth Ripley, who is currently the Acting Chief in our office, she had done a lot with building networks of people around advanced manufacturing. And so it started to make sense to think about, for us to start thinking about XR as a community, as collaboration. And that has been really foundational to us and to the growth from this point. And so pretty quickly, you know, Caitlin and I worked together on some applications to get her some more funding and we're told no twice by the office of innovation, the office that we now work for actually told us no initially.
Brad Scoggin: Wait, how do you say no to those results? Sorry, how do you say no to like less drug usage? I don't get it.
Dr. Anne Lord Bailey: You look that we had the same question. So we also would not accept no as an answer. And so we're like, okay, clearly you guys, we're just not articulating this well or something. So we just continued to press forward to build a community. And you mentioned a groundswell. That's exactly what we've seen in VA. And so when we had our first community of practice, we had five different medical centers represented and about 10 staff. And pretty quickly everybody realized that Caitlin was the one that had all the experience, everyone else had a lot of interest and had done some things. She had done more and had developed some of those repeatable processes. And so that group of people really started to grow organically and it was very much, we were using email to pass standard operating procedures back and forth. And then we recognized an opportunity to develop a teams page actually. And so now our teams page, we keep files and folders of all the projects that are happening across the entire country. People ask questions, we keep resources, we have a playbook for how you implement XR and VA. We actually now have a public version of that. We have an intro guide where things are defined. What does XR mean? What does VR mean? What does AR mean? What are degrees of freedom? Those kinds of things. As well as lists of all the vendors that are being used in VA right now with where in the hospital those might be used, what clinical indications and those kinds of things. Look our goal, our role has been to lower the barrier to implementation. So to get to your question about scope, that group of about five medical centers and 10 people is now 169 medical centers and 1,744 people engaged in that network in over 30 different clinical uses. And some for education and training as well as you mentioned.
Brad Scoggin: Wait, say that again? How many different clinical use cases?
Dr. Anne Lord Bailey: Over 30. Over 30 clinical uses.
Will Stackable: So that includes everything from physical therapy?
Will Stackable: Depression? What are some of the other substance use cases? PTSD?
Dr. Anne Lord Bailey: Substance abuse disorder, anxiety, depression, PTSD, suicide prevention. We've got procedural use. So perioperative use of VR before, during, and after. Caitlin has a picture of the first veteran to use VR in the operating room. I think that was October of 2021. Is that right Caitlin? I'm trying to remember those dates. There's just some fascinating milestones that's really been driven by the engagement of the staff and the excitement of our patients. We have since developed additional events and opportunities. We now do a leadership event annually called the immersive summit where we bring executive leadership from VA and other industries and other government agencies because we recognize exactly what Caitlin was talking about. When you put a headset on, you have an experience, but you also may observe someone else having an experience. So that's where we use the hashtag heads and headsets. It's really become our mantra because we can talk about it for hours or you can put a headset on and experience the real impact of what this is doing.
Will Stackable: So you said 169 medical centers, is that a geographically centered or is that spread out throughout the United States?
Dr. Anne Lord Bailey: Spread out throughout the United States. Great question. All 50 states and Puerto Rico there's at least one headset in all 50 states and Puerto Rico across VA and that's what we know about. We know there are sites that are doing things that we're still learning about, but those are things that we know about and have supported.
Will Stackable: That's significant. That's incredible, yeah.
Brad Scoggin: Yeah. This is so impressive. I mean this is, yeah, it's amazing. This is really, really, really cool.
Will Stackable: Do you have any stats you could share from some of those early studies or even ongoing as far as patients experiencing positive results? Or have you guys had a chance to wrap any research around the practices?
Dr. Anne Lord Bailey: So Caitlin can probably give you some numbers off the top of her head for sure.
Caitlin Rawlins: Ya, there is some research occurring. Yeah, there's a lot of, you know, what we consider to be clinical implementation or what would, some would consider like implementation science occurring across the VA. There are some pockets of research occurring as well. So we do have some researchers doing work with substance use disorders, with phantom limb pain, with chronic pain, PTSD in, you know, various ways. So we have some of that research happening too. I do have some just key points from like some of the initial data that was collected. So that first project that I developed in Asheville, they now have seen within those inpatient wards, they've done over 600 sessions with patients and that encompasses now over 400 unique veterans at just that one medical center. And that doesn't include all use cases. That's primarily for inpatient use and primarily for things like pain and anxiety management in that population. We see an average of about 30% decrease in pain intensity with just a single session, which is a pretty large number. We use the defense and veterans pain rating scale within the VA, which is kind of a combination of numbers and facial expressions and colors to kind of help patients describe their pain intensity level. We typically see at least a one point drop on that scale in 68% of veterans and some like 30% experience, a three plus point decrease in pain. So like going from like worst pain you've ever imagined, 10 outta 10 down to seven, outta 10 down to zero in some cases, which is huge. Also seeing basically similar results between acute and chronic pain, which is really interesting for the veteran population and makes a lot of sense because most of our patients have chronic pain diagnoses, a lot of them do. So when they're experiencing acute pain, it's usually acute on chronic pain. So it's experienced a little differently. With anxiety, about 84 to 85% have a complete decrease in anxiety levels following or during a single session and coming out of that one too, you know, we've seen work with cognitively impaired patients, not just at the Asheville VA but at several VAs. And I have some data recently from a community living center pilot that we are running within the Visin four, which is most of, like, most of Pennsylvania, I think there's some other states that are involved in that Visin, but a lot of it is within Pennsylvania and there's nine community living centers, which is like our short-term rehab, long-term care hospice that are currently using a virtual reality platform to impact social isolation, pain, anxiety, as well as behavioral concerns, most likely related to cognitive impairment where we're seeing some significant decreases in restlessness, tearful and sad behaviors, agitation. And I have some great patient stories related to those sort of behaviors, but, and even in that population seeing an average 46% decrease in pain intensity. An average of about 40% reduction of anxiety and also subjective units of distress or the SUD scale seeing about a 35% decrease there. And that's across about, at this point, over a hundred sessions and about 85 different unique patients.
Will Stackable: Wow. I'm curious, you mentioned earlier the story of somebody who's in excruciating pain tossing and turning. They put on a headset and then next thing you know, they're out cold, they're asleep. Could you share just for those that of us that don't understand how something that happens in a headset could affect your mental state. Could you share one of the pieces of content, whether for chronic pain or for anxiety, how do you have such profound effects with something that's happening inside a headset?
Caitlin Rawlins: Well I think it really speaks to the level of a immersion in that sense of presence within a virtual reality headset where they really are taken out of their real world setting where they may be bombarded by all of these negative stressors, whether that is pain or anxiety or you know, potentially triggering of their PTSD, you know, whatever that looks like, that outside world they have all of those input signals coming to their sensory system. So if you can interrupt that signal in some way using a highly immersive technology like virtual reality, you're taking them out of that, you know, stressful, real world scenario that they're currently in and putting them into a world where those negative stressors all of a sudden do not exist. So you take them from the white four scary walls of a hospital room or the walls of an operating room and you put them into a natural environment where they're sitting beside a fire in the mountains by a river and they're listening to birds and they see butterflies and deer and they can walk around in nature instead, then you are totally interrupting that negative stressor signal to their brain. Even if it's a temporary distraction, that kind of distraction is huge. So, you know, I mentioned those patients that have chronic pain, they're in pain all the time, but if you have a patient that you can put in virtual reality headset and all of a sudden that pain signal is interrupted for the first time in 15 years and they all of a sudden don't feel pain for the first time in 15 years because they've never found something that distracts them from it as well as virtual reality does, you can imagine the level of impact for a patient. 'Cause I've seen patients in tears because they've not felt that in such a long period of time.
Brad Scoggin: Geez. Yeah, that's amazing. So amazing. I have so many questions. Just some practical questions. I'm curious like where are you getting content? What type of content? What types of device headsets are you using? How did you pick the headsets that you picked? Maybe start there and I have several more.
Dr. Anne Lord Bailey: So we're using a wide variety of content. I think what matters most to us is what problem are you trying to solve? What indication are you trying to impact? In addition to that, what's the patient population? Are they okay to use hand controllers? Does it need to be eye gaze? Does it need to be relaxing content? Is the content sensitive to anything that might be triggering to a veteran? Additionally, is the company willing to think about how their content, how their platform interacts with the healthcare environment and specifically with a veteran environment. So one thing that we've learned and care a lot about is we know that tech companies and VR companies can create phenomenal experiences in VR. They may or may not have have incorporated the healthcare perspective in the actual design and development process. So it's very important to us that as we work with companies, that they're flexible and and willing for us to be able to say to them, look, great concept, but this is what would really make it something that we could really implement and scale across our healthcare system. Primarily in order to scale things more quickly, we've taken more of a single app or kiosk mode approach while we also are working with Office of Information Technology, the privacy office, information security, all those things. Because you can imagine there are, as there should, be a lot of security and data protocols that we need to make sure are in place and risk analysis and things like that are done. We did not want that to slow down the implementation, us being able to get these tools into the hands of our veterans and clinicians. And so the way we do that is just silo the devices. So it means that often what we are purchasing is actually a bundled concept where it's a headset with content on it. And so we're selecting less of the headset and more of the experience and certainly are continuing to learn what would make particular hardware or experiences better or more personalized to different veterans or clinical experiences. We're also developing our own content now, which is sort of something people I imagine don't expect VA to be doing. We have four different areas where we're developing content. Three are training and education for our staff and patients as well. And then one is specific to a patient scenario for chronic pain and suicide prevention. So that has been a lot of fun to be able to be on the ground level and to give our staff and our veterans opportunity to say, "Hey, here's content that we're building, what do you think of it? What would make it better? What would make it fit your life and your experience more directly?" So that's been a lot of fun.
Brad Scoggin: Yeah, I was curious about that. We've seen, you know, it feels like just the way Caitlin handled it in the very beginning, the value of the initial proof of concept is getting somebody in a headset and getting the results. And so we see a lot of companies start with off the shelf and then depending on how well it goes, maybe transition to either building content in house or you know, some of our larger customers have acquired content studios. So yeah, I was curious about that. I mean you're in 160 locations I think is what you said and I don't know how many headsets, you don't have to share that if you want to, but like what are some of the challenges, like just practical challenges that you've faced going from that initial approval to now actually scaling out to multiple locations, content at multiple locations, managing the results, managing maybe the practitioners who are implementing, maybe walk through some of those challenges and how you've overcome them?
Dr. Anne Lord Bailey: So we know-
Caitlin Rawlins: Well, as we've talked about the… Sorry you go ahead Anne.
Dr. Anne Lord Bailey: I was just gonna say the number of headsets is over 1200 from our national office. That doesn't count the number of headsets that have been purchased at the facilities, but we know that from us we've shipped out over 1200 headsets. And I think, and this is probably something Caitlin will speak directly to as well. So much of it we have prioritized personal touch and repeatable processes. So we wanna make sure our priority is supporting our staff and supporting our veterans. And so where there have been challenges for implementation where people will, especially early on, we would get emails about how do you turn the device on? How do you charge it? And so we tried to respond to those quickly and seamlessly and also recognizing that, you know, grateful that we have people who don't know how to turn the devices on, but they're willing to use them with patience, right? So really trying to encourage that and in that process, leveraging some support to document those questions that we were getting over and over and over again and build some resources around that. So that's how we built our playbook. That's how we built the intro guide. It's gratefully we are getting phenomenal leadership support right now from our office. So we've been able to add two people to our team on the VA side as well as received some contract support, which has been critical for us. We now have about eight people supporting all of the staff across VA, so eight people to support 1,740. We still have pretty crazy ratios if you think about it that way, but certainly do the best we can to make resources available to staff. But Caitlin certainly go into more detail about those things.
Caitlin Rawlins: Well, and our eight staff are definitely better than just the two of us that it's always been up and to that point. So, but what I was gonna add to that was that we've talked about how the clinicians at the frontline, the employees at the frontline and the veterans have really pushed this forward because it's been something that started at the ground. You know, it's starting at that frontline level rather than being a top down directive within the VA, which I think, you know, now we're to the point where a top down directive would be helpful, but initially what has helped us is the fact that it was pushed forward by our frontline staff and our veterans. So that being said, when it comes to having a successful implementation of immersive technology, engaged frontline champions of that particular pilot or that platform and that particular patient area is always key to success. And so involving the actual clinicians in the development of pilots, for example, so even our national pilots, we include the clinicians in the development of any resources that they might need. Answering the questions that they frequently have. We include them in the discussions about what metrics are important to collect related to the use of this technology in this particular patient area. We're not just going to dictate to you what we think you should collect. What is important to you about your patient's use of this device? So that they are taking ownership of that particular implementation from the very beginning. And I think that's where some organizations may fail because they're trying to like push the technology on their clinicians without basically, getting their support first and getting them highly engaged in it first. 'Cause once you have that engaged clinical champion, then the rest of those processes become a lot easier and a lot of ways because it's them that need to figure out, okay, where does this fit into my existing clinical workflow? They know their clinical workflow is better than anybody else does. So it helps to have, you know, our team on the VA immersive side able to talk to these clinicians. Say, okay, so we know that you are a pharm D in a pain clinic within the VA, tell us about what the work that you currently do so that we better understand where immersive technology might fit into that existing clinical workflow? And then able to describe that back to you. So like we hear that you do this on a regular basis, how about in the 10 minutes prior to this you offer virtual reality instead of this medication when you're meeting with a patient kind of thing. It allows us to help them in that integration of the technology rather than allowing them to just kind of fumble through that process blindly. Because that's where you end up with a lot of clinicians that are overwhelmed. They get irritated that they can't figure it out immediately and you'll end up with a lot of technology sitting on a shelf. Even if they know it's gonna be powerful, for their patients, if they get overwhelmed in those initial days of trying to implement it's gonna sit on a shelf. So that's where we try to step in through VA immersive and provide all of the resources, all of the support that they might need to really get that off the ground and make it sustainable because we help them to integrate that technology.
Will Stackable: It's a great takeaway for everybody listening, just the importance of being on the front lines of holding hands. We talk about at Arbor that we're a river guide, so if like you're gonna get on the river, you want somebody who's gonna help you put on the life jacket, grab your hand to get you in the boat. You don't want somebody up in an ivory tower prognosticating about what you should do. It really sounds like that your team is taking that approach of getting there, getting your hands dirty. And I think that's just maybe what's required to adopt a new technology like this. I want to ask a question that's kind of future oriented. You mentioned last year at AWEU that your team is having to build processes for things like sending veterans home with headsets. As you look into the future, the next three to five years and as the use cases, I mean, you're at 30 right now, which is insane, but as the number of headsets expand and your footprint expands, what are you thinking about in terms of what's the future look like for the VA with XR?
Caitlin Rawlins: Well for one, we're already sending virtual reality headsets home with patients.
Will Stackable: Are you? Okay.
Caitlin Rawlins: Figured out that pathway.
Will Stackable: Okay, can you give me 30 seconds on that? I want to hear-
Caitlin Rawlins: Yeah.
Will Stackable: That's great to hear.
Caitlin Rawlins: Yeah, I know that is a big change from October. I didn't even think about that, so we have a couple of different pilots right now, actually a few that are looking at sending virtual reality devices home with patients for different use cases. So one of which being chronic pain. We have an 18 site pilot that'll be sending devices home with patients for that purpose, evaluating that particular platform. And we had to work with VA privacy and information security and you know, individuals to actually build those processes. Like what does it mean to send a device home with a patient? Who needs to be involved, prosthetics, is it connected care, VA privacy, whose data is it? All of those sort of questions. And those are the sort of things that we are now able to answer and are working to develop repeatable processes at the national level so that any site can still take that same path no matter if it's at the national level or at a single site. So we are actually doing that for chronic pain, we're working on it for PT and OT, pain management in general in relation to those rehabilitation therapies. What else do we have right now looking at potential for peer support.
Dr. Anne Lord Bailey: Business and care models. I mean, that's another piece of the puzzle as well. You know, we recognize and appreciate how engaged our frontline staff and veterans have been as well. But we also know that in order for this to really be woven into how VA delivers care, we need to make sure that our leaders see the value and see the return on investment. And VA is able to take some risks early on that other healthcare systems can't because we're payer and provider. So we don't have to worry as much about reimbursement and some of those things that fortunately are starting to come into play. But for us, we are incentivized to encourage wellness, wellbeing and to prevent illness. So we have a lot of opportunity to leverage VR for that. I think to another thing that we see that's gonna be interesting to think how we fold into the care model of sending devices home with veterans is, you know, as a pharmacist, Caitlin's heard me say this a hundred times, we prescribe medications for indications and so a patient's diagnosed with type one diabetes, type two diabetes, whatever, we prescribe particular medications for that. And those medications are very specific to that indication and may even cause side effects that we didn't need to manage with other medications or other things. What we're seeing with VR that's really fascinating and I think really important is we may be recommending a patient try a headset for acute pain, but what we also see is in that patient's PTSD may be impacted, their anxiety, their depression, their extensive social isolation, all these other things. And if they experience adverse effects, cyber sickness, you take the headset off, right? You can't spit a pill back out, but you can take a headset off. And so the risk is really low with a really high, seemingly a really high return on investment. And so we wanna continue to prove that out and the easier we can make this to send these devices home with veterans and support them. We had an event, I mentioned earlier, the immersive summit where we had all the leaders come, we also had a veteran panel at that event and the veterans, one of the veterans said, "Great, you're doing these events for your leadership for them to experience VR. Are you doing it for your patients? Are you doing it for veterans?" And at the time we didn't have an event that was specific to veterans and so we developed this event we call a veteran experience or VXR and we offered it for the first time in Orlando in December. But we are planning to do it, I think we have four or five planned around the country over the next year. And basically for four or five hours we open the doors of a medical center. We fill a room with headsets and we say, you know, this isn't a clinical visit, but we want you to come and experience these, this content. Tell us what you think about VR in general, but about these experiences and these different uses. And so for the first one, we had 44 veterans show up and 56% of them had never used VR before. And 98% said it was easy to use or very easy to use, which is really important when you're thinking about technology and patients. And then we ask, you know, scale of one to 10, one being terrible, 10 being life-changing, how would you rate your experience with VR? And the average was 8.3. And then we said, would you like to have more VR use at the hospital in the clinic? 95% said yes and we said, would you like to have it more at home for your healthcare? And 95% said yes. So that's all we need to know, right? Our veterans can use it and we want more of it.
Brad Scoggin: Yeah.
Dr. Anne Lord Bailey: So let's go.
Brad Scoggin: Right and it's work. We don't even know it works, right? So yeah. Thank you so much for joining us. This has been so impressive, profound and just your willingness to be so open with how you've walked this out, some of the results you've seen. It's just super, super encouraging. Maybe as we wrap here, if you had one or two pieces of advice to somebody in your shoes, you know, six years ago or four years ago, whatever it is, who's thinking about starting a new initiative or they're on the front end of a proof of concept in their company or their hospital. What maybe are a couple pieces of advice that you would offer?
Dr. Anne Lord Bailey: I think number one is you have to experience the value. And so make sure that you're facilitating opportunities to get heads and headsets because that's gonna build your champions and it's gonna also help you tell the story. The second piece of the puzzle I think has been really critical is collaboration and build a community around it. Because what we know is as people experience, they become more and more advocates for it. And everybody working together is really what changes the tide, right? We're a ginormous healthcare system that cannot deny when you have 1700 staff who are saying we want more of this, right? So that piece of working together and understanding and sharing lessons learned and resources has been really critical to help lower the burden and raise the standard for how we do this.
Brad Scoggin: Yeah. That's powerful. It's interesting, that's something that's come up in different ways, you know, I think people think about the technology component, the content component, experiencing the content, but just the people part, right? Like, and I don't wanna say politics 'cause it has a negative connotation, but kind of the politics of bringing a new technology into an organization is so important. So this has been so good. Thank you so much for joining us today. We really, really appreciate it and we look forward to talking again soon.
Dr. Anne Lord Bailey: Absolutely. Thank you guys for having us. This has been a blast.
Brad Scoggin: Man, so many cool use cases. Goodness. You think about somebody with chronic pain for 15 years, for the first time not having pain. You think about reducing pain from a 10 to a five or five to a zero, it's impressive. And I think, you know, they're true pioneers, they're leaders in the space. And I love the approach that they've taken of getting their hands dirty, working on the front lines, but also how they've really learned the importance of winning those champions. And if you win the champions and you put the time in with the champions within your organization, you let them tell the story and it helps the thing grow.
Will Stackable: So true. You know, it's interesting, I was thinking about as we were listening to them sharing some of those incredible stats. 10 years ago when we were looking at XR in the medical space, it was still really at the academic level. It was papers about, you know, PTSD and anxiety and here we have a scaled use case. I mean 169 locations, all 50 states in Puerto Rico. To me, it's pretty wild to hear about the scale that they're at. I mean we've got 200 plus medical companies, healthcare companies on the ArborXR platform and there's such a range of use cases. I mean we didn't even get into physical therapy, the surgical applications. So to me, I think XR is here. The medical space is one of the highest impact spaces that I've heard of. And I think for us at Arbor, you know, we got into this so that we could make a positive impact and we believe that XR at its best should give us our time back. It should make a positive impact in the world, not just be used for more distraction. However fun zombies slaying is in XR. Medical, the medical use cases really get us excited. So fantastic episode. Looking forward to talking to them more and hearing updates.
Brad Scoggin: Yeah. Yep. Yep. Very, very exciting. Well, as always, thank you all so much for joining us. Make sure you subscribe wherever you consume your podcasts and we look forward to seeing you next time.