Customer Story: Why Portland Community College Switched from Oculus for Business to ArborXR
Learn how Portland Community College is using virtual reality and why they no longer use Meta's MDM for their program.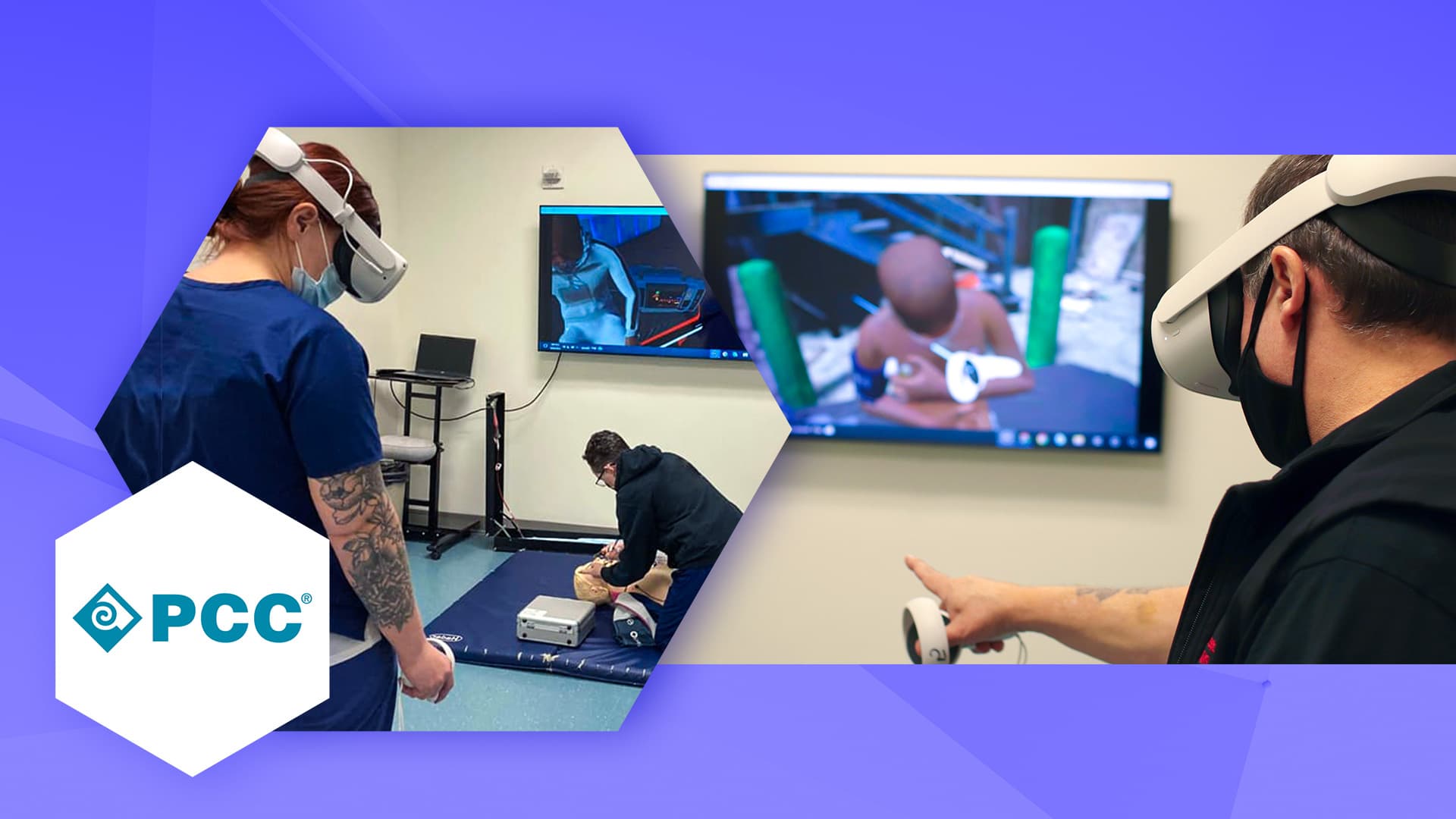 Portland Community College (PCC) is the largest college in Oregon. Their EMS training program for paramedics was the first department to invest in virtual reality. Working in partnership with VRPatients and ArborXR, they have integrated VR into their curriculum. Now, their EMS simulation is helping students prepare for real-life emergency response scenarios. Students also use VR to log mandatory accreditation hours. Training is up to 15% faster, and PCC is saving 1300+ hours per cohort when using VR.
PCC bought Oculus for Business headsets with a grant to experiment with virtual reality. Oculus for Business is no longer updating and does not provide support for VR apps. The VRpatients platform— a staple of EMS training in VR– can no longer be supported on the Oculus for Business platform. Due to Meta's changes, PCC lost the ability to run its VR program effectively.
PCC installed ArborXR on their Quest headsets and then used content-sharing features to install VRpatients remotely over WiFi. Now, Victorino has essential features that were not available to him in Oculus for Business. With ArborXR, Victorino can control what his students see and do in the headset by turning on remote kiosk mode. He is also now equipped to track students' progress and usage with robust session analytics, which goes a long way to proving the efficacy of VR and helping him acquire grants for future funding.
How Portland Community College Started with Virtual Reality
For years, Robert Victorino searched for new technology to innovate his EMS training curriculum. As the EMSA AP/Clinical Coordinator at Portland Community College, Victorino is constantly looking for new tools that help students prepare for emergency situations.
"I was looking for a new training modality that a student uses independently– so they could go at their own pace, do lots of training in volume and without an instructor. I had been watching AR and VR closely as it developed in healthcare," says Victorino.
In 2019, PCC partnered with VRPatients to pilot their virtual reality EMS training solution. VRpatients is an authoring tool that allows instructors to create unique scenarios for nurses and paramedics. With VRpatients, Victorino recreates real-life EMS calls in VR.
"I ran an EMS call, took the patient to the hospital, went back to the station, logged in on my laptop, and re-created that exact call that I had just experienced in virtual reality. Then, I sent it out to my students within 45 minutes of getting back from the hospital… For students, that kind of real-life experience is invaluable," Victorino said.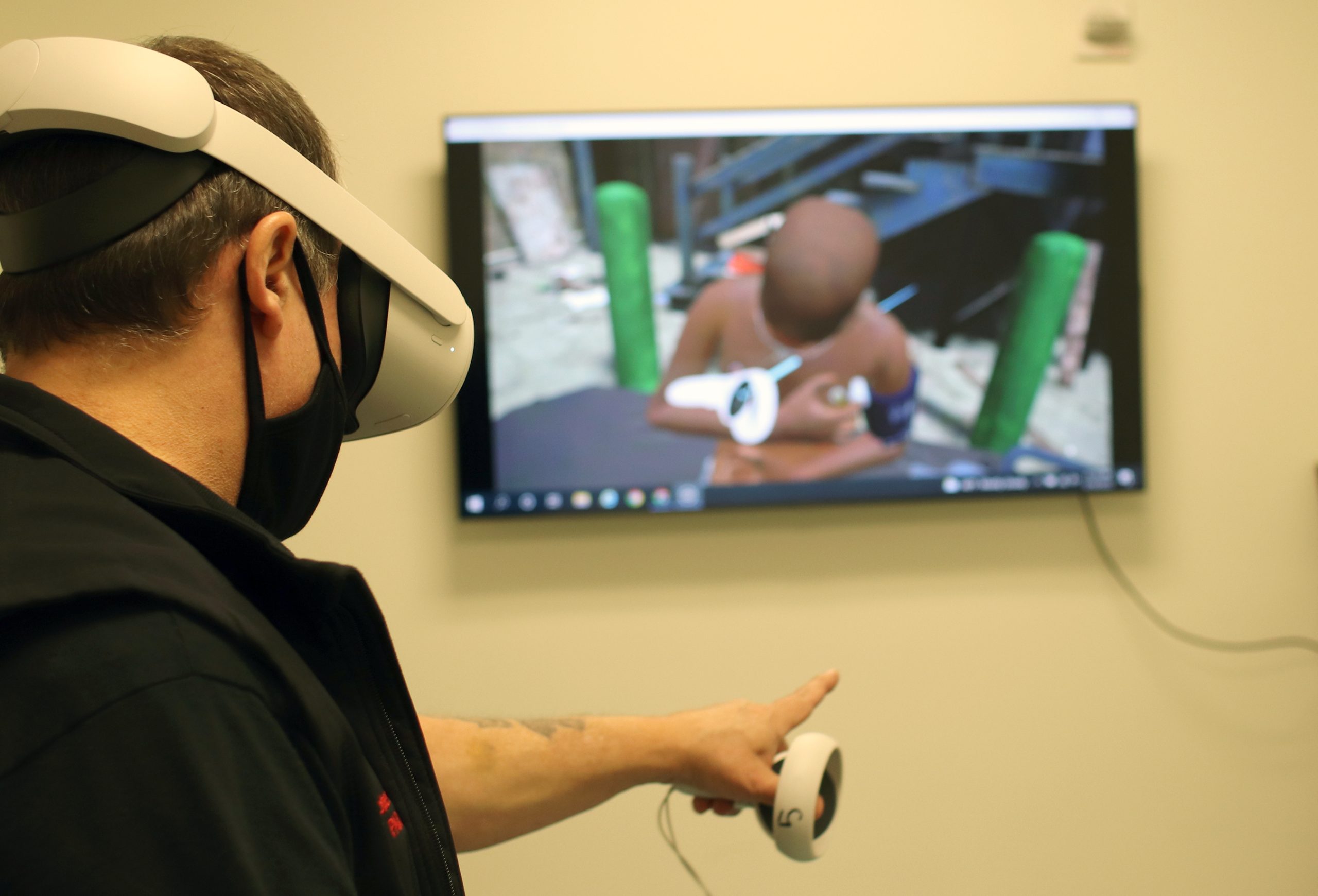 VR simulations create a life-like immersive experience. This is incredibly valuable for medical VR training because students can get comfortable with difficult and dangerous situations without any negative consequences. If they fail a procedure, no one's life is on the line.
The VRpatients platform enables Victorino to curate and create VR contexts that prepare students for what they'll experience in the field. Then, students can learn the right medical tools and procedures in a safe environment.
The Early Impact of Virtual Reality with EMS Students
Victorino created a 'VR lab' at PCC where students can use VR headsets and go through EMS simulations. The first day the lab opened, there was a line going out the door. Students who experienced VR EMS training were immediately engaged. There quickly became a competition between students– a race to who achieved the highest scores in VR. Students would run VR training simulations repeatedly until they earned 100%, and many students even stayed late after class to get more time using VR!
After using VRPatients, students achieved competency as team leaders in real-world settings 12-15% faster. EMS students must log hours towards accreditation in essential leadership skillsets as a paramedic. The VRpatients platform enables students to log upwards of 60-70 hours towards accreditation. Each cohort saved a collective 1300+ hours in accreditation requirements by using VR instead of traditional learning methods.
Why was it so impactful?
Emergency response VR simulations gave students a risk-free environment to learn. They could make mistakes and develop skills without real-world consequences. By simulating high-stress situations, students gained exposure to scenarios they may not frequently experience during ride-alongs in ambulances.
Not only did PCC's VR medical training provide huge time-savings for EMS students and instructors, but it also increased student engagement, knowledge retention, and real-world preparedness.
Challenges Using Oculus for Business
PCC purchased Oculus for Business headsets to scale their VR training program. Meta Quest is currently the most common choice for most educational institutions. However, they soon ran into limitations trying to use Oculus for Business to manage their devices and VR content.
PCC ran into a huge issue: Oculus for Business stopped updating its platform and no longer supported VRpatients, an essential platform to Victorino's EMS training.
Another key problem was the inability to update VR applications remotely. Without this, it required manual effort from Victorino. He had to update headsets individually anytime an update to an app came out. This was time-consuming and prevented students from accessing the latest VR training content.
Additionally, Victorino needed help to control the overall student experience. Oculus for Business does not allow features like kiosk mode to lock down the device to a single app. There was also limited visibility into device usage analytics– and although there was immense impact from the VR program, Victorino didn't have analytics to show how engaged students were with the content.
With Oculus for Business no longer a viable option, PCC was left with unsupported devices and no way to deliver VR content to students. They needed a new VR management platform.
Using ArborXR to Control Student VR Training
To keep his VR program running, Victorino installed ArborXR on his Oculus Quest headsets. With ArborXR, Victorino remotely installed VRpatients content over WiFi and no longer needs to sideload applications to Oculus Quest headsets. Now, updates to the VRpatients platform happen automatically through ArborXR, which means instructors and students consistently access the latest emergency response scenarios.
Victorino also regained control over the student experience. He now uses kiosk mode with ArborXR to lock down headsets. Kiosk mode allows admins to restrict web browsers and app stores and offers only one app for users to access. This simplifies use for students and staff, many of which are new to VR.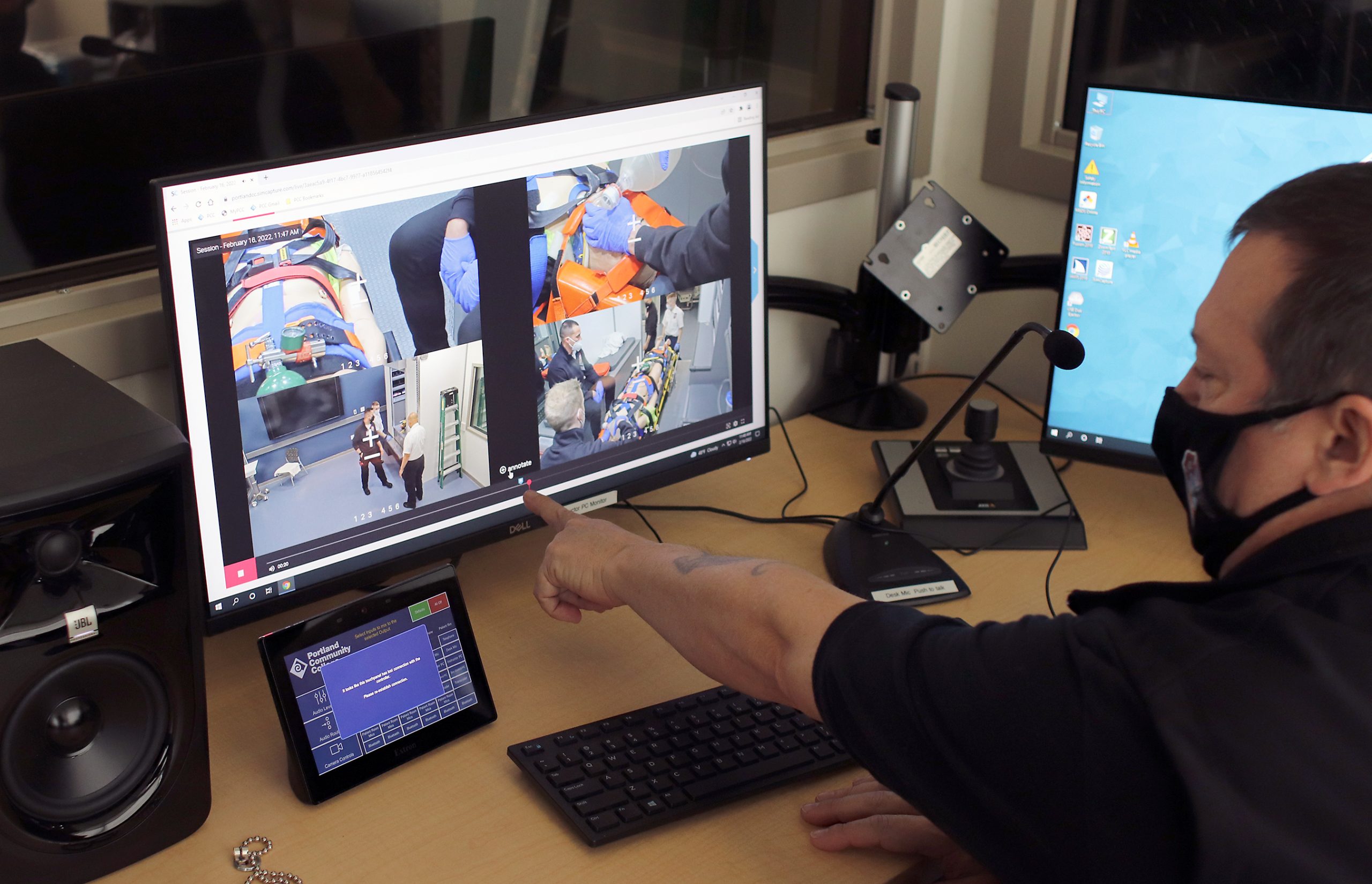 Additionally, robust analytics provide visibility into device usage and health:
"ArborXR's analytics are fantastic. I like the ability to objectively show engagement and use because when you're talking about grants or funds of any kind, whether it's a private business or public, I can demonstrate the efficacy and the usefulness of VR; it helps me get funds to replace equipment or improve my program when I want," says Victorino.
Victorino could see which headsets needed maintenance and how frequently students were training:
"Being able to track the health and the status of headsets is a huge need, and ArborXR makes it easy. The ArborXR dashboard is a lot more intuitive for someone who's not a computer person or a VR person. I can look at this and go, 'Oh, headset five needs a new battery in the controller. Then I go grab the headset and get it back up and running.'"
Overall, ArborXR allowed Victorino to deliver VR training to students reliably and manage the program efficiently. After starting with VRPatients years ago, Portland Community College continues to innovate immersive learning with ArborXR.

VRpatients at a glance:
Affordable, fixed pricing. No surprises.
Clinical Efficacy: Realistic, tested, and validated.
Scalable and Accessible from individual learners to thousands.
Future-Ready: Technology-smart architecture.
Customizable simulations- You build it, you own it.
"For example, we have a VR app where patients catch butterflies. They don't realize that we're making the butterflies fly in specific patterns so that the patient is making rehabilitative motions for their arm... It's a game, so it's engaging for them, but it's also providing them with essential strength and relief."
By making physical therapy fun and motivating, MyndVR allows patients to engage more easily and work through rehab with a more positive attitude and overall experience.
"What really attracted me to ArborXR is a company that was founded with the heritage of XR devices. For us, it's about having total control and flexibility over the VR content we send to our patients and their caregivers. And we have to do that in a secure and timely way."
Portland Community College is leading the way in revolutionizing VR medical training. Students are saving time and learning essential leadership skills. They are experiencing real-life emergency response scenarios and learning critical life-saving skills. PCC's innovative approach to its program demonstrates the massive potential for VR in higher education and vocational training. Most importantly, VR is increasing student confidence, competency, and readiness for the field.
After facing challenges with Oculus for Business, ArborXR restored its ability to deliver cutting-edge EMS VR training. For VR programs to grow in education, you need the right tools to manage VR devices and VR content. As a teacher or instructor, you'll need the tools to control what students see and do. Schools need VR management tools that work seamlessly with content creators like VRpatients, removing the friction from any curriculum that integrates VR.
The easier it is for education and enterprise to manage devices, deploy content, and control the headset experience, the more likely a VR program is to be successful.
That's Where We Can Help
ArborXR makes it easy to manage VR devices, deploy content, and control what users see and do in VR. ArborXR works with over 400 schools, including MIT, Stanford, Yale, Harvard, and the University of Michigan. ArborXR empowers crucial features for commanding a fleet of XR headsets, including managing XR devices, deploying content, and controlling what users see and do in VR.
Subscribe to stay in the know!